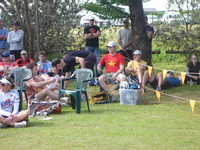 fullsize
First briefing on Friday morning, looking at Kim collecting his bibs.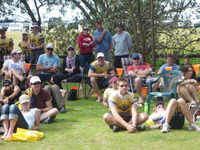 fullsize
Looking at Keith.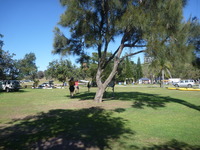 fullsize
Wandering across to the kayak competency checks.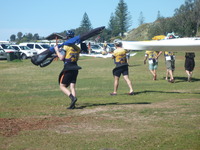 fullsize
Aaron and Matt.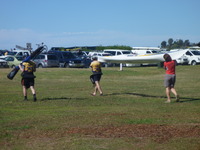 fullsize
Amanda carrying the back of the BGCC Mirage.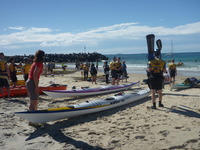 fullsize
Getting ready to head out and get wet.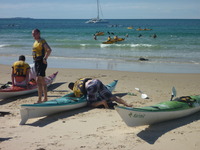 fullsize
A photo of Kermit, Danielle should appreciate seeing it here again.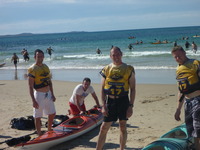 fullsize
Keith's team. Wilf kneeling down, unfortunately no longer showing off the Cindarella clothing he was wearing earlier in the day (fullsize)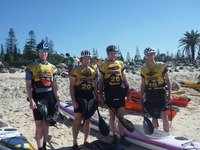 fullsize
Our team, Aaron, Matt, Steve, Grant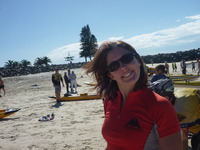 fullsize
Half of our support crew, the awesome Amanda.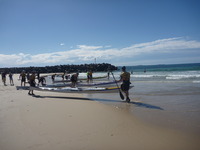 fullsize
All the competency checks can be kind of boring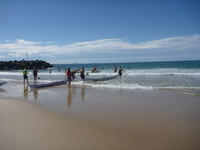 fullsize
It would be fun to hurry up and get to the racing. Oh well.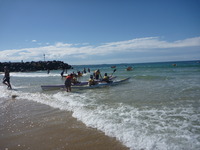 fullsize
At least we got to test out planned paddling pairing.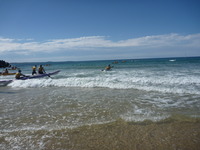 fullsize
Matt and Aaron in one boat should be kind of even, then putting the least experienced paddler with me in Matilda made sense.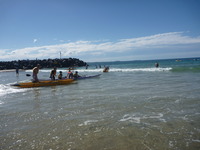 fullsize
I did not take these photos, so I think Prue was a bit snap happy, oh well we can use them in the paddle photos slide shows at BGCC dinners.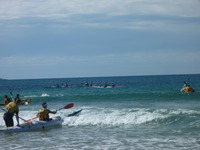 fullsize
Grant had a few troubles getting back in to the boat, but we worked it out in the end.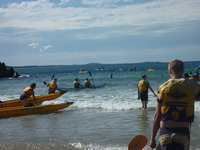 fullsize
It was definitely entertaining the next day when Grant happened to mention to me, half way through the ocean paddle that it was his first ever ocean paddle.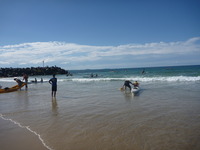 fullsize
Still Grant had an awesome race and definitely stepped up to the challenge.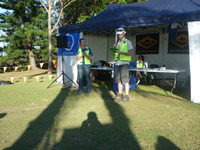 fullsize
Louise and Craig during the maps hand out briefing. It appears we did not listen closely enough here, or read the course note changes page closely enough, as became apparent around 5pm the next afternoon.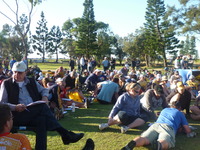 fullsize
Keith over there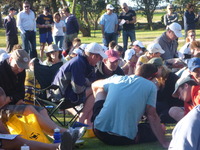 fullsize
See.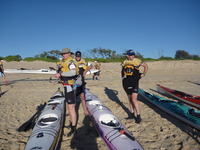 fullsize
Ready to start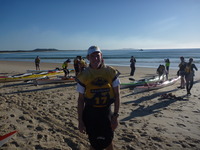 fullsize
Some of our competition in the mens Category, Keith ready to go.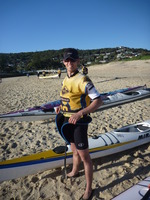 fullsize
Grant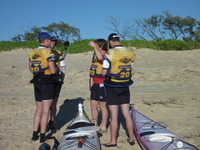 fullsize
Team meeting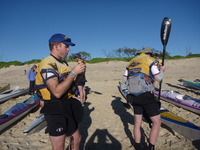 fullsize
Steve eating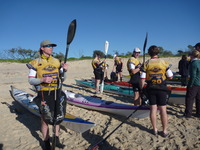 fullsize
Aaron and Matt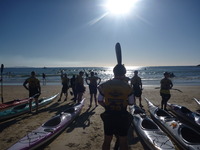 fullsize
Perfectly flat morning, should be a pretty damn easy paddle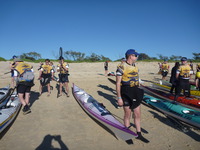 fullsize
Which it was, except for the reasonably strong head wind.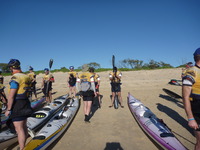 fullsize
Matilda ready for another adventure.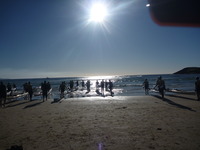 fullsize
Mixed teams heading off.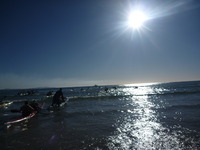 fullsize
Not sure who is heading out here, still calm.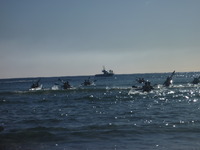 fullsize
Looks like us on our way.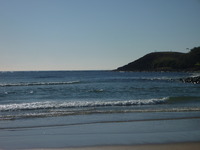 fullsize
Calm easy morning paddle.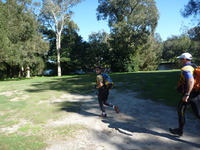 fullsize
Another team as we run out of the kayak to first run transition.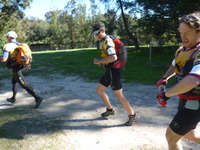 fullsize
Grant and Matt.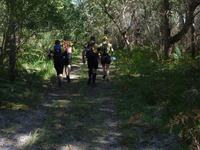 fullsize
Coming up behind Grant Bourke's team Cartera Maps.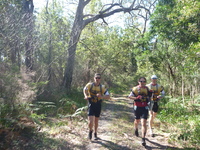 fullsize
Making sure my team mates were still here too.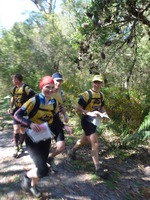 fullsize
Passing Cartera (another Mirage team that finished high).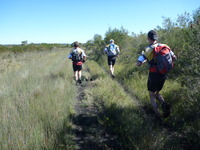 fullsize
Running along a rather interesting looking area, flat coastal marsh lands or something.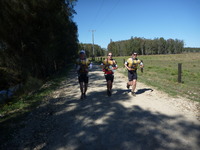 fullsize
Running toward the run to second kayak transition.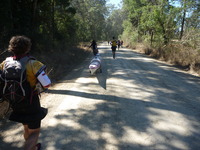 fullsize
Portaging the boats 500 metres from the cars to the river entrance point, with help from support crew.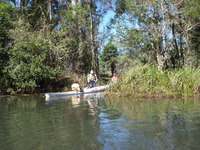 fullsize
Getting onto the water for a 12 km paddle.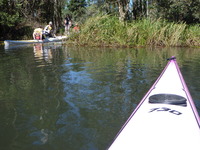 fullsize
Inlcuding Matilda in a shot too.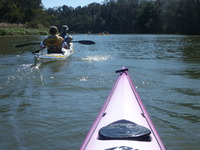 fullsize
I think Matt and Aaron were subconsciously speeding up every time there were half teams to pass. It was an easy paddle and rather pretty.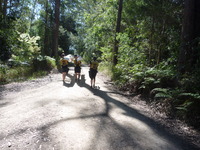 fullsize
We had to carry our boats 500 metres out to the cars without assistance here, we probably could have taken the towing systems but did not bother this time. (this is team Cartera)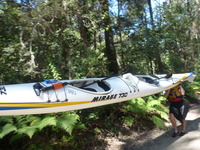 fullsize
Grant and Aaron carrying the BGCC 730.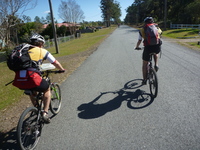 fullsize
On our bikes for the first time today, rock on.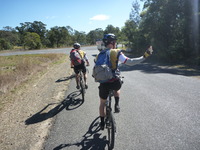 fullsize
About to turn onto an underpass to get under the highway.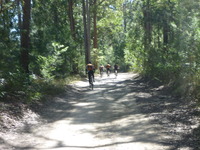 fullsize
Catching up to another team on a climb.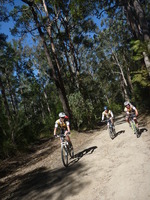 fullsize
We passed a fairly large number of half teams on this leg (all but the leaders I think).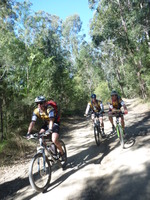 fullsize
Some more climbing, still a lot better than the direct looking route that Matt and I decided to avoid due to it seeming to involve hike a biking (we later heard this was indeed the case)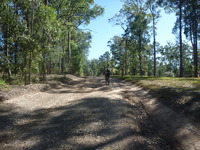 fullsize
More teams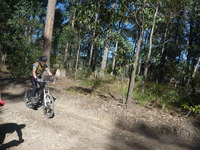 fullsize
Same area
It's Geo Time
I am back at Geoquest again as this race seems to be a permanent part of my calendar now days, in some form or another, 2006 report from the half, 2007 report from the full, 2008 report from support crew for a full team and 2009 in the half again.

As is normally the case, I was keen to race in Geoquest this year, the change of date suited me as I also goto head to South Australia and race in the Mawson MTB Marathon on the June long weekend. Initially I had hoped to race with a friend who had to return to the UK earlier than anticipated, Ian (who I raced with in 2006) and find a fourth somewhere.

When that all fell through I mentioned to a few friends I was keen to race and did anyone want a fourth team member. Matt got back to me and said he had lost a team member, was entered in the Male category and we could all go have some fun in the race. Then when another team member pulled out I suggested Aaron, a friend here in Canberra who I knew would be keen to do the event and I thought would be excellent to race with.

So we now had a team ready and keen to race. Of course our support crew may mention a different story, fortunately both were locked in, Matt's wife and fellow ARNut Amanda, and my friend Prue. However the team itself was 4 remarkably laid back guys in Matt, Aaron, Grant and I. With Grant and Aaron being Geoquest virgins and Matt and I being a bit too laid back sometimes in assuming all is cool and will sort itself out. In the lead up to the race we did not really plan or discuss much, sure it would work itself out in the end. We agreed to arrive on Thursday evening sometime and discussed ensuring we had compulsory equipment and that was about it. I think this laid back attitude may have been stressing Amanda out a bit, however she was fortunately quite used to Matt and dealt with it.

Gear wise, our sponsor iRule had provided us all with some awesome iRule clothing so we were wearing the shorts for the entire race and most of us wearing the iRule tops also. I was riding my pink steel hard tail race bike, with pink helmet on my head riding, my friend Sam had bought me an awesome fluffy pink under saddle tool bag in the US, so I had that to hold tools and a tube. Of course we had Matilda my pink Mirage 730 as one of the double kayaks we raced in, this is just me once more attempting to prove pink is a fast race colour. The others had their race bikes, Matt on an uber light carbon Merida 96er duallie. Aaron on a Giant Anthem and Grant on a Merida Carbon hard tail. Matt and Aaron were paddling the BGCC Mirage 730 which I had been able to borrow (I am a member, get coached by them, paddle and race with them a lot).

We had decided to camp on site, which had the advantage that we were very close to the HQ tent, however a cabin would have been nice as it is easier to do maps and organise gear, however us being a bit too laid back meant we had not even remembered to book the camp site until the Monday before driving up to the race. Last year in Forster quite a few of my friends had stayed in the various beach side units/apartments, which was a great idea as they were generally close, reasonably priced and provided a dry place to stay. It had not even occurred to me that Port Macquarie was also a beach side resort town and would be full of similar accommodation until we arrived and saw it all. In the end though we found camping worked alright and was convenient.

The biggest negative of the caravan park this year became apparent to some teams early on and us and others later. It was far too public, previously the caravan parks at Geoquest were out of the way more and had less public traffic through the site. This one had a public beach side foot path along the break wall next to it, it had a kids skate park 20 metres away and a lot of people would have been wandering past unrelated to the race or staying there themselves. One team had a bike stolen before the start of the race, fortunately another team loaned them one to race with. After the race Sean King's team had all 4 of their race packs stolen from the deck of their cabin, containing expensive rain jackets and all manner of other gear. They got back two of the packs found littered along toward the beach out of the park, however both were empty. Aaron on my team had his pack stolen from beside his tent while he slept on Sunday night. This was a GoLite V024 multi day race pack, he had used it in the race and before hand and thought it was awesome, so was really upset at hte loss. During the two hours we had our boats off the roof of Aaron's car on Monday morning while presentation was on before we packed to head home one of my Rola WCU boat cradles and the mounting bracket for it was stolen off his roof (we had to tape towels onto the car roof in place of the rack for the drive back to Canberra). Hopefully for next year Craig and Louise can find a more secluded caravan park for the race HQ or the park can present a better security record for things going missing from the park.
The Race
Luckily this year we had a reasonable start time of 8am, we had to be at Cresent Head ready for the first leg, a traditional 12 km ocean paddle, by 7:45am for briefing. The Half course teams were starting at the end of this leg at the same time, so we would begin to catch them sometime later in the day. The course this year was (all distances approximate): 12 km Ocean Paddle, 12 km Trail Run, 12 km River Paddle, 40 km Mountain Bike, 2 km Gorge Swim/Trek, 22 km Remote Trek, 28km Mountain Bike, 30 km River Paddle with 1km portage, 30km Mountain Bike (with split section and a reasonably tough Hike a Bike), 18 km Beach Run to the finish.
Daylight hours
Ocean Paddle
We got to the beach with plenty of time and stood around waiting for the race start, Grant Bourke's team (Cartera Maps) was running late and was getting their boats across to the beach almost as the start gun went, but Craig let them get there before the mixed teams started. We got to watch the mixed teams start before we had our chance to get paddling 5 minutes later. We had a good start, though when I backed off to get out of the way of one team I lost pace on Matt and Aaron. I had to work really hard to try to get back on for quite a while. Grant and I were talking a little bit, mostly about what a nice morning it was, then half way through the paddle he mentioned it was his first ever time paddling on the ocean. Well I guess he chose a good start, at least he was having fun. It did explain his difficulty in getting into the boat the previous day during competency tests and the lack of even plant and stroke he had during this paddle. (also he has never done a large amount of paddling anyway). Still I was impressed he had got stuck into it and was having fun.

We seemed to be over taking a lot of teams even in this first paddle, I think we were up to 15th or so when we pulled in to the beach, there was a 500 metre portage to the cars here, however our support crew could help and we were able to use the towing wheels so kindly loaned to us by Dave, Julie and Randall. Our first transition was a little slow but hey we were here for fun and not taking things too seriously. Although just as we were almost ready to leave, Amanda arrived back towing one of the boats and started the trend we saw throughout the rest of the race. We were not taking things to seriously and were fairly relaxed about our movements. Amanda however was constantly telling us to hurry up and get moving, telling us to haul arse and try to catch teams ahead. I think we can confidently say out over all high finishing place is thanks to our support crew more than anything else, otherwise we may still be out on course somewhere having a laugh and enjoying the bush.
Trail Run
So we headed out for an easy run, Aaron and Grant having never done something like this had to be reminded a bit to back off the pace, Matt and I were setting a comfortable pace that should last for the entire race. We passed 4 or 5 teams early on and were slowly catching another team, so we had a chat to them (I took photos). I had seen Liam Drew at the race HQ and knew he was racing with CBD Cycles team, however had not seen Grant Bourke around and had not realised he was also over here racing. Grant and Liam have both previously raced with Danielle, I had supported them at Geoquest in 2008. So I had taken a photo or two and was running along, Matt (who has also raced with Grant in the past) slowed down a bit to have a chat, it was at this point I heard Grant's voice and realised he was here racing. So we had a big ol' reunion out there on the track (though we did not sit down to a thanks giving dinner that couldn't be beat) and kept running. The nav was fairly straight forward through here and the area was completely flat, so we had a nice mosey through this leg and ended up near a river to get our boats. We had seen a few half teams walking from the cars to the water so we expected we would soon pass a few of them (Mirage 730s are a heck of a lot nicer to paddle than Sevylors).
River paddle
We hopped on to the water with help from Prue and Amanda and paddled off. As we passed the first half team here Matt and Aaron seemed to subconsciously speed up, so rather than cruising along I had to work pretty hard for Grant and I to stay on their wake. This became a theme for a lot of this leg, every time there were a few half teams to pass it felt like the pace went up. I guess it got us through the leg faster at least. Although by the end of this paddle Cartera Maps had caught up again on the paddle. They were also in Mirages rather than on skis like many teams are these days.

We carried our boats the 500 metres to the TA with Cartera carrying theirs a little faster and were finally able to hop onto our bikes for the next few hours. We ate food, changed into bike clothes, I delayed us a little bit with a toilet visit and we then got rolling. This leg started to climb up into the hills a bit but on the whole it was not too hard, no walking of the bikes necessary. The night before as Matt and I pored over the maps we noticed two distinct route choices through here, a direct seeming route to the north and a longer southerly route. The direct route however had some nasty looking contours on it so we chose to go south to get to the next TA. As it turned out this was a good choice, talking to other teams that took the direct route we heard they got some hike a biking in their course pretty early on, even Jason English (racing in the team that won the half) was unable to ride all the way.
Mountain Bike
On the ride, we seemed to be passing quite a lot of half course teams on this ride, it got me to thinking of one of my favourite Jens Voigt interviews this year, which is probably appropriate as Jens is the patron saint of suffering and handing out pain to others. He talks about a Terry Pratchett book with the character Cohen the barbarian, he says "a 70-year-old who has just survived everything. At one point he, and his other old warrior friends capture this village, but then they find that they are surrounded by an army of tens of thousands, and his only reaction is, 'Oh man, it's going to take days to kill all these people!'" when talking about having to pass a lot of people from the back of the tour this year. I was thinking that as we passed so many teams here, it is going to take days to pass all these people. Somewhat jokingly of course, however as I have pointed out we were in the race for fun. When we passed the Hardtale.com half team with the Bacon family they gave Matt a bit of a tease about being way back here in the field, then we had to pass them again a few minutes later as they had a slightly faster route down one series of trails.

At this point we thought, due to the teasing from the Bacons and the fact we were moseying along having fun that we were still mid field somewhere. We eventually rode in to transition, I was surprised to see the family (support crew) of my cousin Scott's team there, indicating we were now in front of their half course team also. Aaron, Grant and I got in to our wet suits. Matt opted to stay dry and walk along the sides f the gorge and shallow sections spotting the submerged bottles we had to read letters from. We were expecting we would see our support crew at the end of this gorge. This was a bit of a novelty leg for Geoquest, Craig had been talking it up in the race emails for a few weeks, recommending wet suits due to it being cold and telling us we could get fresh dry clothes from our support crew at the top and crowd around a fire. He was expecting many teams to come through this leg in the dark.
Trek/Gorge Swim
We had arrived at the TA sometime around 3:30pm so were fortunate that we would be able to do it in the light, spotting bottles submerged in water in the dark is a lot harder. We gave most of our food we had carried in the previous leg and other non essential items to our support crew, Grant opted to wear 5 toe wet suit shoes for this leg and also left his race pack behind, only carrying the dry bag from the pack that should contain all his compulsory race equipment. Ready to go we headed off up the river gorge. We passed a few more teams in this section, eventually catching up to Jason English's team near the end of the leg. Matt had been training with Jason a bit recently (thus Aaron and I had been fearful of what sort of incredible bike form Matt would have on him in the race) so we had a bit of a chat as we finished the leg.

At the stairs out we saw a flying fox across the river, obviously this was the ropes section that was mooted to appear somewhere in the course. Looks like fun, but that would wait until we had gotten our food and clothes and backpack from the support crew and gotten ready for the trek. Craig and Louise were at this TA so we said hi and asked Craig where the support crew were parked. He looked at us a bit strangely and said there is no support here. Matt and I thought he was joking and asked again, he than said it was an update to the course notes we had somehow missed during the briefing and did not pay attention to on the a5 piece of paper with corrections handed to us with the course. I remember Louise talking about how cold the water was and we really do need our wet suits to swim in it, however I have no memory of a mention of no support crew. I also remember reading the first two points on the a5 corrections sheet quickly before handing them to Prue to look over (they had support crew notes updates also) asking for them to be handed back later. Prue has no memory of this and neither she or Amanda recall seeing the a5 corrections sheet. Matt claims to have read it but remembers nothing of the content. Oh well OOPS.

At this point we realised we have a bit of a problem, we all had little (or in Grant's case none) food and water (though the water in creeks up here was pretty safe) and I am a diabetic (I almost died a few years ago in Geoquest when we misjudged how much food we needed and we all ran out). Also Grant had wet suit 5 finger booties on, not something you can do a 22 km remote hilly trek in. Fortunately Craig and Lou relented a bit at our predicament and encouraged teams and volunteers to donate any food they could spare to us (at this point I ignored my vegan diet and accepted and later ate jelly frogs (full of gelatin) which I would never normally consume, safety is more important than my dietary choice). We put our compulsory thermals and rain jackets and got ready to head out. There seemed little chance of shoes being available for Grant until Jason English piped up that he had a spare pair, that just happened to be Grant's size. As wet suits and other wet clothing was allowed to be left for return to race HQ Jason had bought a dry pair of his shoes up the Gorge for the trek. Thanks to Jason and the generosity of people giving me food we were able to head out on the trek with a reasonable chance of finishing it.

Usually in races I carry far more food than I could hope to eat after the scare a few years ago, however I had taken minimal food (just some gels and bars) for the swim/trek section as I expected it to only last around an hour and did not want any of my other food to get water logged if a sandwich bag of food broke for some reason. The other big problem that would turn up later is Grant's space blanket was in his race pack, which he now did not have on him. I guess it is a lesson to have it in the compulsory kit dry bag, they do not weigh much and you could have more than one too I guess. That was the item we were asked to show at the Trek to Bike transition later in the night. I am still a bit annoyed at the seeming lack of communication about this major change in the support of the race from Craig. A number of other teams we talked to were also caught out and had no idea there would be no support crew up here.
Nighttime
Remote Trek
By the time we were ready to head out and up the next (big hill) in the remote trek it was just after 5pm. We learnt after the race that along with our support crew rushing madly to get to most TAs on time (we were going faster than any of us expected) and just getting to many of them with a minute or so to spare, they waited for two and a half hours at the previous TA just in case we ran back down the road to get the food and equipment we needed for the next leg. They really were looking after us. Anyway we crossed the flying fox one at a time with Jason's team crossing on the other one next to us. We now had a 350m vertical gain over 3 km or something to the first CP on this leg up the top of some hill. After that a bit more altitude gain until we hit a formed track and headed off for the rest of the trek. We wondered where Jason's team had gotten to as we climbed, thinking they may have made a nav error, then we found them at the CP. Matt pointed out we were obviously letting them pass us a few times so we could later say we had passed the world champion, Jason English, 3 times in the race as if we were lapping them.

After the CP we headed off toward the trail that was coming up later. On the way down to a small saddle Aaron said he had an upset stomach and needed a toilet break soon. Before the race Matt had joked that our new iRule AR knicks had a special iPood sort of feature, that allowed you to go to the toilet without stopping. When he came up with this claim I think Grant and Aaron began to realise how much of the stuff Matt says is a joke or not at all serious. However I do wonder how seriously Aaron took that suggestion, we were moving down hill when Aaron said he could not wait, none of us (except Aaron) stopped moving and yet he was still with us 50 metres later when we hit the saddle and had done his business, I decided not to ask how he went about it. From the saddle we were lucky to find a forestry trail that headed up the right hand side of the ridge right to the trail we wanted, this was a lot easier than bush bashing over the ridge line.

At this point we were all low on water, Grant had none, fortunately Aaron had a bidon he was able to fill for Grant and on the map we were headed for a creek line that was likely to have water near the next CP at some ruins. So we headed on down there, at the creek line we came across the SCAR team and had a chat to them while we filled up. We found we only had 4 puritabs, so SCAR kindly gave us a few more so we would have enough water for us all to keep moving. (though of course the Crash quote "Dehydration is now, Gastroentoritis is later" comes to mind and we were going to drink it anyway). We ran along some trails for a little while with SCAR at this point, then the map and the trails on the ground started to differ significantly.

We got to something called axe rd on the ground that did not exist on the map. However looking at the map it appeared we should leave it soon for a track down to a creek, up to a ridge and on to the gully down to the next CP. So we headed down a rather indistinct track that appeared to be correct, ended up bashing through lantana for a while and eventually climbed up this indistinct track to a major fire road again. As nothing on the map seemed to match the ground here we started walking to the left seeing if we could work out what track we were on. We came upon a sign saying axe road to the left, oh well we need not have done any lantana bashing and we could have gotten here pretty easily, however we still did not know where we were. Matt and I started paying a lot of close attention to the spurs and gullies we were passing and decided we were fairly close to the control as we walked along this road. So we made the call and dropped off the trail aiming for a creek we expected to find descending to the creek crossing with the control on it.

Fortunately we guessed correctly, grabbed the CP and headed back out to walk along a ridge line fire trail to CP 14, the final CP on this trek that was to be followed by a bush bash down a series of spurs to the road into the TA. The next CP was easy to find as it was on a hill top as the fire trail was meant to end, as it followed a ridge there was no challenge finding it even if the trail ended early. After this we had to be fairly careful to stay on the spurs as we headed down as the valleys/gullys were likely to be a challenge. We bashed down the spurs for a while, through a lot of lantana and eventually got to the fire road we were expecting. I think it took around half an hour to get down. As we hit the fire trail we saw 8 lights, two other teams at the same point, all on a pretty easy jog in toward the TA now. I heard a kiwi accent and assumed it was Grant in Cartera Maps again, I did not pay much attention to the other team, thinking it was likely some similarly placed team maybe 5th or 6th overall at this point.

We broke into a jog/shuffle and started to leave these two teams behind, at this point Matt told us all not to get white line fever. I asked what he was talking about and he said well we were now in the overall lead, surprised at this I said wasn't that Grant and maybe SCAR again. He said it was in fact CBD Cycles with Liam (Kiwi) and Mexicans (Matt had chatted to Damon for a few minutes before we jogged away). Holy heck how did this happen, we are not a particularly strong team and even though we had been taking it easy were now in the lead. Anyway Matt had one thing right, we were not going to get some sort of fever trying to stay ahead. Instead we joked and moseyed along at a fun pace in to the TA. On the way to the TA there was some party going on on a property next to the road, the people there saw the head lights and must have realised there was a race going on, so they cheered us all on loudly and yelled at the Mexicans and CBD to move faster (around 500 metres or more behind us by then).
Mountain Bike
We were cold (with only compulsory equipment to wear) and had not had much to eat for 6 hours, however had gotten to the TA pretty easily. Grant had no space blanket, so we unfortunately ended up with a penalty (if only he had run straight to his pack and picked it up from where the bikes were before we were asked to do gear check we could have faked it (as his blanket was in his pack), oh well tough luck to us. Our awesome support crew had left some hot potato wedges (still warm in styrofoam and wrapped in a towel) for us along with far more food than we could possibly eat for the rest of the race, I suspect they were over compensating for the lack of support being allowed previously. This was confirmed when we noticed the large thermos filled with coffee there, sure coffee is good, a thermos we had to carry with us for 28 km on the bike was not quite so good. It was around 11pm at this point, Craig and Louise happened to be in the TA again so good more amusement out of our predicament. We also noticed that the bike shoes left here for the leg were mine, Aaron's and two pair of Matt's bike shoes and none of Grant's. Considering Grant uses SPD and Matt uses CB pedals this presented a bit of a problem. I guess Grant was damn lucky he had a pair of shoes donated by a world 24 mountain bike champion then, sure they were running shoes but there must be some benefit to having them. Grant was about to find out how good Jason English's sneakers were for long bike rides.

At this point I needed to go to the toilet again, I sat there shivering a bit, then filled up my water at the tap and headed for the bike. We were all cold, Grant seemed to almost be in pain with fingerless gloves, from what I hear we were lucky to get through here this early as teams coming later in the night found their bikes encrusted in ice. Matt seemed pretty warm (he was not even wearing his jacket) so donated his warm gloves to Grant and rode with bare hands (freak). We started climbing up into the next section of forest shivering away to do the lettered bike controls, we need 5 of the 6 available controls here. After the first CP we headed to collect CP D and could not find it in the place it should be. We searched around the area for a while but nothing matched up correctly. Positive we were in the right place we eventually called it and decided the spot device will show we were there. We headed off for more of the lettered CPs. When we ran into SCAR out on the tracks (in this section because we could all choose a distinctly different route you had no idea where you were in the field until you got to the next TA) they said CBD admitted to them that CP D did not exist also, reassured that it was indeed missing or hung in the wrong place we kept going.

On one climb in the forest we all warmed up a lot at last, seems some areas are warm and some are not, once we had all the lettered CPs we headed out toward a single track region that both Matt and Aaron had ridden in a month previously that sounded fun. We grabbed the last few CPs here and headed toward Telegraph Point for the long paddle. We had seen another team near us in the single track (which was a lot of fun, I got us a bit side tracked having too much fun through here and not following the tape that I assumed was there for some other event, eventually w worked out we should obey the bunting tape and got all the CPs), due to how much we had faffed around in the previous TA and out on the trails we assumed it was SCAR again and we were maybe now in 4th over all.

When we arrived at the TA Prue and Amanda said we were in second overall less than half an hour behind the Mexicans. Still surprised we got ready for the long paddle. Taking the kayak portage wheels with us this time, Amanda continually told us to hurry up and get moving. I unfortunately had left my camera on my pack and only realised as we were about to push off, Prue was unable to work out how to get it off so I was unable to take any photos for the entire long paddle leg. A shame for anyone who missed it as it was a gorgeous morning for a paddle. We started paddling at 5am and were surrounded by mist on the water, it was so lovely we decided to go stealth turning the lights out to better enjoy the surrounds.
River Paddle
As we paddled down the river we were still pretty damn cold, all of us in our jackets happy to be sitting the kayak with spray skirts on. Aaron must have gotten a bit warm though as he went to take his hat off he forgot he had his ayups on his head. Only remembering as they fell pas him toward the water, he tried to grab them, missed and alas they were lost for good (battery, head band and light). Unfortunate, we did still have all compulsory lights though as Matt had a small head torch he was carrying for day time on team lights which would help if they gear checked for lights later on. Soon after Aaron's bladder started complaining again, we found a head high rotting jetty he could try to climb out next to, he first off said he could stand up and pee while in the boat, fortunately he did not fall in, however he could not perform that act so climbed out and got to land to pee. Aaron's bladder seemed to get excited being this close to water and we had a number of pee stops for him on this 30 km kayak leg (fortunately one happened during the portage so was not an issue).

When we came up to the location of the portage we checked it out, though we could not see a jetty near by as suggested in course notes the road intersection there seemed like we got it right so we hopped out, put on wheels and walked the boats down the road for a kilometre or so. We came across a marshal at the end of the portage waiting for the Half teams who would use this as a TA, so we did indeed portage the correct way. As we hopped back into the water the officials told us they had seen the Mexicans go through 15 or 20 minutes in front of us, they had paddled all the way round rather than portage. However they were on skis and faster in the water than us, also we were grateful of the break from paddling as we were getting tight glutes and a bit sick of the seated position before the portage so that broke it up nicely.

For some reason early on in the paddle Matt had been unsure how long it was exactly, however after grabbing the CP and paddling toward the highway bridge he said it was 8 more KM after that, this was a little demoralising as paddling was starting to get a bit harder and we were looking forward to being done with it. It was around 9am as we passed under the bridge and it looked like we had 40 to 60 minutes to go at least. Oh well nothing to be done but keep it up and get to the finish. Just before the TA we were able to portage over a small wall to avoid around 1km extra which helped and then paddled across to the finish in Wauchope. Our awesome support crew was there with hot food and gear ready for us to go ride, after passing the gear checks from the officials we got into our bike gear with Amanda telling us to stop sitting around and hurry up, claiming the Mexicans were looking tired and we should move our hineys. It was now around 10am and we only had two legs to go, should be a breeze.
Day two
Mountain bike with split section
Though Amanda was once again telling us to move faster and get out of transition we still took a little time before hopping on our bikes to ride through Wauchope to the split section. This was an area of old single track and fire road below Bago Bluff where we had to get 4 controls, however we had the option of splitting the team in half to speed up the acquisition of these CPs. So Grant and Matt headed off for the closer/easier pair before the hike a bike up to the top of Bago Bluff and Aaron and I headed off to the slightly further off pair. As soon as we split up Aaron mentioned he was not keen to push the pace as he did not want to risk over doing it and breaking himself. So we took it easy and I had fun in the rather old unused single track before we got to the hike a bike. This is of course a traditional part of any Geoquest, pushing your bike up some stupidly steep hill, with rocks and vines and jungle potentially thrown in to climb over too. Matt and I thought it was a rather good hike a bike and not too tough. Of course we had experienced far worse in the past.

On the other hand Aaron was definitely cursing Craig's existence and wondering why he put us through this with our bikes. I had a smile on my face listening to it, at least he did not get disenheartened and realised it was simply part of the race. I hear Grant had similar things to say about Craig, however in the end we all got to the top and reunited after Matt and Grant had a bit of a break waiting for us.

Next we had the fun (read ludicrously steep) descent down off the bluff toward a road we were planning to use for a while heading to more CPs, a pacific highway underpass and the final TA. We found the next CP with no problems and headed to the Pacific Highway underpass, here we came across the sting in the tail of this leg, the tracks in the region did not match the map well and navigation became a bit of guess work for a while once more. Eventually we found the final CP (with a little bit of help from a local we stumbled upon who was out riding) and headed on toward the private property traversal and the TA. The track across the field in the private property did not really exist, however we eventually realised the vegetation boundary was accurate here and found the gate on the other side (and some of the elephant tracks left by the Mexicans). We arrived at the TA for the final beach trek at 2:30pm or so.
Beach Trek to finish
Amanda was still telling us to move fast and get out there, saying the Mexicans had left half an hour before we did, but they looked tired and slow so we should hurry up. I think at this point Grant was starting to break, he was able to handle the riding but he was a bit worn out. However we listened well enough and changed into our shoes, got rid of a bit of food, refilled water and headed to the beach. With 18 km to go Amanda kept telling us we could knock it over in 2 hours, which I am sure we could have if it were a nice grassy surface. However on a soft beach with high tide approaching we were not going to be doing 10 kmh pace all the way.

Matt, Aaron and I were able to shuffle along reasonably fast, however Grant seemed unable to maintain that for more than a few hundred metres at a time. So we walked a fair bit and worked hard to ensure we were not caught (Amanda had been telling us the next few teams were close together half an hour behind us (though looking at the time in on the leader board it appears they reached that TA at least an hour behind us). The first beach was 12 km long so it took a while, then walking up the steps to the light house we were able to enjoy a view that almost had us turning around to go back down. Anyway we got the CP (Aaron had the control card on an elastic shoe lace around his neck, however with the punch on the ground he had to get down on his knees and pray to the god of punched control cards in order to grab this one) and headed along the road for a bit until we hit the walking trail we were supposed to use between the upcoming beaches.

The next few small beaches were a lot easier to travel over and with each headland breaking up the monotony it was more interesting here. On to the final control on a phallic shaped headland decoration, we moseyed up to the top of this hill, watched Aaron pray to the control card god again and had a short mosey to the finish line left. We tried to get into a run here, however I later learned that even in this final 500 metres to the finish Grant was broken enough that he was swearing at Matt wishing we could just f***ing walk for a few metres rather than run, oops. I like to think he is happy with the race even with this slight discord at the end, at the start of the beach trek we had joked with him that if he does not collapse across the finish line he had obviously been holding back too much, I hope we did not take that too seriously in pushing him. Looking at the times on t eh Geo live website it is interesting to note we had the fastest split of any team on the beach trek.

Anyway we crossed the finish line around 5:30pm, just in day light which was good and what our support crew wanted us to do, we had closed down on the Mexicans by 15 minutes or so which was surprising however they deserved the win as we had not been expecting to be much higher than mid field so never really took the race too seriously and were enjoying ourselves having too much fun out there and faffing about in TAs (until Amanda kicked us out and told us to behave). Though maybe that helped, having fun is what this sport is all about. We are all pretty happy with our race, we had fun, our support crew, Prue and Amanda were awesome in so many ways. We (well I) proved pink race gear can go fast, and we also showed Mirages are still a nice fast boat for the event (though we were notably slower on kayak legs than many other teams, we also were not a strong paddling team).
Finished
Well that was a shock, we came second overall, who would have thought. Well actually Keith and Alex both thought of it, Keith had been telling me for a fortnight we were good overall contenders. Alex jokingly said last week we had better not win this year (he can see for himself we didn't so that should keep him happy <g>). Matt had an awesome race navigation wise, hardly missing a beat (only by 5 minutes or so the one or two times it happened) and I backed him up when needed and it seemed to work. Aaron was strong and cheerful throughout, even when he was falling asleep near the end of the 30km kayak he handled it well. He kept reminders about food and control card duties going smoothly and had an amusing race long attempt with Grant to seduce each other (or so it seemed from where Matt and I were watching). As for Grant, I am impressed with his race, he only got into endurance sport around two years ago, has not done much paddling and definitely does not have the sort of base in any of the disciplines that Aaron, Matt and I have. Grant managed to finish second overall in Geoquest on his first attempt, way to go man.

Interestingly on Friday before the race Grant joked as we all headed to get a shower after the competencies were finished "The team that showers together, wins together", it turns out he was right (winning our mens category), then for more shower amusement, we headed to the showers around the same time on Sunday evening to warm up and get clean before grabbing dinner. In the showers I commented that we had both the shower block keys so Amanda was unable to come in and hurry us along (as she had been all race). Aaron laughed saying that would be just about the funniest thing ever and he would not put it past her to charge into the mens showers and make us hurry up. Then within a minute or two we heard Amanda outside the door yelling at us that she and Prue wanted to have dinner sometime this century and we had better hurry up. I think I know why Matt stayed quite when I suggested it, he knows his wife fairly well.

So we had fun out there, it was a good course, the gorge swim was fun, the remote trek had some interesting bits, the long paddle was mostly pretty, the hike a bike was not too hard. Somehow we finished much higher than anticipated and we were definitely happy to be done in day light. We got a good meal, a proper night's sleep and were woken up to the sound of rather heavy rain, definitely glad we were not still out racing in those conditions. Thanks to Amanda and Prue for the awesome support job. Thanks to Grant, Matt and Aaron for a fun race, thanks to BGCC for the second Mirage 730. Craig and Lou set another good course and the controls were mostly in the right spot (D that we know of was not). Amanda mentioned we already have my friend Prue locked in to support next year so apparently some of us will be there again. I am sure fun will be had! It was this year.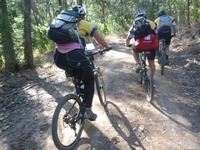 fullsize
Matt and Aaron riding past a member of a half course team.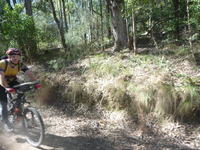 fullsize
Matt "Crispy" Bacon, as we passed their family team, they then got ahead of us with a better track choice a few minutes later so we had to pass them twice.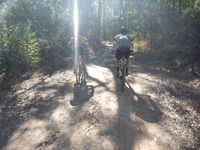 fullsize
A lovely warm day (clear though, which should have warned us about the cold night to come)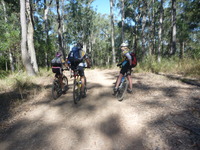 fullsize
Another team to pass here.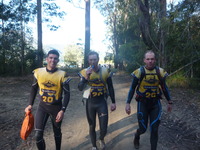 fullsize
Onto the swim/gorge trek leg in our wetsuits. The worst bit here was that Grant left his pack behind, which contained his space blanket (well that and the lack of extra food and stuff as we thought we would see the support crew in an hour).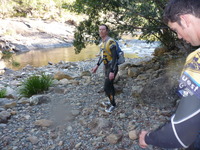 fullsize
Getting cold in the rather pretty gorge.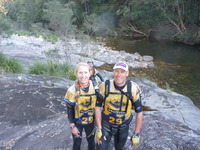 fullsize
Another team to photograph (this is Rock Wallabies, who came third overall)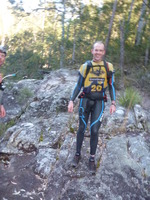 fullsize
And they got me on camera too.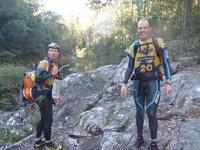 fullsize
Wet suits are warm but were really worth it when we had to be in the water, my feet froze, the rest was all good.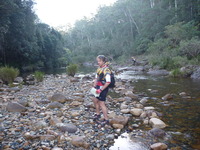 fullsize
Matt did not bother with a wet suit, he walked along the edges and looked down into the pools pointing to where he could see the submerged bottles to go look at.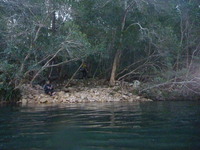 fullsize
Jason English in the centre of the photo was in the leading half team.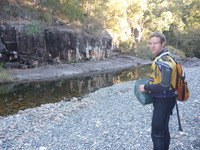 fullsize
A somewhat better photo of Jason.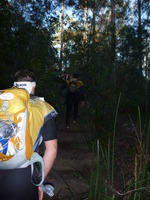 fullsize
Up the stairs at the end of this leg.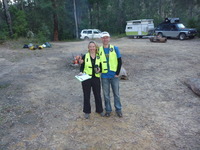 fullsize
The slave driving race directors (Craig and Louise) having a good laugh at our misfortune of not realising there was no support crew meeting us here after all.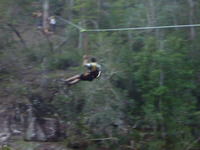 fullsize
Matt on the flying fox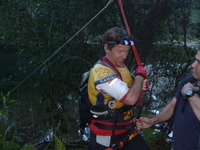 fullsize
Getting unhooked, this was the surprise ropes section, fun, can keep feet dry (not an issue for us) and easy.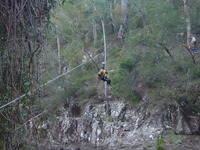 fullsize
Jason English riding something other than a bike for once.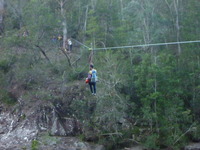 fullsize
Aaron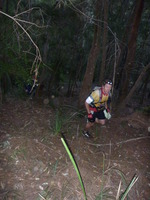 fullsize
Now for 350 vertical metres in 3km to a control, and another 100 or so after that before heaidng on toward the next few CP.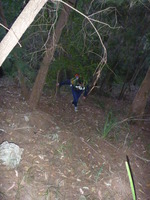 fullsize
Aaron.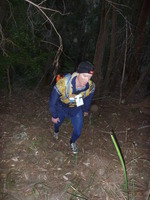 fullsize
closer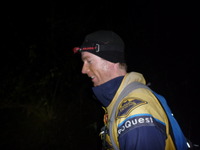 fullsize
Aaron as it really got dark.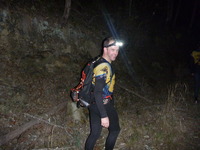 fullsize
Aaron got a photo of me too. We were all in out thermals as the compulsory equipment was all we had on us at the end of the river gorge.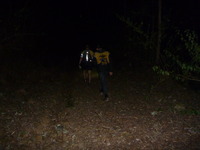 fullsize
Matt and Grant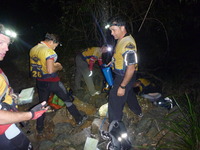 fullsize
Refilling water with Scar out near the ruins. Thanks for the purification tablets guys, we only had 4 which was not enough.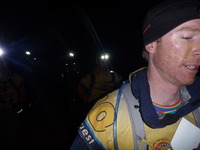 fullsize
Aaron with Scar tucked in behind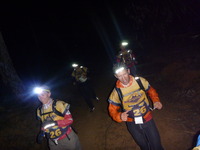 fullsize
Team Scar hammering along behind us.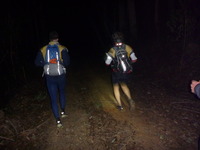 fullsize
Matt did not seem to feel the cold like the rest of us, stayed in that outfit all night.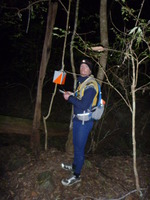 fullsize
Aaron grabbing 13.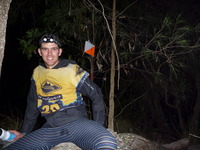 fullsize
Grant relaxing in front of 14, who says you need to go hard in Geoquest.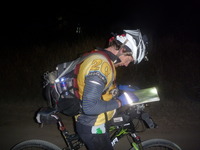 fullsize
Back on the bikes and damn cold, here we are trying to find out where the heck D was (it turns out Craig put it in the wong place, or gave us the wrong grid reference)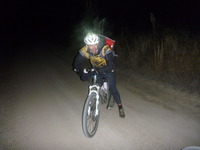 fullsize
Grant on the bike, still wearing Jason English's running shoes as our support crew left two pair of Matt's bike shoes (CB pedals) rather than a pair of Grant's (SPD)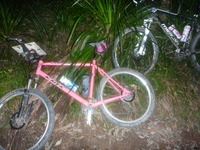 fullsize
I thought I should put a photo of my bike in, with the awesome pink furry seat tool bag Sam got me in the US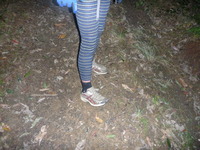 fullsize
Jason English's shoes, kindly loaned to us at the start of the long trek when Grant only had 5 toe water booties to wear otherwise, thanks Jason you legend.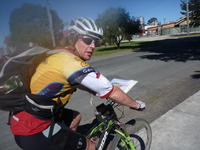 fullsize
I did not have my camera for the lovely long (30km) paddle as it was stuck on my pack still and our support crew pushed us out of transition before I remembered to put it on the boat. So here we are riding out of Wauchope in daylight.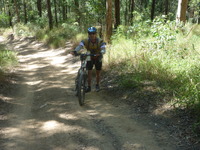 fullsize
Aaron had never done a real hike a bike before, Craig kindly cured him (and Grant) of that lack in their experience. Thanks Craig. Matt and I smiled and enjoyed it.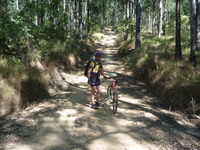 fullsize
Aaron wanted to take more photos of me.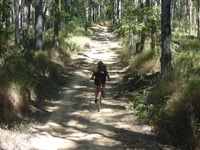 fullsize
So I rode up this rideable rather than hike only section.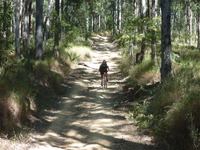 fullsize
This was all during a split gaine so Matt and Grant were elsewhere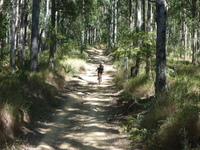 fullsize
Though they also had to do the hike a bike to finish the split.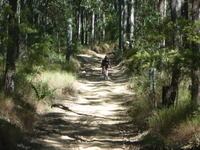 fullsize
Almost at the top of this bit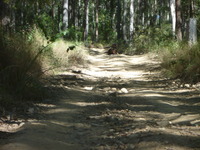 fullsize
Waiting for Aaron again.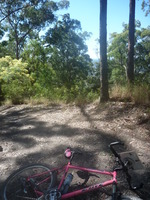 fullsize
At the top, almost at the Bago Bluff lookout.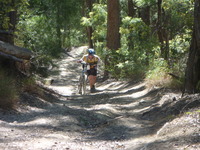 fullsize
Final hard bit to the top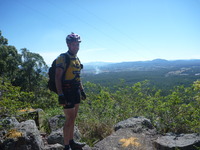 fullsize
Well there was some more rocks to clamber up to the lookout, but check out that view.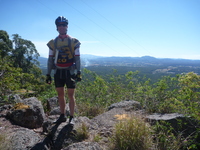 fullsize
Aaron on the lookout also.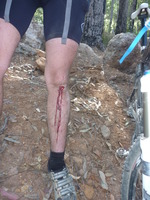 fullsize
Grant got our only blood for the weekend so it needed to be photographed.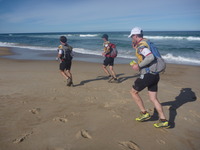 fullsize
On the final beach trek.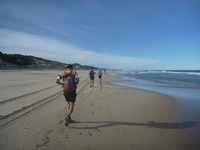 fullsize
We really were not trying to kill Grant, he may claim otherwise at this point though.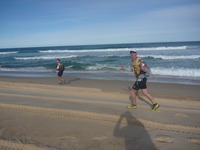 fullsize
The sand surface was a bit soft and nearing high tide, still we pushed on, planning to finish in daylight.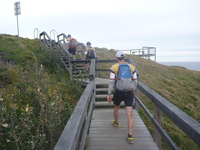 fullsize
Stairs up to the first CP on this leg at a little lighthouse.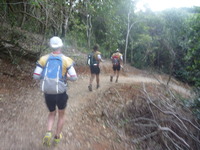 fullsize
Running down the walking trail toward another beach later on.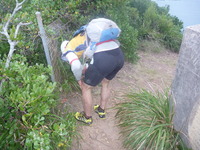 fullsize
Aaron had the control card on an elastic shoe lace around his neck to ensure he never lost it, it also meant he had to get down and close to punches on the ground.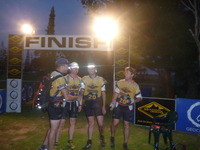 fullsize
Finish, in daylight (just)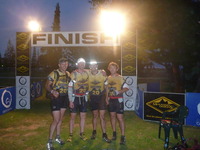 fullsize
Beers and all, thanks for the race guys, it was fun.