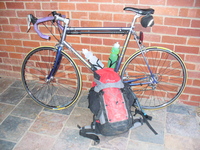 fullsize
My bike and backpack at home in Canberra before starting the ride, 06:30am Saturday.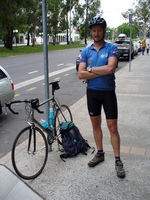 fullsize
Crash waiting for me at the Jolimont Centre ready for our 06:45am start.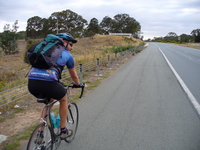 fullsize
Passing out of the ACT into NSW.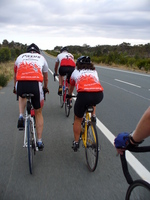 fullsize
Some of the people from the vets club pulled us along for 10 KM or so until they turned off.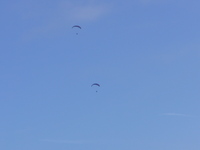 fullsize
Next to Lake George we saw a bunch of paragliders.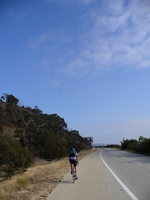 fullsize
Above Crash.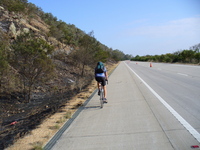 fullsize
The fires a few days earlier caused Lake George to be closed, as we rode through one lane was still closed, which was great as we had an entire lane blocked off to keep the traffic away.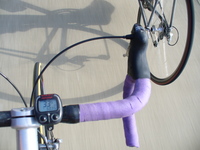 fullsize
50 KM in.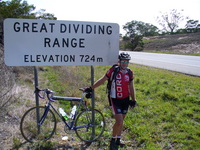 fullsize
Crossing the great dividing range in the big ring.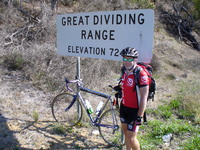 fullsize
Crash took a second photo.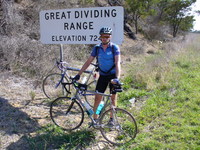 fullsize
Then I took one.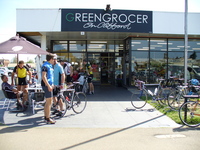 fullsize
The rather brilliant green grocer/cafe/bike shop in Goulburn.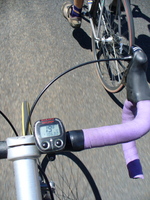 fullsize
Over 100 KM after Goulburn.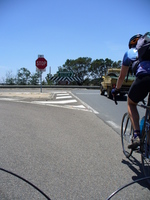 fullsize
Turning off the freeway onto the Illawarra hwy.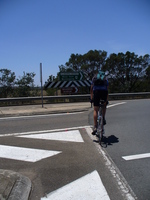 fullsize
Same place.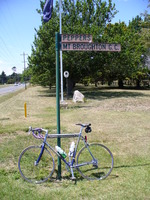 fullsize
Just for Aaron I had to take a photo of the sign pointing to his mountainous goulf course.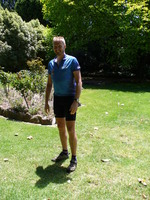 fullsize
Crash at Moss Vale park where we had some lunch around 2pm (165 KM in)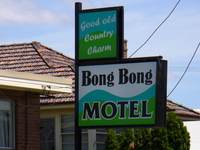 fullsize
I just had to record this motel name in Moss Vale.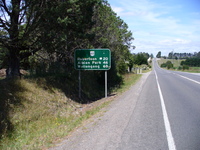 fullsize
As we got closer to the end I took a few photos of the distance signs.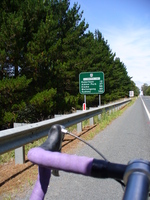 fullsize
A bit closer.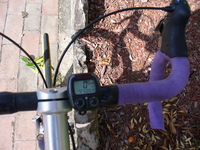 fullsize
Finished the ride for the day at the motel in Wollongong, 230 KM.
The Idea: Lets ride to lca
Mid way through 2006 Michael "Crash" Carden and I started discussing the idea of riding up to linux.conf.au 2007 in Sydney from where we live in Canberra. Hugh Blemings, Tony Breeds, Michael Neuling and Michael Ellerman from ozlabs also expressed interest in joining in the ride at various times in the lead up. Hugh and Tony were the most interested, however all along said they would need to feel comfortable with the distance and still have fun doing it if they came along.

The course we planned to ride was either out thorough Bungendore, Tarago and Goulburn or straight up the Federal Highway to Goulburn, then up the Highway to the Illawarra Highway then down to Wollongong, along the coast drive to Stanwell Park, up the climb there and into Sydney on the Princess Highway. The entire ride would be around 330 KM to 350 KM depending on the way we decided to go at the start. The plan was to do a fair distance on the first day, as much as the less experienced riders could handle, sleep the night somewhere and finish off the ride the next day, tyring to get most of the distance done on Saturday.

Crash and I are both used to doing lots of long hard rides, however none of the others have done much in the way of distance cycling. We gave them some suggestions on ways to prepare for doing a ride of this length, however a lot of the advice involve getting out and spending a lot of time on the bike. None of the others had enough time in the lead up to get prepared for the distances involved. The week before the ride they decided they would be unable to do it all and thus it was down to Crash and I, because we knew we could make the distance Crash booked us accommodation in Wollongong, we had 230 KM to do on the first day to make it there, then 80 to 100 KM on the second day.
Saturday: Canberra to Wollongong
Tony offered to give our bags of clothes and laptops a lift to Sydney, after dropping them off Friday night we met at the Jolimont centre in civic at 06:30am on Saturday morning to start the ride. Getting away at 06:45am we rode out the Federal Highway, as we left the ACT some of the ACT Veterans cycling club Crash races against caught us up, they were out for an easy 40 KM training ride and we were able to sit behind them and be towed along until they turned around.

After passing Lake George and seeing some paragliders in the air, we started to see advertising signs for Goulburn, Macdonalds, Subway etc. The strange thing was the first sign we saw of this nature said Goulburn was 17 minutes away, the next said 30 minutes, then a few KM later we saw another also saying 30 minutes. By this time we realised Goulburn was obviously making a run for it and did not want us to catch it. We gave chase and I am glad to saw we were able to catch Goulburn and get some food and coffee by around 10am.

The Greengrocer was the destination, this is a bike shop, cafe, green grocer on Clifford street (just off Bourke st) run by a local mountain biker. He has been involved in some CORC Mountain Cross races, and has done catering at a 24 hour race with some very good food. I had not been to his shop, nor had Crash, when we arrived a lot of local road riders were just finishing up their post ride coffee which is promising. The coffee and food we had there was good and I strongly recommend a visit if you happen to be passing through or near Goulburn.

We hopped back on the bikes and rode up the freeway to the Illawarra Highway turn off, then we headed toward Moss Vale. By the time we reached Moss Vale it was 2pm and we were both getting a bit hungry, with 165 KM on the speedo we stopped for a greasy lunch at a take away, eaten in the lovely little park in the centre of town, then we hopped back on the bikes to finish the ride (65 KM to go). We passed through Robertson and decided not to stop at the Bakery as we still felt a bit full after lunch and only 25 KM had passed between the towns. We were keen to push on here anyway as we had a rather fun descent waiting for us.

Crash likes to tell the story about descending Macquarie pass here last time he rode to Sydney, this ride he did with Richard "DeathMarch" Bontjer, a rather capable rider (who has won the Solo Australian 24 Hour Mountain Bike race twice). As they descended Macquarie pass a driver in a hotted up Holden Commodore slipped past Crash on a straight bit but then did not get past Richard. For Richard this was good as he was not held up by the slow car. However according to Crash this seemed to irk the car driver as he was gunning his engine and accelerating heavily every time he got to a slightly straight bit of road, however due to the corners Richard stayed comfortably ahead of him and had not even realised there was some car trying to catch him all the way down the descent.

I tend not to do long descents down fun twisty roads much, most of the descents in the Canberra region are much more tame, the passes down to the coast near Canberra have heavy traffic and are not the best way to ride to the coast, thus I forget how much fun tight twisty long descents down roads with 15 KMh corners can really be. This reminded me as I had a hoot, except for a small problem that like Richard I also had a Commodore driver near me and he passed me on one long straight section, then after that he was so slow I had to sit up and dawdle on my way down, though he did appear to be accelerating a lot on the straights. We also caught a Lancer Evo, with both of them slowing me up I stopped and waited a few minutes for Crash to catch up on the descent (no cars passed in this time) then we rode the last KM of the descent and got back to flat country.

At this point we simply had some undulating terrain to Albion Park then a bit more into less of a head wind (we had had an Easterly or North Easterly wind all day so had pretty much been riding into a headwind the whole way up) than we had for most of the day. We ended up arriving in Figtree at the Sovereign Inn at 5pm. At this point a whole host of recreational options were available for us in all number of combinations such as Eat, Sleep, Eat or Sleep, Eat, Sleep or Eat, Eat, Sleep or Eat, Sleep, Sleep, or even Sleep, Sleep, Sleep. We decided upon Beer, Eat, Sleep with a quick diversion before sleep into watching crazy scientists flapping their arms in white jumpsuits to an audience of Hoop Cranes on tv before we fell asleep around 9pm.
Sunday: Wollongong to Sydney
After such an early night we both woke up fairly early, however as we only had around 80 to 100 KM to ride today we lay around a bit, until around 7:30am we both started to feel the need for some breakfast. We got ready, hopped back on the bikes and rolled into the centre of Wollongong to get close to the beach for the first time and find some breakfast. We enjoyed a leisurely big breakfast with coffee each by the ocean before hopping back on the bikes at 9am to head north. The ride on this morning was really spectacular, along the coastal bike path, close to the beach most of the way, very flat, no traffic or lights or anything. Gorgeous sunny morning, not too hot, no real effort needed to roll along at a good speed. Definitely a good ride, would be easy and enjoyable for any level of rider all the way along that path and back.

We stopped at Stanwell Park for a drink from the corner store than got on the bikes again for the one tough climb of the day up to Stanwell Tops. Once there we had a good look back along the coast as this was the last time we would see it before hitting the water near the airport in Sydney. After this we decided to take the easier route inland rather than through the Royal National Park as there would be less climbing involved this way. Now with all the climbing over and done with we were happily able to hold a speed above 30 KMh a lot and our average speed crept back above 26 KMh for the entire ride up.

Once we left the old Princess Highway and were back on the free way we were pretty much guaranteed to be surrounded by heavy traffic for the rest of the ride. We did have to get into the middle of Sydney so traffic had to be dealt with, in reality it was not too bad and we only had a few people yell out at us from car windows (as is often the case when people seem to think bikes should not be on the roads). The worst part of the ride in was the tunnel under the airport runway (dark, many cars going fast and close to you), however it was sort of neat riding past the airport, a large number of speakers (Crash is a conference speaker) and delegates (such as myself) were flying in to Sydney right here so we got to do the trip from the airport to UNSW also.

We arrived at UNSW at 1pm and had a chat to some of the volunteers manning the booth, registration was not yet open. By the time this ride had finished we had ridden 330KM, 12h30 minutes on the bike, our average speed while riding in the end was 26.3KMh which is fairly good especially considering the head wind all day on Saturday. Of course it pales in comparison to the Audax one of our friends did on the same two days, Warren lives in Sydney and hopped on his bike with some friends on Saturday morning, rode down to Canberra, turned around and rode back to Goulburn, arrived there around 10pm and slept the night, got up early on Sunday and finished riding back home to Sydney, 600 KM in the weekend made our 330KM pale in comparison. And just for all of those reading who think we need our head examined, check out what Richard Vollebregt did recently, Perth to Sydney on a bike in 8 days 10 hours 58 minutes riding between 400 and 500 KM every day to make it in that time frame, not drafting anyone at any time.

Once we arrived in Sydney we had to wait for Tony to appear with our bags, we headed off to have some lunch near by, came back and Crash headed to his accommodation for a shower, I met up with some other previous conference organisers and we headed off for coffee and form some more food, then we met a few of the other Canberra crew there and relaxed until my sister and Tony both rocked up to UNSW around the same time and we all headed off for a bit of relaxation before the conference really gets going on Monday morning.

This was a really enjoyable way to get ourselves up to the conference, I highly recommend doing something similar rather than sitting in a car or bus. We are already talking about riding down to Melbourne for linux.conf.au 2008 next January, why don't you join in?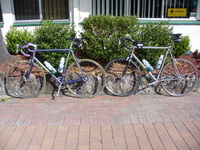 fullsize
Our bikes at the motel.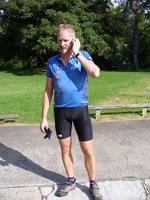 fullsize
Crash on the phone near the lovely gardens at the back of the Motel.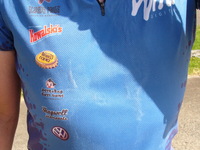 fullsize
Salt stains showing Crash has lost some salt and sweat on the ride.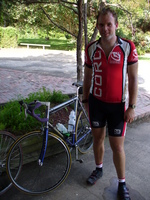 fullsize
Me out the back of the Motel showing off my triple stripe helmet hair.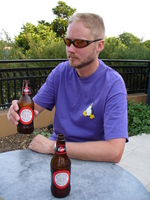 fullsize
Enjoying the beer after the ride.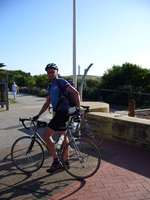 fullsize
Sunday morning starting out, Crash at the centre of the Wollongong beach area.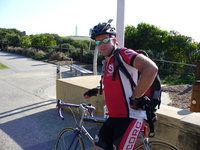 fullsize
And me at the same location.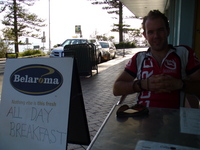 fullsize
Sitting down to an all day breakfast by the ocean in Wollongong at 8am.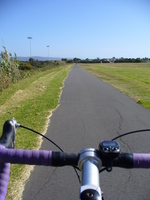 fullsize
Riding along the coastal bike path for the morning on the way out.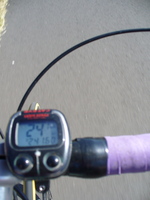 fullsize
240 KM ridden.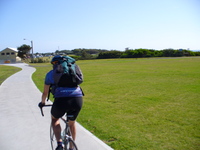 fullsize
Crash by the coast.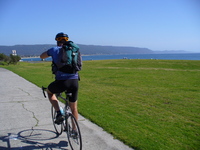 fullsize
This time with a good shot of the wonderful views we had most of the morning.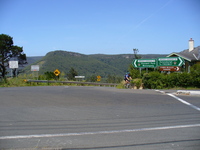 fullsize
Crash getting to the top of the climb from Stanwell Park to Stanwell Tops.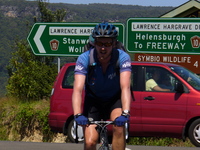 fullsize
Crossing the road toward me.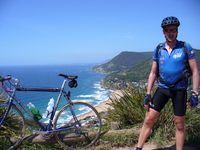 fullsize
Crash and my bike looking back along the coastline we just finished riding along.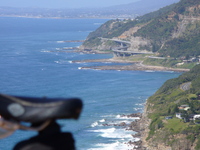 fullsize
Looking close at the rather impressive new highway section above the water.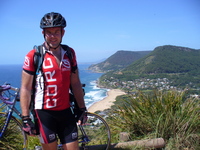 fullsize
Me with the same view.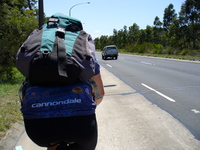 fullsize
Crash on the road into Sydney.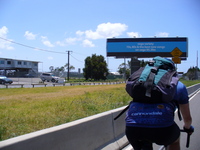 fullsize
Crash next to the Sydney Airport, many conference speakers and delegates flew in, we rode past it.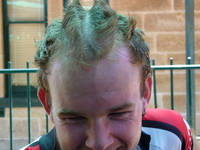 fullsize
After finishing at UNSW Crash and I went to get some lunch, he insisted my helmet hair needed to be on record.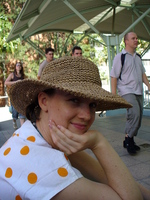 fullsize
I decided to stay with my sister Jane for the week rather than on campus, she rocked up to UNSW to meet me on Sunday arvo.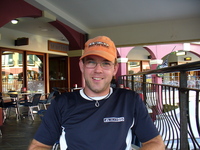 fullsize
Jane got a photo of me when we got coffee in Leichardt after I showered and relaxed a bit.