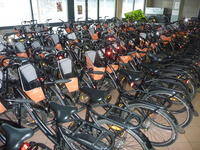 fullsize
The Kona Africa bikes at Bike SA office, these are all around Adelaide as a get around town option, an awesome initiative in the city I think.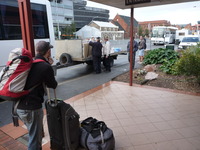 fullsize
Andrew looking as our bike bags and boxes are loaded on to the trailer.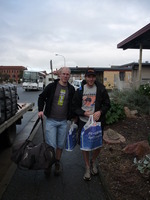 fullsize
Craig (SpoonBoy) and Jason English waiting for the bus north.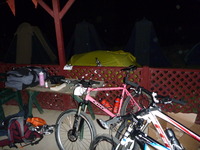 fullsize
The bike ready to go the following morning.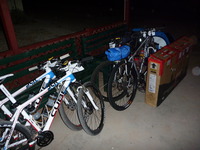 fullsize
Mark and Mark's (Fenner and Tupaslki) Cubes that carried them to 3rd overall for Team Torq.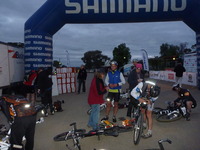 fullsize
Start line in the morning teams going through gear check.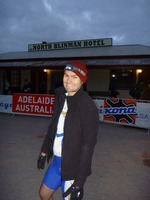 fullsize
Andrew in front of the Blinman Hotel waiting for the start on Friday morning.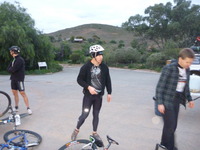 fullsize
Spoonie and Arran (on the right) getting ready to start.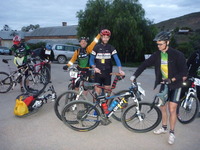 fullsize
Brett (with some fans around him) and Jason to the right, they had a great race, despite a number of mechanicals they came 4th overall and were not far behind 3rd.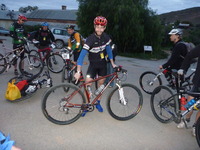 fullsize
Brett pointing to the most unusual thing many of us have ever seen on a bike he rides, Gears.

fullsize
Andrew head shot with Bec and Phil riding their Fargos in maladjusted kit.

fullsize
Some guys in CABC jerseys.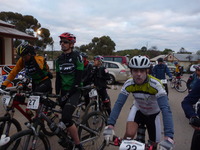 fullsize
Looking at other bleary eyed competitors waiting for the start.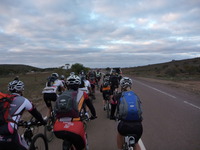 fullsize
Off and rolling along the first 18km of bitumen. Jac and Anne in front who came in first in womens pairs, Greg Porter on the right who came third in mixed pairs.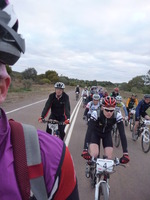 fullsize
Looking back at the bunch.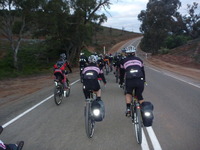 fullsize
Bec and Phil with panniers due to their dislike of packs. Kim Willocks is on the left in this shot, 2 weeks after winning XPD, awesome effort, she and her team mate also avoided packs and rode with all equipment mounted on the bike.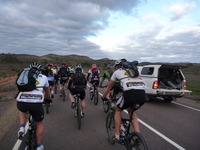 fullsize
The car getting video footage in shot for the documentary.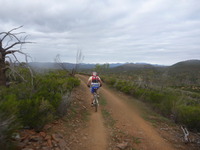 fullsize
On to some dirt at last, spectacular views all around.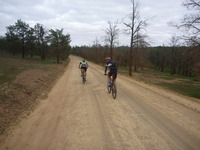 fullsize
Brett and Jason had a flat very early on so had to pass us again.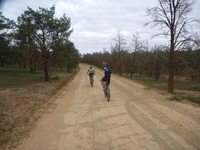 fullsize
Brett was friendly and waved while hanging on to Jason's wheel.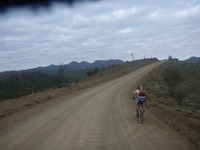 fullsize
Andrew in front.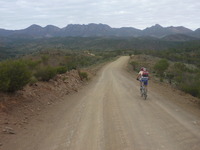 fullsize
Descending toward Bunyeroo Gorge.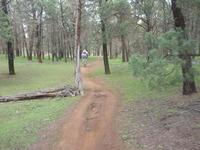 fullsize
The start of the awesome single track section in to Wilpena Pound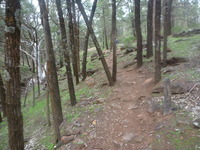 fullsize
This great section of single track climbs up next to a lovely rocky gully. Willo and Bellie rode it downhill (video of that can be seen on the link) when they checked the area out.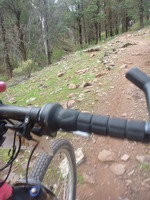 fullsize
I had to get a few photos of the ST.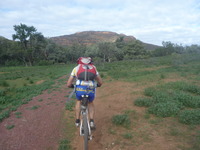 fullsize
Final section of ST before Wilpena.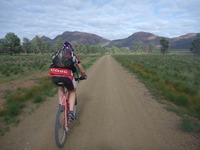 fullsize
After Wilpena I handed the camera to Andrew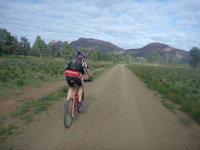 fullsize
So some rare shots of me on one of my ride reports are here.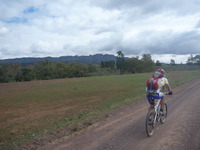 fullsize
Still more of Andrew riding through the amazing scenery.
Lead up to the race
So the mountain bike magazines started advertising the race around December last year, I saw the ad and was somewhat interested. Friends such as Adrian S and Dave and Julie had mentioned from time to time that the Flinders ranges are an amazing part of the country and should be seen. Also riding 367 km non stop on the mtb sounded like an interesting effort, the first race of this type in Australia.

When I found the web site they also were talking about three mountain runs, this sounded like something worth doing, the non stop race and the three runs. I just had to find a team mate that could run and was keen on the stupidity of it.

After asking a few friends I ended up racing with Andrew, he had returned to Australia in August last year and got back into mountain biking here, he competed in the Solo 24 Nationals at Easter and came 8th, definitely on good form for riding. However Andrew does not run, so would not be keen on the running up peaks idea. For I while I was still entertaining the idea of letting him wait at the bottom while I did the runs, however I have been injured and unable to run much the last few months, and I was being reminded of the fact 367km is a pretty big effort all by itself. Also it became clear the organisers were targeting the runs at the people doing the 4 day stage race and not making it easy for non stop riders.

In the end I decided due to not really having done enough riding in preparation and being injured the running idea was out and I would have a tough enough time completing the race as it was. Also there was no separate race category for doing the running so it was a huge time penalty to attempt them (and they had a rule that you could not do runs in the dark which meant waiting for half a night for the second run at one point)

Anyway Andrew and I signed up for the event and then did some good longish rides together (such as the 210 km ride to Yass, Gunning and back, the 165 km mtb ride to the coast, the 8 hour Chocolate Foot race solo, etc). Andrew was also doing 2 or 3 hours most afternoons on the mtb at Majura or Stromlo, an effort I was no where near matching due to also trying to fit in swims, runs and paddles on top of rides. He is training for the 24 hour solo worlds in October at Stromlo though so that will help out in the long run.
A race through the South Australian wilderness
We were doing the event unsupported, there was probably some advantage to be had with support (by the end of the race most of us estimate it would give you around an extra 40 minutes over the duration of the race) but it was easier and cheaper to get to and do with out dragging someone else and a car along for the effort.

We flew down on Wednesday night, stayed in Adelaide a few hundred metres from the Bike SA pickup point, hopped on a bus for the 7 hour trip to Blinman and got there around 5pm. Went through briefing, dinner, bike assembly and then settled down for sleep until around 6am. There was a generator going all night near the camp area so not the best sleep ever.

On the start line at 7am for scrutineering (to ensure we all had compulsory equipment) and we were handed our GPS devices (not spot style live tracking through) to ensure we all followed the course (speaking of Spot Tracking, Pete Heal passed Port Augusta/Melrose area on his solo unsupported 50 (15,000 km) day ride around Australia around the time we finished the race according to his spot tracking). We then had a few more minutes to pack the rest of our luggage away for transport and wait on the start line for the 7:30am start.

I had my garmin on, I forgot to take the cradle to enable me to connect it to extra power, so it lasted around 12 hours until 222k somewhere after Hawker. If you look at that map or on the paper maps we were handed it is interesting to note that although we are in the Flinders ranges and kind of in the outback, we were never really that far from bitumen roads and due to the surface I have to say I never really felt we were in the wilderness. Though it was definitely an amazing area to ride through and see from the bike.

The first 18km of the race were on bitumen out of Blinman, so a few peloton's formed and a few break away attempts were made (by Chris Jongewaard and his team mate and by Brett and Jason), however no one really got away so it settled down a bit. I probably should not have put the effort in to stay in the front peloton, and realised this when I looked around and noticed Andrew was not there, so I dropped back and waited for him. We saw the tempo of the front guys go way up as we hit the dirt and that was the last we saw of the top few teams. This is something I am well known for doing and really should stop myself making the mistake, I often go out too hard in any race and then suffer later for that.

We did the first stage (91 km to Rawnsley Park) in around 4 hours which was at a sort of tempo (once we were riding by ourselves) we had hoped to be able to hold for the whole race. However it was starting to show we had a few problems, Andrew had been suffering gastro all week and had been unable to eat or drink properly and was rather depleted of energy stores in his muscles, his gastro was still playing up most of the day through the race. He did an incredible effort to get through the race like this I think. I had not done enough long rides and was also not being consistent with my pacing due to food intake and efforts being uneven on my part.

The first stage was definitely the highlight of the race, with the spectacular sections around Bunyeroo Gorge and the single track into Wilpena Pound plus the best scenery was definitely on the first two legs. Once we got on to the second stage, Andrew's gastro was slowing him down a lot, and when I tried taking particularly long turns on the front I went into a hole energy wise that took me a while to climb out of such a big flat spot. So out pace slowed down a lot and we began to be passed by quite a few teams.

Around 20km from Hawker we got up the only climb in the entire course that may need a granny gear, however we walked the rockier middle section. We were chatting with Kim and Rob for a while here before they rode away from us (I was in a pretty big hole energy wise once we got back on the dirt on our way into Hawker for 30 or so km). We came into Hawker before dark and were able to pick up some more food, warm clothes, light batteries, etc. We stayed at the rest stop for around 30 minutes I think, but got back on the bikes and out there again once we were ready. The following 107 km stage was pretty flat and through a lot of fire roads between properties for the entire stage after the first 184km taking a bit over 10 hours it was probably fortunate the terrain was easier and the next 180 km were faster (even though we were riding a lot slower).

We were able to make it to the last stage change at Quorn sometime around 10:30pm which was good as it meant we were likely to finish in under 20 hours as we had predicted. We stayed a bit too long at this stage transition too (the support people there were so nice to us all) and finally got going on the final 71 km stage to the finish. This final stage was a bit of a sting in the tail, after such a flat and relatively fast 107km from Hawker to Quorn there was a bit of undulation and effort involved in getting through this stage. When we got to the last town before Melrose I lose a lot of motivation when I realised it was not Melrose and the finish, fortunately Andrew wanted to get to sleep as soon as possible, so he put his head down and started hammering the final stretch to the finish, I just had to hold on to his back wheel. We ended up finishing 10 seconds behind another team which is pretty amazing, however we did not try to pass them as we were both pretty worn out by this point.

Our finishing time is 19h52m which fortunately is just under 20 hours, which was what we predicted we could do. However we think we could do a lot better (and train differently for this event). Still it was a good event, a gorgeous place with amazing scenery and lots of nice people out there with us. However as it currently stands it is not really a mountain bike race, there is no need for mtb skills to complete it on this course and you really just need a lot of road bike time and power and endurance for it.
Post event, our set up, what we did, what could be better
I will give some feed back to the organisers on the event, however do not think I will air all of that publicly, except to say I think Bike SA did a great thing putting on such a brave event, the first of its type in Australia with great support and I think the documentary will get a lot of interest nationally and internationally for next year. The course was very well marked and they did deal well with concerns surrounding the event itself, the race and the support on course were faultless.

If we ever do this race again (it clashes with Geoquest most years if they continue to hold it on this weekend, which is another event I like to do) there are definitely things we would do differently. First off mtb training does not help much, we would need to simply go do a heck of a lot of long road km, a lot of good 10 hour days in the saddle at high intensity would do wonders for an event like this. Jason English summed it up well saying he had never pedalled so much in race, he kept looking for more corners but the GPS kept saying go straight on.

So the best thing you can do is get used to keeping intensity up on a bike for long periods of time, no need to do much single track or skills work. If they have support crews allowed again (to make it fairer I would almost suggest they should not allow support, but I like Adventure Racing and the better AR's tend to be the ones where support crews are not needed now days) it would be strongly advised to have a support crew as they probably can help you save as much as an hour off your race time (the 3 transitions with doing stuff yourself seemed to take most teams on average a minimum of 20 minutes each).

Bike setup, I think carrying a lot of stuff in backpacks was a bad idea, we do not need the bike to feel like a normal mtb for handling and I think Kim and Rob made the right choice loading up saddle bags, bento boxes and handle bar bags with all the gear. I personally need to drink a lot of fluid so would still need to carry a 3 litre bladder, however everything else should be mounted on the bike somewhere. Sitting on a bike so much (road style) the extra weight does get to you after a while and I can see a definite advantage with getting rid of most of it from your back. Though not with a pannier rack or panniers as that adds too much weight and I personally would find a single pannier would unbalance the bike and add more drag than I would like.

I also think this race is an excellent reason to ride a 29er, with a fast rolling, light weight, skinny 29er tyre with stans goop in it the whole ride experience would be a lot better I think, as much as I love my pink mtb I am almost upset I did not go to the effort Brett did with his 29er single speed to put gears on my 29er single speed and take it to the race.

I would like to get back to this area and do some riding on more trails and also some running/walking on the mountain peaks I missed or other things in the area. The race could be interesting to do again if it works out in my schedule, though no guarantees. I have to thank Andrew for doing this event with me, it was fun and I learnt some more about my insulin/food/pacing and have some strategies to try to try out for managing it now in hindsight. I hope Andrew had fun and everyone else who was there racing. Thanks to BikeSA for the event too. Looking forward to watching it on TV when the documentary Airs on SBS (or Fox Sports or ESPN) in the next few months.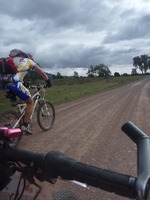 fullsize
Doing my photos with bike parts in them thing again.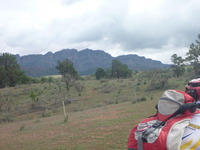 fullsize
You can see some impressive rock formations on these hills.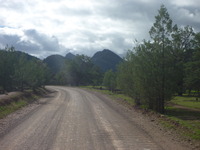 fullsize
It was amazingly green this year as they have already had more then this annual average rainfall in the first 5 months of the year.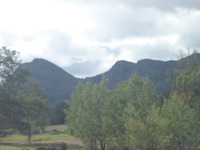 fullsize
More hills above greenery.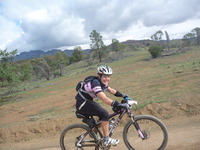 fullsize
Claire and Joel passed us as we started to slow down in the second stage.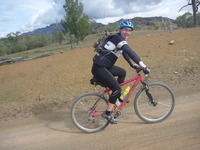 fullsize
They both seemed quite sprightly in passing.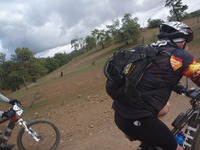 fullsize
Another team passed us around the same time.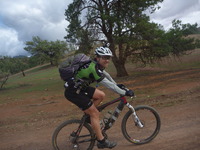 fullsize
So I took more photos.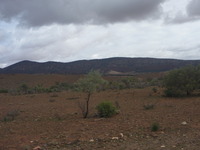 fullsize
It is an amazing part of Australia and worth checking out.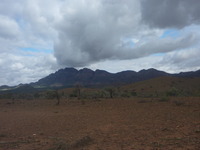 fullsize
The overcast conditions meant we did not see it in full colour but it was still impressive.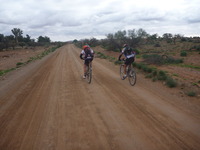 fullsize
Some other team passing us.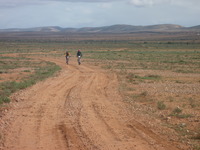 fullsize
I had to stop to eat for a minute or two here and another team passed us.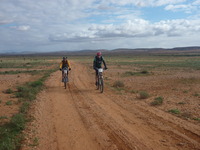 fullsize
This was half way through stage two and rather flat with lots of headwind.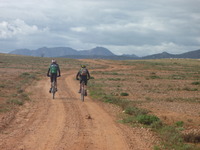 fullsize
Hills in the distance, through we only had one little hard climb later in this stage.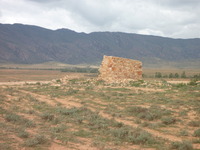 fullsize
I loved the look of this ruin or whatever it was with the rocky range behind it.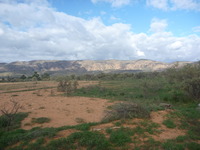 fullsize
When the sun came out the hills really lit up amazingly.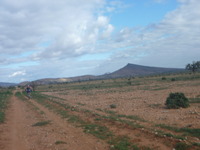 fullsize
This shot is a bit blurry but does show more of the variety of hills we were surrounded by.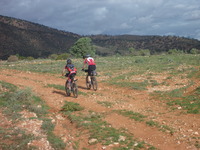 fullsize
Kim and Rob in front of us.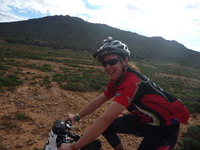 fullsize
We rode with them for a while, I am still impressed Kim rocked up and raced here two weeks after winning XPD.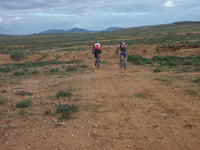 fullsize
Andrew and Rob chatting for a bit, I started to hit another flat spot soon after this so we had to let them go.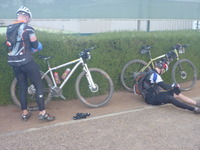 fullsize
Spoonie and Arran at Hawker about to leave as we arrived.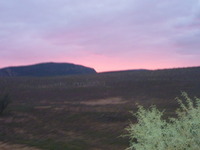 fullsize
Wonderful sunset as we were clocking past 210km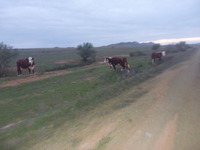 fullsize
Cows getting out of our way just as it got dark.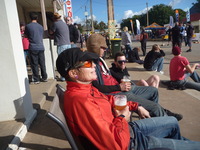 fullsize
Bec and Phil sampling the Coopers during presentations on Saturday.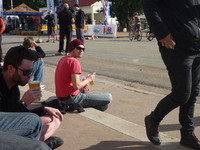 fullsize
Andrew watching the presentations.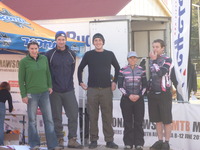 fullsize
Mixed pairs presentation, they moved the presentations 3 hours forward so Claire and Joel did not know it was on, they only found out by accident and thus were not wearing their Maladjusted kit.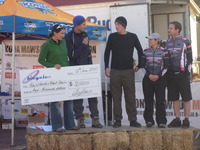 fullsize
Kim and Rob telling us how their race went.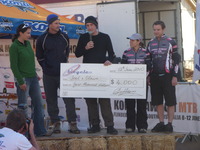 fullsize
Joel talking about the race.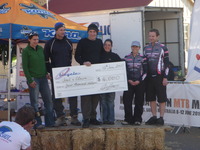 fullsize
Claire did fortunately eventually walk near enough to the main street to hear what was happening.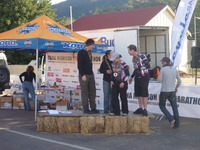 fullsize
The medals were engraved chain rings or sprockets on Kona ribbon.