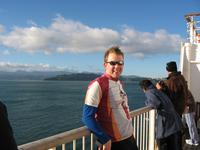 1600x1200
On the ferry from Wellington to Picton.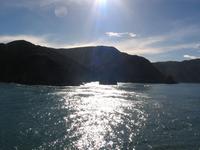 1600x1200
Some of the views we have to look forward to.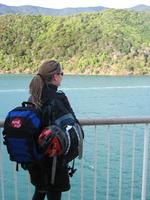 1600x1200
Heidi looking out to a nearby ridgeline, with a higher ridgeline behind.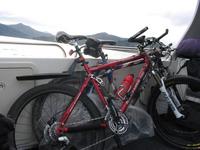 1600x1200
Our bikes on the small boat on the way to Ship Cove at the other end of Queen Charlotte Sound.

1600x1200
Me cold but enjoying the boat ride out.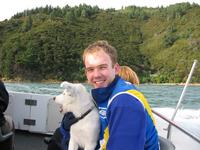 1600x1200
During the boat ride we abducted an adorable dog (young collie) that belonged to some people commuting home to their house in a cove in the sound.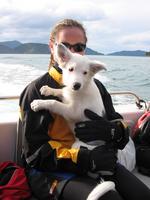 1600x1200
We did try to abduct the collie, but they wouldn't let us keep her.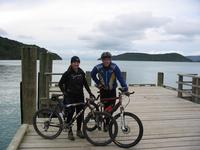 1600x1200
At ship cove ready to start the ride.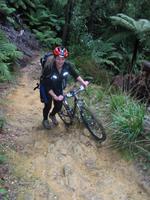 1600x1200
The first climb was a bastard, wet and thus slippery, and even dry it would be an incredible feat to ride the whole thing as it gets steep in places.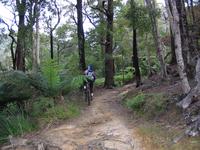 1600x1200
Me riding along the track.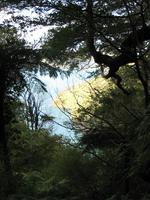 1600x1200
Tantalising views pop out at you often.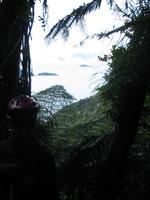 1600x1200
And they really are worth stopping for a look.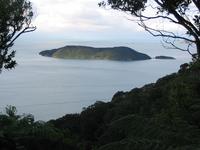 1600x1200
So while Morgs and everyone else were scumming it up on their road bikes we were riding a 76 KM single track with views like this.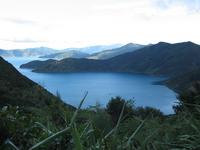 1600x1200
Sucks to be us doesn't it.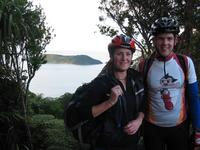 1600x1200
More views behind us.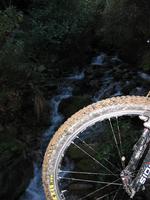 1600x1200
Heidi suggested that all photos should have a piece of cycling kit in them to prove you rode the mtb there.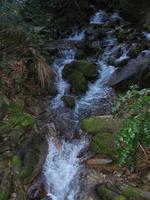 1600x1200
I disagreed as the stream was pretty good.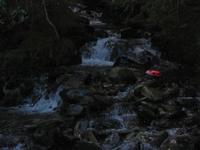 1600x1200
Heidi insisted by inserting her helmet in the photo.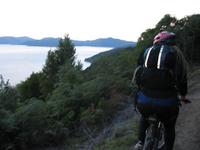 1600x1200
Heidi riding and enjoying the view.

1600x1200
Stopping for a photo just as the evening starts to settle in.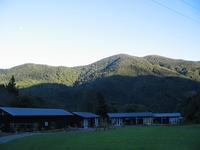 1600x1200
The following morning, I took a photo out the door of the cabin we stayed in.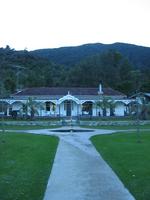 1600x1200
This is Furneaux Lodge, where the cabin was, the only Pub in NZ with no road access, monteiths (beer) was plentiful, a good place to stay.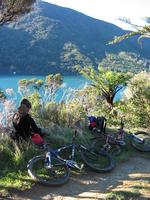 1600x1200
Quick food break that morning back on the trail.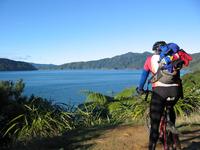 1600x1200
As I said, you just have to stop and enjoy the view often.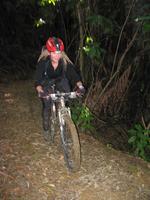 1600x1200
The riding was a lot of fun, here Heidi is climbing a muddy slippery section of the track.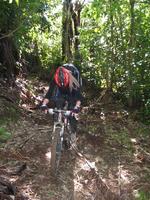 1600x1200
And another muddy slippery rain foresty section.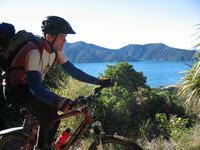 1600x1200
The only reason I can concentrate on riding and not the view was we had already stopped here for a bit to look.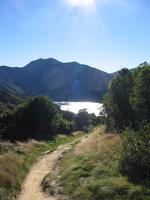 1600x1200
Sunshine, mountain biking and views, you must all be sick of me saying this.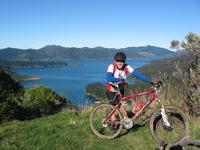 1600x1200
Posing for another photo with good backdrop.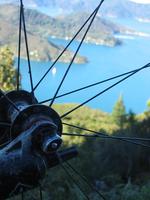 1600x1200
Once more the need to include mtb components in the photo got the better of us.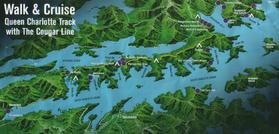 Queen Charlotte Track map.
Getting there
So Heidi had been telling us all about some of the kick arse riding to be had in NZ and the plan was hatched to go ride something or enter a race or something.

Heidi had ridden the Queen Charlotte track a few weeks previously and suggested we do this over three days. I agreed. Flights to NZ are pretty cheap, including airport taxes you can get a return flight from Sydney to Wellington for around AUD $400 on Qantas. (similar price on Virgin Blue). Seeing how I get one or two extras with Qantas (food and frequent flyers and such) I went with them. 9:30am Friday morning flight out of Sydney, arriving in Wellington at 14:50 or so. The flight back the following Wednesday was leaving Wellington around 15:50 and arriving in Sydney at 17:20.

When I arrived in Wellington it turned out there was a baggage handling mishap in Sydney affecting most flights out, unfortunately although my backpack arrived my bike had not. Eeek. Luckily we were not getting the ferry across to Picton that night (which is an option) as my bike did not get to New Zealand until midnight on Friday.

Heidi and I enjoyed beers and food in Wellington Friday night, then rode down to the ferry terminal for the 9:30am ferry across to the South Island on Saturday morning.

From the ferry arriving in Picton on the South Island, you get on a small boat that takes you out to the end of Queen Charlotte sound again and drops you off at Ship Cove. All the companies that run these also will ferry your luggage between overnight stops for you, so you only need to carry a camel back with some warmer clothes and food while riding.
Queen Charlotte Track
The plan to ride Queen Charlotte track sounded good, an approximately 70 KM single track, three days at easy pace to ride it. Heidi had ridden it about 4 weeks earlier so knew the details and where to stay and such. The track is closed to mtb riding in the summer months (December, January, February) as that is when it is at its most popular for walkers, however we should be very happy we are allowed to ride it at all, and there is a lot of other cool riding around NZ if you happen to be there in summer.

We eventually were dropped at Ship Cove around 3pm on Saturday afternoon. Time to get riding. The first climb is a long and in places very steep effort. We encountered a lot of mud so even sections we may normally ride up were too slippery to get up. However it was steep enough and long enough that I don't think many if any people could ever ride all the way up. (kind of like Push Bike hill but a longer climb)

As we got higher we started to see some incredible views poke through the rain forest foliage we were climbing through. Heidi warned me that the views get better as the ride progresses and that I would start to think this sort of scenery was kind of boring and ho hum after seeing what was to come later. It did turn out to a large extent that Heidi was correct, on this ride you are spoiled for scenery, and there are so many incredible vistas that we started joking about the need to close our eyes when some amazing vista opened up in front of us as it was a pretty shit view compared to others we had seen.

So we rode on, closing our eyes to avoid the shit scenery often, and trying to stay upright while doing so on the bikes. At this point Heidi started joking that we obviously were not having fun, and should have gone scummm riding with Morgs in Canberra, or sat around Wellington and watched tv all weekend as we were not having any fun and this really was a boring trip. Good to see Heidi's sarcasm was out in full force, poor Morgs having everyone talk about his conversion to the roadie. (I think this stemmed from Heidi doing a Majura pines ride one morning before moving to NZ and finishing up for coffee and seeing Morgs rock up on a road bike rather than out on the mtb, well that and the need to tease Morgs endlessly of course <g>)

Including breaks for photos and scenery enjoyment we rode until just before 5:30pm on this first day to reach Furneaux Lodge from Ship Cove. The riding was all through Rain Forest based single track. At this time of year it was very muddy in places, this actually added to the fun and the challenge. Heidi said it was not as much fun or as technically interesting to ride when dry, you could however go down the downhills faster in the dry which makes up for the difference a bit.

After riding the last few KM underneath a heavy rain forest canopy in the dark we arrived at Furneaux Lodge just as the light disappeared out in the open. Furneaux is apparently the only pub in NZ with no road access (only boat and walk/mtb access), though it is not often busy through winter, due to this being a long weekend in NZ it was pretty full with people tonight. We had beds in a backpackers/cabin there for the night, and settled in to enjoy the beer and pub food. The accommodation is pretty good with respect to comfort and price along the track, each night costing between NZD $15 and $25. The food can be expensive (especially, as we discovered the following night at the Portage Bay resort, eat at the pub at Portage not the Restaurant), so if you wish to budget a bit simply cook your own food (pasta or whatever). You can transport the food in your backpack along with the rest of your gear so you don't have to carry it.

With the grin still plastered to my face from the riding the previous day, we got going on day two at around 9:30am. Heidi was worried we may not make it to Portage bay before dark. This was partly because it was the longest leg of the ride for us, and because when she had done the ride a few weeks previously she had been going slower and been less fit so her perception of it was different. As it turned out her fears were groundless as we rolled into Portage Bay at around 2:30pm that afternoon, after taking it pretty easy and stopping often to stare at the views..... ummm I mean to close our eyes to avoid the shit scenery.

On this second day there was a fair amount of climbing, though nothing too steep or too long in a single section so it was not annoying. There were various good descents, however the one that really stands out is the last 15 minutes down to the road into Portage Bay. This was all fast down hill on a track bench cut into the side of a steep hill, winding around, dropping off small bridges and over rocky sections, and all at 25 KMh or faster. This is the sort of thing that puts a grin on your face for weeks. My camera batteries had run low so I did not take as many photos today as I probably could have (though there was no chance I would have stopped to photograph bits of the descent, we were having far too much fun to do that) but what the hey, you all should go and ride the track rather than simply looking at the photos, I have to say the photos, incredible though they may seem just do not do this location justice.

Interestingly we had been talking to a number of people who were out on the track, walking it or mtb'ing it over the weekend. The forecast had been for storms and overcast Friday, Saturday and Sunday, this kept a large number of people away. Some of those we talked to had been teased or similar by friends at home as they were heading into the wilderness for a weekend in miserable conditions. Lucky for all of us out there that instead we had perfect, warm, sunny clear weather the entire weekend. The joke was on all those people who stayed home being scared off by the weather forecast. The moral here may be, ignore the weather forecast, you would still have a fun ride in the rain even if you could not enjoy the scenery, and who knows you may just get the best of both worlds.

Due to the early arrival at Portage, and remembering we had only had around 2 and a half hours of riding the previous day, it occurred to us it would indeed be very easy to do this ride in two days. The earliest ferry you can get from Picton to Ship Cove is 9am, arriving at ship cove at 10am. You are not allowed to camp at Ship Cove as it is a heritage listed site, however adding up the 5 hours on the second day and 2 and a half hours on the first day (this includes stopping for food and views and the like), riding from ship cove to Portage Bay could be done pretty comfortably to arrive before 6pm. This would need to be done during daylight saving at a time when the track was open, so either November or March/April. It also would mean you miss out on staying at Furneaux, but hey you can stop there for a beer and take it in. The following day from Portage to Anakiwa was expected to take us around 3 hours. There are other resorts and places to stay along the way, or you can carry enough gear and food to camp, heck the boat will deliver your pack to a few of the camping spots so you could camp and not have to carry all the gear which would enable you to more evenly split the riding over the two days. However arriving back at Anakiwa by midday means you could get the 1:30pm ferry from Picton back to Wellington if you had booked on it.

To do this ride in two days, you would get the evening ferry from Wellington to Picton (6:30pm or 9:30pm) sleep at a backpackers (NZD $15 a night at the Atlantis backpackers in Picton) on Friday night, get the early boat to Ship Cove on Saturday, stay at Portage bay that night, ride to Anakiwa on Sunday morning and get the 1:30pm or 6:30pm ferry back to Wellington. What a bloody brilliant way that would be to spend the weekend in the daylight saving months. Anyway we were happy to spend three days doing this ride as it lets you relax more and enjoy the time out there for longer.

After enjoying a relaxed afternoon and evening at Portage bay, sampling the brews, reading and eating, we started the ride the next morning to Anakiwa raring to go. This section of the track has a very long and arduous climb out of Portage bay up to the top of the ridgeline between Kenepuru Sound (where Portage bay is) and Queen Charlotte Sound. The ride up however is worth it, especially on a morning like this, with the views out in both directions over water, hills/mountains and silvery clouds hovering around were breathtaking.

After all that climbing there was some reward coming up, a really fun switch back descent cut into the side of another big hill/mountain down to a bitumen road crossing. The descent was a hoot, but there had been a lot of climbing to get there. Now the road here is interesting, as the track crosses it you can drive from Anakiwa to this point, and ride back to Anakiwa. This is a really good idea, as after this point there was not much climbing to do and the best descent of the whole ride was still to come down to Anakiwa. I suggest if you are in the area with a car, convince someone to do a few runs driving you and bikes over to here from Anakiwa and try and do the section of track from here to the end a few times.

We crossed the road and climbed a little bit, then at some point decided to stop for some morning tea as we were getting close to Anakiwa with spare time in our hands (we had booked onto the 12pm boat back to Picton from Anakiwa, after starting riding around 9:15am we were probably on schedule to make it on time. We had talked with some other mtbers at Portage bay who were also planning to be on the 12pm boat, we hoped they had left Portage earlier than us as we were cutting it close and they were a lot slower than Heidi and I when we passed them the day before on the way to Portage.

After a break for a bit for morning tea with another fantastic vista spread out in front of us we pressed on to the top of the descent into Anakiwa. Oh my god this was fun. Around 25 minutes barreling down a bench cut single track with rocky creek crossings, small bridges with mini drops at the end, corners, loose bits, mud, pretty much everything fun at around 25 - 30 KMh all the way. This really leaves a brilliant impression of the end of the ride and was a reminder of how bloody brilliant the whole ride had been. Wheeeeeeeee.

At the bottom of the descent just as we rode towards the jetty at Anakiwa to get on the boat we caught up with the riders we had worried about, they left Portage just before 8am and made it on time. However we all cut it close as we arrived with 5 minutes to spare to hop onto the boat back to Picton.

We had booked onto the 9:30pm ferry back to Wellington, which was unfortunate as it would get us back just before 1am, and Heidi had to go to work (and fly to Auckland) on Tuesday. However we had been unable to get on an earlier ferry as they were all booked out with people returning from a long weekend of fun on the South Island. We tried to get on the two earlier ferries as we arrived at Picton at 12:30pm, however no cancellations opened up so we ended up waiting in Picton until 9:30pm.

To kill time we hunted out the local single track around Picton and rode that for a while, there was some confusion as to what was walkers only and what riders were allowed on, however there was enough to keep us entertained for a while. After that we wandered over to the Atlantis Backpackers and asked if we could shower and hang out there until the ferry for a token fee, they said this was cool so we did. Had dinner across the road at a pub that does large roast dinners for NZD $10. When we rode over to this pub for a beer later, a local larrikin saw us approaching and offered me a beer to ride through the front door of the pub. So I did, the owner was not impressed, but simply smiled, mmmm free beer. So we were set to go back to Wellington, finishing off a brilliant fun weekend riding the Queen Charlotte track, damn I want to go do that ride again already.
Wellington, Makara Peak
Okay okay, so it is still pretty decadent to fly to New Zealand for 6 days to go on an mtb ride or two. However rather than fly over for only the one ride (3 days Queen Charlotte Track) I decided to have en extra day or two in Wellington afterwards to sample the mtb riding there and and do 6 days rather than 4 days overseas. Heidi had to head off to Auckland for work (Heidi's job flys her all over NZ fairly often, and on weekends when she has to make Friday and Saturday night appearances for work she can even take her mtb with her and spend the entire weekend riding in whatever region she has been flown to for work, if only we could all get paid to go mountain biking all over New Zealand <g>) so I bid her farewell and headed off to find some more cool mountain bike terrain on Tuesday morning.

I had arranged to meet up with Sam Nelson for lunch (Sam and Bronwyn recently moved from Canberra to Wellington also) so decided to spend the morning playing around on Mt Vic, have lunch and then ride up to Makara Peak. I rode over to the Dixon St deli fro breakfast and had pancakes with bacon and maple syrup, then rode up to the summit of Mt Vic and went off road. There is not a huge amount of track on Mt Vic, but there is enough to keep you entertained for about 2 hours, though I avoided the steeper/sillier tracks (downhillers would love some of these tracks, and you could do them as shuttle runs, as you could imagine there is quite a big Downhill/Freeride scene in Wellington with this sort of terrain so readily available and legal for riding)

Met up with Sam for lunch at a Bagel place, chatted cycling, updated him on what was happening in the Canberra scene and then headed up to Makara. The ride from the CBD to Makara is a gentle 7KM climb up through Kaori. Makara Peak is a large bushland area on the edge of Wellington that was given to Wellington mtb riders by the council in 1998 in order to be a dedicated mtb park. There are a lot of other good legal mtb riding areas in and around wellington (within easy riding distance) however this is the crown jewel. Since 1998 around 35 KM of single track has been developed in the Makara Peak park, from beginner to advanced (silly steep with obstacles and such) tracks are spread all around the park. Unlike some of the other parks in NZ this is a public area and there is no entry fee, the tracks have all been built by volunteers or lightly sentenced people (public works and such).

All the tracks were constructed to IMBA quality, situated across, up or down a silly steep hillside or valleys or other similar terrain, with grade reversals, bench cut tracks into the side of the hill, properly graded switchbacks, and all sorts of other things. The track surface was mostly gravel packed into dirt, the gravel had been carted in to provide better durability for the tracks.

Anyway what can I say, Makara Peak itself is almost a good enough reason to move to Wellington, especially now Canberra is no longer the single track nirvana it was before the 2002 fires that took out Greenhills, if you add on the copious other riding terrain in and around Wellington I almost can not understand how people living there are not shouting from the roof tops about how brilliant it is there, maybe they want to keep it quiet :)

I slept in late on my last morning so didn't go riding again, washed my bike and then wandered around Wellington enjoying the second hand book shops and outdoor equipment shops. Then I rode to the airport and packed up my bike and flew back to Sydney.

That was a bloody fantastic trip. The Queen Charlotte Track is probably the best mtb ride I have ever done, now I want to go do more rides in NZ as I have been told by people I talked to while over there that there are better rides in the Marlborough Sounds area and in some other regions near by.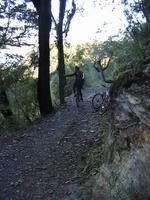 1600x1200
The start of a descent towards our overnight, a fun 15 minute downhill bench cut into the side of a steep hillside.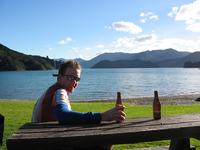 1600x1200
Enjoying the beer at Portage Bay post ride. (Monteiths Celtic, an Irish Red beer)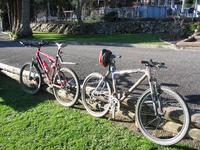 1600x1200
Our bikes were sufficiently muddy.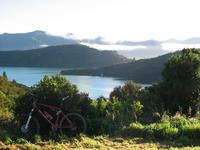 1600x1200
The next morning we got to enjoy more great scenery as we climbed out of Portage Bay.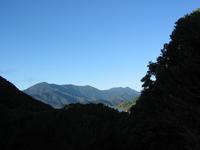 1600x1200
Yet more scenery.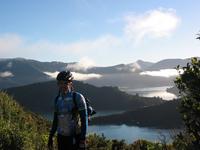 1600x1200
The climb that morning was a long one, but bloody well worth the effort.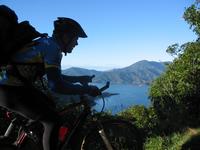 1600x1200
More views, half the time you almost forget to ride the bike as you are too busy looking at the water or hills.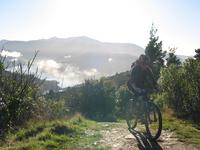 1600x1200
Almost done with the climbing.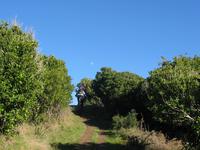 1600x1200
Heidi reckoned a photo with the moon and the bushes framing me climbing would be good, she was right.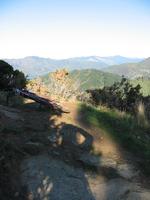 1600x1200
Half way around a corner bench cut into the hill, this was on the way down a really good descent with lots of switchbacks.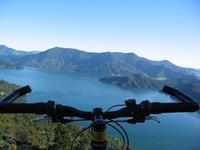 1600x1200
Putting more bike bits in the photos, with a shot like this you would almost think mountain bikes could stay airborne...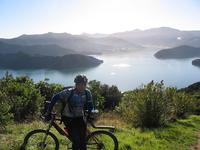 1600x1200
More kick arse backdrops.

1600x1200
We stopped for a snack here for a while.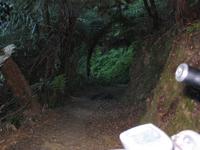 1600x1200
The final descent, 25 minutes downhill, single track through rainforest bench cut into the hill, with rocky bits, creek crossings, small drops, corners, the works.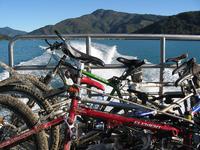 1600x1200
the ride now over we got the boat from Anakiwa back to Picton.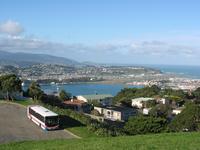 1600x1200
The following day I rode around Wellington a bit.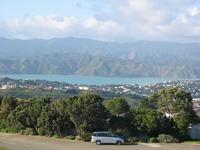 1600x1200
These views are from the top of Mt Victoria, on the edge of the city.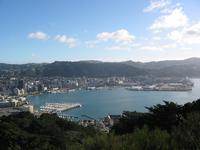 1600x1200
Rotating around, the first included the Airport, this now includes the CBD, and yes there is cool mtb riding on Mt Vic.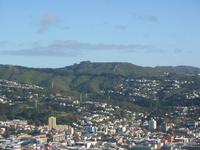 1600x1200
Looking across from Mt Vic towards some more riding areas, Makara Peak is off in the top left of this shot, not really visible though.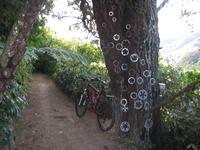 1600x1200
At Makara peak, I had to take a photo of this chainring tree on the first ST (Sally Alley)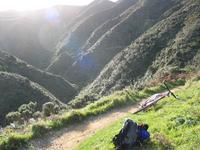 1600x1200
Going up the valley that makes up a large area of the Makara peak mtb park (on the "Magic Carpet" track here).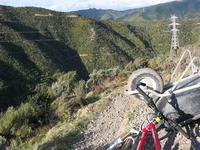 1600x1200
On a pretty new track, they had just completed it in April, you can just see across the valley one of the tracks I had been on earlier.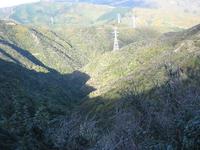 1600x1200
At the top of the valley, about to head over to the summit.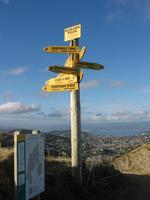 1600x1200
At the summit of Makara peak, one of those goofy signs such as you find at tourist attractions like Lands End (UK), and a trail map.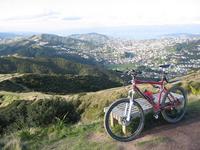 1600x1200
From the summit of Makara looking towards Kaori and the hills between Wellington CBD and Kaori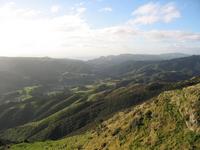 1600x1200
A view from descending an ST on the back of Makara peak (Zac's Track)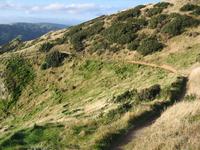 1600x1200
Showing Zac's Track and how it is cut into the side of the hill.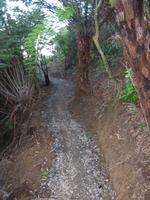 1600x1200
I took this as an example of the really good IMBA style construction, Grade Reversals, hard gravel surface carted in for durability.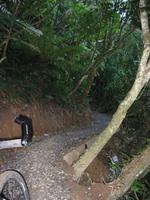 1600x1200
As above, bench cut half way into the hill, with wooden supports.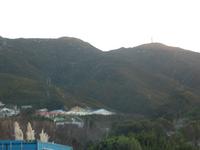 1600x1200
Next to the bike shop operating out of a shipping container looking back towards the summit of Makara Peak.