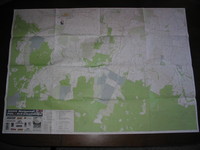 fullsize
The map before any markings or contact.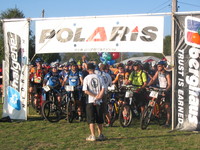 fullsize
The 08:00am (first) start group on Saturday morning. Gnart and Rohan were in there, as were Alyssa and Gaye and many others.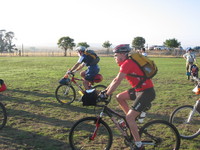 fullsize
You can see one of the outfits for the Birthday theme here, this doctor outfit was indeed focused on the Birthday.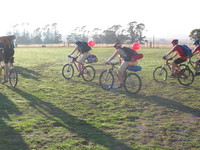 fullsize
Alyssa and Gaye starting in their Birthday Suits.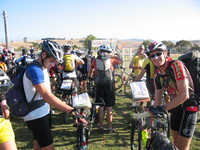 fullsize
Daniel and Ben were in our start group, getting ready for a day on the bike.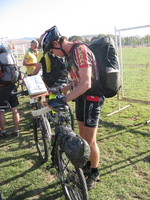 fullsize
Ben keeping hydrated, at least early in the day.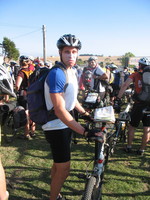 fullsize
Daniel looking serious, or half asleep?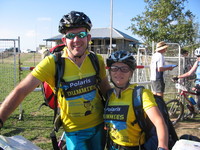 fullsize
Myself and Marea kitted out and ready to go.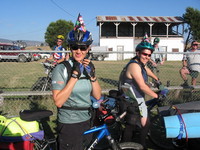 fullsize
Mandy and her team mate there for NSW State Forests.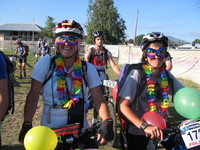 fullsize
Another interesting costume, this pair ended up placing well in their category.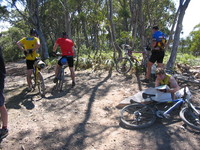 fullsize
A few people at the top of Mt Delegate as I waited for Marea before clipping the control.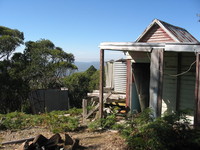 fullsize
The shack at the top of Mt Delegate, a bit of the view can be seen through the trees.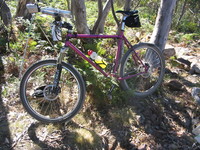 fullsize
My bike at the top of Mt Delegate.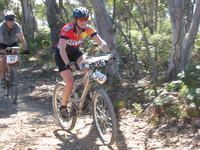 fullsize
Robyn Simionato arriving at the top.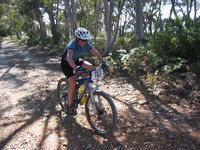 fullsize
Robyn's team mate, Penny Maher.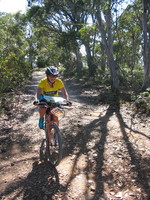 fullsize
Marea arriving at the top of the climb.
The Team
Marea England, Orange Cannondale F2000 SL Hard Tail
Steven Hanley, Bender Bicycles Pink Steel Hard Tail

Details
Location: Delegate NSW, near the NSW/Vic border
Dates: 11th and 12th of March 2006
Distance: 138.41KM (approx 75KM on day one)
Riding Time: 8h59m
Day 1: 09:00 to 15:51, 280 points
Controls: 9, 12, 8, 1, 7, 22, 30, 24, 26, 25
Day 2: 08:30 to 13:29, 180 points
Controls: 5, 6, 20, 26, 24, 30, 12
Total Points: 460
Placing: 1st Mixed, 8th Overall
Mechanicals: None.

Other photos can be found on Roy Meuronen's site and some more on Rob Parbery's photo site. Results are up on the Wild Horizons site.
The Event
Leadup
The Polaris was on again, this time Huw announced the location was down near the NSW/Vic border in the Delegate, Bendoc, Craige, Bondi State Forest region. Delegate of course was one of the places seriously looked at for the location of the Nation's capital, it lost to Canberra due to being a bit closer to the coast and being cooler at the higher altitude. This is almost a shame as I think "Delegate" would would be a most appropriate name for a nation's capital city.

Anyway Marea and I teamed up again as we had in 2004 and 2005, this year we did not even consider scoping out the area before hand at all, it is not really necessary. We had dinner on the Sunday preceding the event and spent some hours studying the map and getting used to the concept of 20m contour intervals. (yes Huw was mean to us all and did not use 10m contour intervals on this map, meaning all of our brains had to re jig around what we are used to reading on maps)

As no one really seemed to even notice we were on theme last year Marea and I decided to ignore the theme this year for our costumes and do something else. For a while we had absolutely no idea what to do for our costume. Marea had some samples of a shiny electric blue sort of material and we were sitting looking it it when Marea had the idea of "Polaris for Dummies". Having recently purchased a Dummies book Marea thought it could be applied to Polaris fairly well. We sat around brainstorming quotes and in jokes to use on the book cover and were pretty happy with the concept. The plan was to use a highlight colour on the cover of the book similar in shade to the electric blue which could be made into knick and shoe covers.

I went home and sat down with Inkscape for a while and eventually we finalised the Polaris for Dummies book cover design (click there to view the cover artwork, the jersey as a finished product can be seen in the photos on this page). I called up Ventou clothing in Melbourne to see if they could print some jerseys with the design in the short time frame we had left (around two weeks). They had done a rush job recently for Alan Vogt with the latest Wild Digital jerseys among some others so I hoped they could get it done. We paid AUD $100 per jersey (including the price of $10 per paper per jersey on short print runs) and AUD $150 setup fee. With a minimum order of 5 jerseys per style (we arranged some more purchases), $20 postage and GST we ended up paying AUD $680 for the jerseys we ordered. Definitely on the ouch side of expenditure but the concept was pretty cool, we got a lot of positive comments on the weekend.

On Friday, running a bit late as usual, I got over to Magnet Mart in Belconnen and bought another 15 metre roll of Nylex Cover It contact (AUD $44 this year so up by $10 from last year) as I could not find my roll I last had out for an adventure race a few months ago. Marea and I drove out of town around 2pm. Arriving at the event centre before 5pm we registered, grabbed our maps and pretty much decided to head straight for the accommodation at which we were staying that night.

The final instructions had mentioned a few options for accommodation, the nicest of the lot sounded like the Delegate River Tavern Cabins around 15 KM west of Delegate. They were indeed rather good, Gnart and Rohan were staying there as were Wayne and The Nudist (Kevin). Marea and I had a cabin with 5 beds in two rooms of 2 beds each plus a living area with kitchen and another bed there to ourselves. The price was AUD $70 for the night for two people, they also gave us breakfast included in that price. The location is somewhat mundane (though it is on the river which could be nice to have a dip in) however I must say I would recommend this as a place to stay if you were coming down to enjoy some riding in the region. Also the Tavern there has good drinks and food available.

Though we sampled the beer and some of their food at the tavern, for dinner we joined in Wayne and The Nudist's tradition of Pizza the night before Polaris. Speaking of the tavern food, a plate of chips for AUD $3 was fantastic, biggest plate of chips I have seen in years and they were pretty good chips too. Wayne and The Nudist as I mentioned last year always have a pizza the night before Polaris, they discovered where in Delegate to order a Pizza so I rang up and ordered two pizzas for Marea and I also which The Nudist offered to pick up for us when he drove in to get theirs. These pizzas are bloody fantastic, heck I almost recommend visiting Delegate just to have a pizza there. They were also far more food than we needed so Marea and I ended up wrapping some up and taking it with us in our packs to serve as lunch food during the Polaris.
Saturday
With our maps marked up and contacted we were pretty well set for the start the next morning, somehow we still did not make it to sleep until after 11pm though. Waking up at 06:30am we got ready and headed over to the event centre where we would need to paint our nails and generally faff around as you do before the start of any event. We got into the start gate with the rest of the 9am starters including Mandy Flaxman and her team mate, Ben Crabb and Daniel Eichner, Jim Trail and Terry Eveston. All of us were pumped and ready for a big weekend on the bike (well I hope we all were).

When we saw the control scores upon starting it appeared that climbing Mt Delegate was definitely worthwhile as we would be allowed to leave our packs at the bottom and it was worth 70 points. Other than that our original intention of sweeping around the bottom of the map looked worthwhile after we climbed up and collected the high scoring 1 and 7 in the north west corner of the map. The climb up Mt Delegate was not too bad on Saturday, I took it fairly easy and had a time of around 24 minutes I think. There were one or two steep bits I suspected would have been difficult if we had to carry our gear up here, say if we had to climb it again on Sunday.

The climb up to control 1 was fairly walky but we got there with no issues at all and headed off down to 7, the ride through to control 7 was wonderful, fast swoopy fire trail through gorgeous native forest. After that Marea suggested we try cutting through 300metres of bush and a creek crossing and then over a bunch of open farmland down to the road so as to avoid the rest of the firetrail which could have gullies and other problematic terrain. We thought we may as well try this out, it took around 25 minutes to get to the intersection where the fireroad met the bitumen road. We did not realise until we arrived in Bendoc that the attempt at a short cut did not work in this case as we found a team we had seen sitting relaxing at control 7 leaving as we arrived in Bendoc. Ahh well it was worth a try.

After filling up with water and eating our lunch pizza we headed off down to control 30 and then over toward 24, all of these controls were fairly easy to get to so the points we rolling in well. After this we planned to head for the bridges of controls 25 and 26, the obvious route on the map was a firetrail along below a river/creek from the edge of the paddocks for control 24 over almost all the way to 26. I heard later Crash and Warren did not go this way and found that it was indeed a lot slower going through the hilly terrain across the centre of the map near control 24. Marea and I had noticed how hilly this area was when we studied the map at dinner the week before and had marked big hilly arrows all over that section so knew it was worth avoiding if possible.

When we left Bendoc earlier we realised we were running shorter of time than we would have liked so it was unlikely we would be able to get many controls after 25 and 26. By the time we got those two we knew for sure that was it for the day so headed up the road to Craige and arrived at the overnight camp with 9 minutes to spare. We were fairly happy with the solid 280 points we scored during the day, though we were surprised to find out that placed us fairly high over all and third in the mixed category, the team in front of us had arrived 3 minutes earlier to camp also on 280 points. The first placed mixed team had 300 points, the same score as Jim and Terry.
Camp
We set up camp with Crash and Warren, Jim and Terry, Dave and Helen rather close to Raynie and Ian, just down the hill from Roy and Tony, and Ben and Daniel. Our food this year was the same as the previous year, Back Country dehydrated bushwalking meals, with one or two packers of two minute noodles mixed in. I ended up eating the remaining two slices of pizza after that dinner also, this is a good indication I should take a bit more food for dinner next time. Jim and Terry had some really good looking meals, "Tinderry Mountain Dried Food" backpacker meals, these seemed large and really tasty, large enough that Jim struggled to eat all of his dinner for a while.

My camera batteries had failed on the way back down from Mt Delegate so I was unable to take any more photos for the rest of the days riding, at camp I asked around to see if anyone happened to have 4 AA cell batteries. Dave McCook did and most kindly lent them to me so I would be able to take more photos for the rest of the event. Thanking you muchly Dave.

More fun was had at dinner watching Crash attempt to burn down the campsite when he spilt alcohol everywhere then lit it, after that entertainment we all sat around chatting, checking out the cakes in the birthday cake bake off and enjoying some rest (Congratulations to Raynie on winning the bake off and Mandy on placing second). As it got dark many people disappeared into bed rather quickly, I sat down chatting with Dave, Helen and Andrew Cassie for a while until around 10pm, Marea was off socialising with Raynie and Ian for a while longer.
Sunday
We woke up to some fog moving in on the campsite but on the whole perfect weather, a little warmer than Saturday and fortunately no rain. Breakfast for me this year was 6 vita bix with condensed milk and boiling water. I think I will return to using Muesli next year as this is not quite so appetising due to the lack of fruit. Marea ate two minute noodles and we packed up the tent and got onto the bikes.

We expected that a similar route to what we did yesterday would work out well today, excluding controls 7 and 1 we should be able to clean up the others fairly well and then maybe have time for two or so low scoring controls near Delegate. When we got the scores for the day we decided to head up and grab 5 and 6 above Craige and then head down the road to the east of the one we road up the previous afternoon in order to grab 20 and maybe the dam before that. As we neared the Dam control we decided it was not worth the climb and dip in the dam for a measly 10 points and continued on to 26.

From near control 20 until a bit after control 26 we were riding with Rob and Yvonne for a while, interesting to see Rob is able to ride a bike with more than one gear, though he claims it hurts too much and he needs to revert to the single speed soon. After we grabbed control 24 in the cattle yards again and headed to 30 we rode with Ben and Daniel for a while, they were having another shocker of a day but seemed to be having fun despite the navigational and other problems they encountered.

We filled up with more water at Bendoc (the control was turned off today alas) and headed up toward Mt Delegate again. Ben and Daniel decided to follow us up there rather than their original idea of attempting 18 followed by 7 and we all arrived at the base of the climb around the same time. On the way there the mixed team who had been in second place overnight motored past us much faster than either of us felt like riding so it seemed they were on track to do well again. We stopped so Marea could get her mp3 player out for the climb and I could eat for a minute or two at the bottom then started climbing. The climb was, as expected, a lot slower when loaded down with all our gear. I took around 15 minutes longer to get to the top this time than I had the previous day. We had around an hour to get to the top, back down and over to the finish.

By the time we got back to the bottom of the descent (and what a fun descent that is) we realised we definitely could not make it to the snake pit (control 9) for 10 points and would be pushing it to make it to the control on the edge of Delegate. Settling in for the ride into the headwind back into Delegate I had to be careful not to drop Marea. We ensure we can ride all day at a fairly even speed by giving me more gear to carry, though this slows me up climbing I still tend to have a huge advantage on flat or downhill sections. I kept it steady and tried to keep Marea sheltered from the wind. A train of 4 riders came past us, the last of whom was a woman I later found out had the fastest time for climbing Mt Delegate on Saturday, this train of riders was motoring along fairly well. Marea and I hung on to them for a while but the speed they were doing even had me breathing hard sitting on the back so we let them go just as we arrived at the outskirts of the town.

Looking at the map we had around 8 minutes left and it was almost 1 KM to the control in the wrong direction to get to the finish, then almost 2 KM from there to get back and finish. We decided we did not have the time to try to get the control so headed for the finish. We got to the finish with 1 minute to spare, good time management, though it is just as well we did not get a flat.

Upon finishing we headed over to the VRA drinks stall and sat in the shade and chatted for a bit, then put the bikes and gear in the car got changed and started heading over for some lunch. Friends were coming up and congratulating us, and we were asking, huh well thanks but umm what for? We were then told we had won the mixed division. Wow, whoda thunk it, we definitely were not expecting this. Cool we rock. The food for lunch was good, though I do not think it was quite as good as the lunch from the Comboyne crew last year. One of the prizes for first place mixed was a Trangia 27+2, I am happy with this as I did not have a light weight camping stove of any description so now I can use this which is neat I no longer have to borrow them or do trips with people who have them. Afterward we drove back to Canberra arriving home around 7pm.
Thoughts
Once more Marea is most pleased to have come first in the most important race of the weekend, none of this winning a category business, Marea is happy to point out we have retained the Fairlight St Trophy we regained last year over Stuart and Malcolm, hi guys. Ensuring we lived up to one of the lines on our jersey "Faster than the Fairlight St Boys"

This year Marea and I both felt we were far more organised with our equipment and packing than any previous year, also our navigation is definitely improving as a team, we had no navigational problems or even for a second wondered where we were at any time so that all worked out well. I think studying the map in detail the week before had helped us both a lot as we could see at a glance where steeper areas were and where good routes were located.

More fantastic riding in an area I had not previously been, apparently Bondi Forest Park on the eastern edge of the map is good to ride in also, I would certainly be keen on staying at the Delegate River Tavern again for some riding too. Huw and the rest of the darkside (Grunta, Wayne, etc) put on another great Polaris weekend. Thanks to them and to all the competitors who rocked up and made the weekend rock.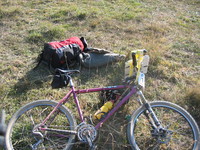 fullsize
My camera batteries ran out on the way down Mt Delegate so I was unable to take more photos until the overnight camp where Dave McCoook lent me spare batteries.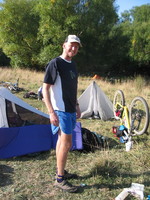 fullsize
Crash at camp (fortunately not naked in this photo).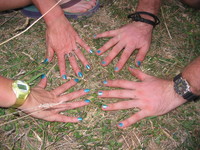 fullsize
The obligatory Nail Polish photo.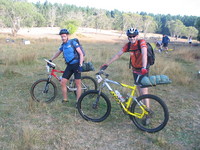 fullsize
Crash and Warren about to start out on Sunday morning.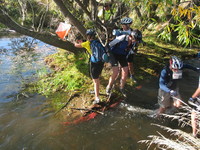 fullsize
Marea grabbing control 5, the stamper broke as she was grabbing the control, you can see half of it falling toward the water in the shot.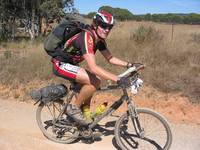 fullsize
Ben riding along the road toward Bendoc after grabbing control 30.

fullsize
Daniel.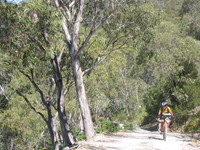 fullsize
Marea on the climb up Mt Delegate on Sunday, fully loaded with gear this time alas.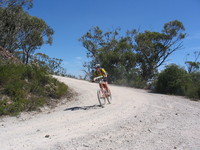 fullsize
Marea descending Mt Delgate round the open corner before plunging into the shade down to the bottom of the descent.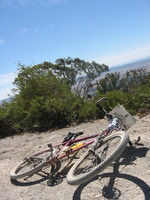 fullsize
My bike next to a good view out from the mountain.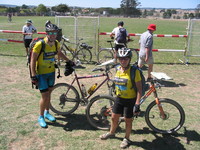 fullsize
Myself and Marea upon finishing the Polaris, with one minute to spare.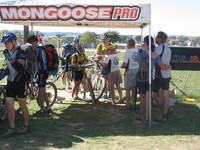 fullsize
Picking up our lunch tickets.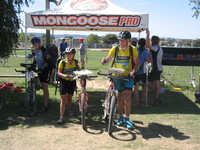 fullsize
Heading toward some cool drinks.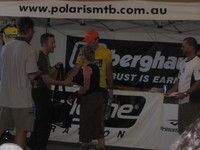 fullsize
They gave us prizes for first place.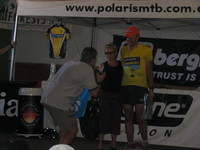 fullsize
And took photos, wheeeeee.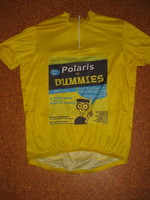 fullsize
The jersey. (to read all the text you may find it easier to loook at the png of the cover artwork)