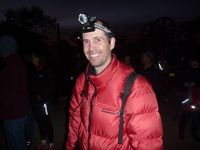 fullsize
Hunsie was helping out Tom and Al with the event, great to have him back in Australia.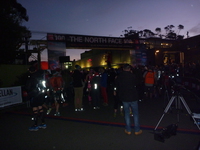 fullsize
Everyone getting ready for the start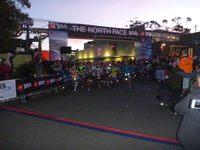 fullsize
Wave 1 kicks off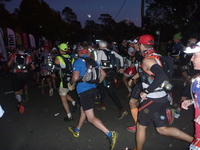 fullsize
These people were running out at a good pace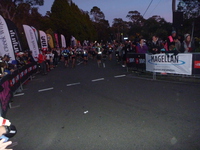 fullsize
Julie made the interesting comment about the wave starts, how wave 1 got moving and ran pretty fast, all keen to get going. Wave 2 were pretty keen and moved alright, my wave 3 looked a bit hesitant on the whole and sort of jogged out. Wave 4 had to be called up to the start line almost as if they did not want to be there and it got worse in the later waves. Entertaining.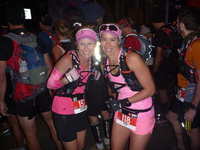 fullsize
Wow these two gorgeous women had possibly the most awesome running outfits of the whole event on. They ran all day together and across the finish, great stuff.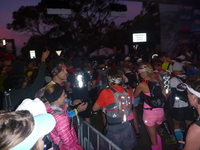 fullsize
Wave 2 kicks off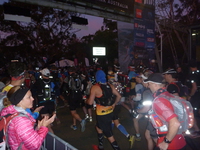 fullsize
As Julie noted, still running out of there alright.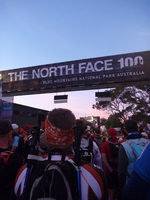 fullsize
My turn to line up in the start area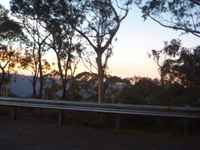 fullsize
Pretty morning, forecast for a stunning day coming up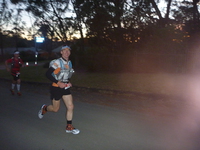 fullsize
David having fun heading off on a cracker of a run, 11:45 is awesome Dave, way to go.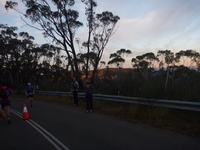 fullsize
Tara and Zoe taking a photo as I run back past, Paul was out there, three weeks after UTMF and still cracked 12 hours for 31st overall.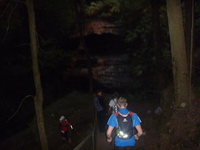 fullsize
Into Ferber stairs, looking forward to coming back up here later in the day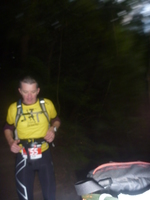 fullsize
Sean ran near me for a lot of the day and held on well to crack 14 for the first time too.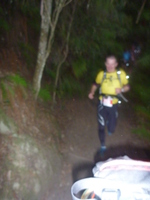 fullsize
Still dark in the morning and under the forst cover so not well focused.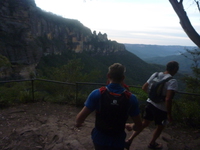 fullsize
The guy in front here had some sort of sandals on for his 100 km run, good to see he is keen, I could not run in them.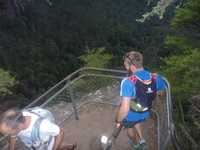 fullsize
Sandals and Beardy with a view behind.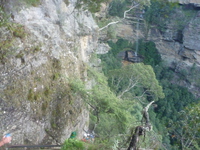 fullsize
Waterfalls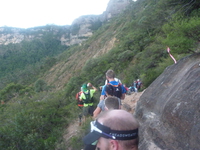 fullsize
As we came trhough the landslide we had to stand around and wait a bit for the queue of people to get through.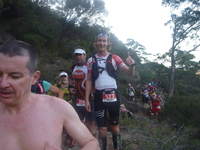 fullsize
Sean decided to lose his thermal here.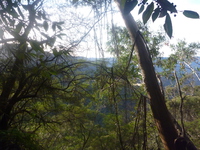 fullsize
Pretty view out from Golden stair case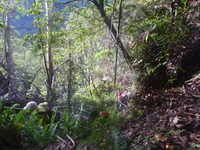 fullsize
Looking down at the following runners coming up the stairs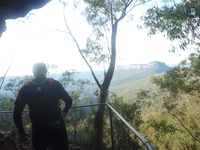 fullsize
I wonder if running along these rock shelves, would the photo be a Shelfie if I had taken one of myself (thanks to Jackson for the inspiration, though I did not do one)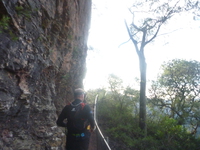 fullsize
Last time I ran through here I did not appreciate the golden stair case is pretty awesome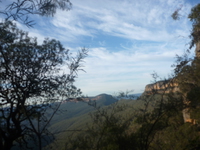 fullsize
Great views and all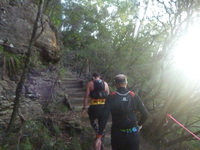 fullsize
Last few stairs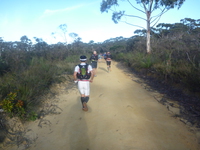 fullsize
I had to follow this guy for a while before I got sick of it and ran past him. So I am going to make you all see it. No one should ever wear white tights. Killian Journet did it in 2012 but at least he was so far in front of most runners we did not have to put up with it. This guy made many of us deal with it through out the day.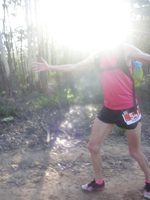 fullsize
This guy in lots of pink was going out fairly fast early in the day. He seemed to be having fun.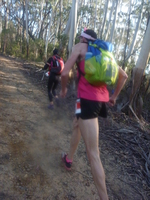 fullsize
I saw him again at CP 5 and running down Kadumba, his legs had died, he still managed 14:30 or so, pacing is very important all day though.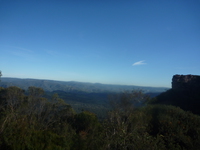 fullsize
Alas I did not pick up on the sweat smudge for quite a while, showing of the Blue Mountains some more though.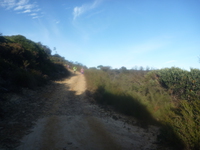 fullsize
Narrow Neck
Why line up for this?
Though I have been trying to convince many people I am not much of a runner, I simply like to get outdoors and enjoy challenging myself to do things in spectacular places. I guess in this case I may be losing sight of that claim.

I have competed in his event twice before, when the pairs category was still around. With Jane in 2012 and with Aaron in 2011.

So I had run both halves of the course, well until they had to change the course this year. Mostly as it was a pretty part of the world and I have not spent much time in my life in the Blue Mountains, this event was a good excuse to come up here.

I like racing events in teams, I guess that is one of the fun things about adventure racing, so last year I had not entered TNF100 as the 50km did not seem like enough of a challenge to bother paying money and travelling to an event to do. I often struggle with the idea of spending more time travelling to an event than actually doing an event unless there is some other reason to compete. At the time I also was not keen on the idea of running 100 km.

This year I was warming to the idea of rocking up again, last year I spent the day following the race and seeing how my friends were going. FOMO (Fear Of Missing Out) was beginning to hit. Also my friend Jane who had gotten hooked on trail running when she did the pairs event with me decided to enter the 50km race so I thought why not set myself a goal that instilled in me a bit of fear of not being able to finish well to motivate me to get outdoors and have some fun in the hills leading up to it.

So I joined the rush when entries opened, got myself signed up and then of course was the realisation I would have to run for 100 km through the Blue Mountains with lots of stairs and over 4000m of climbing. As expected this meant I had to get outside on foot and find some hills.
My lead up
Though with my background I am fairly confident I can run 50km off road any time I need to, the longest I had ever run was the first leg of TNF 100 in 2011, 54km. I am not particularly fast but I am happy to be outside enjoying the surrounds and running or being on foot gives you access to a lot of places you would never otherwise see. I also have never followed a training program of any sort, again I worry at times if I focus too heavily on something like that I would lose the enjoyment of simply being outside and having fun.

I thought a few times about following a training program, David even offered to review a planned program if I put one together and give me feed back and improvement tactics that would mix well with it. In the end though I decided to wing it once more. I set a few events I was keen to do as lead up events and threw in some semi regular long runs around the place otherwise. Read a book with a lot of stuff about running technique and tuning your brains response to running to be more efficient and effective, incorporated lots of those ideas at times and then concentrated on staying uninjured.

I read of many people (including this book I had read) talking about running as much volume as possible (especially if you can keep good technique as a focus while doing so) in order to improve your running. I however still enjoy doing other sports a bit too much so was not keen on the idea of running 10 to 20km a day and big weekend runs and not much else. So I kept doing a lot of riding, mtb skills technique work too (pump track and sessioning sections of trail), did some paddling and generally had fun outdoors.

I did however also really work on some exercises my physio had given me to get rid of some planar faschia in my left foot and also in my stretching class I did some more strentgh work on calves, glutes and some other running stride strengthening measures. I did a long run before the six foot track ultra with Jane and found the 39km there a bit challengning. Then I headed up a few weeks later to the six foot track marathon, my first ever time at the event (photos and race write up). I probably headed out too hard here and paid for it later on, I cramped for the final 15 km of six foot and it hurt quite a bit.

With those things done I had to decide how to go about my final 7 weeks of preparation for the 100 KM. With some recent runs that had been hard I was a little worried, however I decided most of it was about pacing and I just had to be really careful there. I signed up for the Mt Solitary Ultra which was 3 weeks out from TNF100 as I thought that would be a good final hit out before the event. (photos from my run at Mt Soilitary are online, though no comments on photos and many are blurry). Also the weekend before Mt Solitary a Sean, friend of Luke Goodfellow and Randall Fitzsimon would be in town and was keen on a long run, so David (who was competing again in TNF100) and Julie came up with a nice run in Namadgi to show off the area to him. I joined in that, 50 km along the Australian Alpine walking track.

The good result of those two tune up runs was with careful attention to pacing I felt at the finish of both I could head out for a lot more, that of course being the goal as I would have to go do another lap of both if it were TNF100. Mt Solitary was an awesome event and I recommend it to anyone who likes a good tough 45km run in the Blue Mountains, much more interesting terrain than Six Foot and really awesome heading along the top of the mountain like that.

It did get me to thinking, if Tom and Al were the type to really want to break people (Tom says he always loves seeing a really tough hike a bike in adventure races) they could have changed the course to go over Mt Solitary as we ran down Kedumba and then head up Ferber stairs, that would have increased the difficulty of TNF100 by a lot. I admit I am happy they did not do that, also in the dark Mt Solitary is probably too remote and dangerous for many tired runners.
Race day
The new race venue of Scenic World is in an awesome location, so close to the centre of Katoomba, easy to get to from most accommodation, we stayed at the YHA again and it worked out really well as a base and with the bus service for the event stopping out the front door nothing could be easier. I missed the 6am bus, got the 6:07 bus down and still got there comfortably with time to spare, put my finish bag in the tent and stood by to watch the first two waves start.

I had a pretty relaxed attittude toward the day out, I was keen to see if I could break 14 hours, however was mostly out there to see how I managed being on foot for 100km with a few hills and stairs. So when we lined up for wave 3 start I was happy to let most of the people there settle into what ever pace happened and just run along with it.

The race notes have a table for estimated times to each CP for runners up the front, mid field and near the back of the field. I think Tom and Al need to adjust the Mid field numbers, the time they suggest for a mid field (finsihing well behind 14 hours) to the first checkpoint would have me blowing up so badly for the rest of the race I would be certain to finish badly. However as I knew the sort of HR I can hold for a long time and how it changes later in long events I was pretty sure so long as I stayed under any hard sort of effort I could keep myself going.

At times early on I was worried I was going a bit fast, however when we reached Narrow Neck I knew I could settle in to what ever pace I wanted and other people could do their own thing. Though I have been down the extension ladders errected for the event in the past it was good to have the opportunity to do so again, then I was running through the next section toward Dunphys and I realised it is a really lovely section of bush here, I had forgotten how nice it was, the firetrail runs through some amazing bush for a while as we approach the next CP and I was really enjoying it.

On the steep fire trail into Dunphys I slipped and fell, scraping my left knee, not something to worry about, however I also cramped heavily in my left abductor, which was a really bad sign, this suggested I had already gone out too hard and was in for a world of hurt in order to finish the whole race. I refilled my water and added electrolyte tablets at dunphys, chated with Matt and Myf briefly, atr a gel and ran off with a banana peeled to eat as I ran hoping I could get my legs to settle and drink enough and relax enough to avoid cramps.

For the next few km I kept wondering where the really hard bit up Iron Pot ridge was as it was pretty easy running, soon however we did get to the steep track right up to the ridge top and everyone had a bit of a walk up. Getting to see others in the out and back section is always fun and then the descent off Iron Pot was easier than I remembered so that helped. Though in the covered gully we crossed at the bottom I begain cramping again so did some serious walking for a bit, drinking and moving my legs in funny ways to see if the cramps would go away.

As we started passing the farms and heading toward the slog up Megalong Valley rd I seemed to have settled my legs down which was good so I kept walking strongly up the hills and had a chat to a few people along the top. Then with the significant downhill to CP3 I was able to open up and run nicely for a while. I needed to do a toilet stop at CP3, also I started eating an instant orental noodle bowl at each CP from here in, they are really salty and a nice texture to eat, though obviously slow me up a bit in CPs. I took 12 minutes here which was not too bad in the over all scheme I guess, nothing like the 17 minutes I took later in the day at CP5 without a toilet stop as an obvious excuse for a few minutes.

Getting going again I knew the next section well, Jane and I had done a Six Foot track prep run up here and had run the start out to Cox's river and back, so I had come through this climb running in the last few months and knew what it was like well. Of course my main aim for the day was to get to the Acquatic centre CP4 feeling alright and happy to head out for more. I settled into a strong walk all the way up here and though some people seemed to be powering past and away here I ended up catching many of them not too much later once we were out of CP4.

I had forgotten there were some nasty steep bits and stairs after the top of Nellies glen as we made our way through bits of Katoomba to get to the CP. Still they had nothing on what was to come in the next leg so really could be sen as getting us into the right head space for the up coming Half Marathon of Stairs.

Though I had run through the next leg in sections previously I had not given any thought to what it would be like doing it in one go. Significantly further than the final 10km of the old course and with the stairs above Leura Forest thrown in it was going to be nasty, though not having thought it through I was not to realise that until later. One of the guys I was running near late in this leg rather accurately said it was basically a half marathon of stairs between CP 4 and CP 5. Sure it was lovely to run past some of the pretty sections in daylight unlike previously, however this was I would suggest the hardest leg of the race.

I really enjoyed the descent down the Giant stairs as I can do that fast and with hardly any effort, however I did notice the following sections along dardanelles pass were getting a bit harder to maintain comfortable feeling through. I just kept moving and got through this leg, as I neared the end we of course hit a few km of bitumen into CP5. I had the rather strange thought pattern here that I would appreciate getting down Kedumba pass quickly and thus it would be good to see if I could still open up and run reasonably fast here. So I did, got some sub 5 minute KM pace going on the downs and about 5:30 pace on the flats, all a good sign I guess, even though I was about to waste any time gained by hanging around the CP for ages.

I pulled my lights out and put them in a side pocket on the pack ready for when it got dark somewhere down the pass, then I kept wandering around the CP eating and doing I don't know what but spending 17 minutes doing it. I had been wondering how my insulin strategy for the day was working and was worried it may be running out, I was pleased to overhear the first aid people had a blood glucose meter so I asked them to do a test. I found out my insulin levels were likely fine and my BGL was a bit low so I simply had to eat more and keep going. I grabbed some more food and headed on out rugged up a bit thinking it may be cold. I walked until I finished a banana and another gel then got moving properly.

As soon as I was running again I discovered I would not be needing my vest so I popped it in a side pocket and ran on. I started passing a lot of people on the way down Kedumba pass, I guess I was lucky that I could relax into a toe landing fast leg speed descending style without losing my legs from under me, I caught and passed Sean again for the last time in the end, though I was happy to see he still cracked 14 by the finish line as he had not managed that previously.

At Jamisons creek I managed to stay on the blocks to keep my feet dry as I crossed and settled into the climb. I was able to out power walk most of the people I could see around this point, though one person got away from me, clearly visible in the distance with a flouro vest on. Over the next hour or two I was happy to pass and stay ahead of the two people I saw with trekking poles as I was keen to beat as many trekking pole users as possible, just another small win in my head for some reason.

When I got to the top of the first uphill here and began descending to kedumba creek I got a shock to find my quads were done for the day, descending was no longer going to be easy and pain free. With only this final long descent to go I could live with that so got on down to the creek, I hit the crossing at around 12 hours so was thinking to myself if I can keep moving effectively and my have my glutes hold up well for climbing furber stairs at the end I should be able to sneak in under 14 hours.

The walk up to Leura forest took a while, it was good to see the medical people out here looking after a downed runner and he seemed in alright spirits as I passed, then as Leura forest I had maybe 50 minutes left (I forget exactly) so it was important to get through to the stairs as fast as possible. I had walked up Ferber steps before six foot pretty fresh on the day and they were reasonably fast, also half way through solitary they did not take too long. However I expected today to be different and I definitely was wary of the fact David had been suggesting people late in the field may take as long as an hour to do them.

One problem I encountered often once it got dark was my head light would cut out when I tried shifting it slightly on my head. This is it seems due to using three year old ayup batteries, the connectors seem to cut out. I had to constantly stop, remove the plug, put it back in, wiggle it around and press the power button hoping it would come on again. I had a backup battery I borrowed from Gary, I should have just used it as my primary battery, still hindsight is always awesome I guess. I already knew I had this problem with at least one of my batteries so bought the other one. Time to order new batteries I think, maybe have a discussion with ayup about it too.

I got to the base of the steps with 30 minutes to climb them, every downhill even just a few metres, along Federal pass were making my quads hurt so I was strangely looking forward to the glute workout on the stairs. I caught tail end of the 50km event field on the way up the stairs and on the whole just focused on keeping a good pace up them, I used my arms a lot and was thankful whenever there were rails beside the stairs to pull myself up. By the time I heard the noise from Scenic world I was delighted to realise it was much faster than I expected, I crossed the finish line with a race time of 13:44:05 and thus the stairs only took around 14 minutes.

Done and I got in under 14 hours which was pretty cool as that is the magic number many in the field aim for due to the belt buckle changing colour at that point.
Post race
Well that was an interesting day out, I was so happy to hear Jane won the 50 km, awesome effort there. Also when I found out David had cracked 12 hours and pb'd by more than 30 minutes on what was suggested to be a harder course I thought that was awesome too. The people out on course were good to chat with through the day and there was a great atmosphere among all the runners.

I can see why Tom and Al love trail runners so much, they are lovely people and really seem to appreciate getting out doors and are not too tense up up themselves. I think one recent example really shows this to perfection, in 2012 the Six Foot Track Marathon had to be cancelled for the year due to flooding. Sure people were upset but the general concenus was agreement especially when everyone saw the Coxs river crossing. So the trail runners sat around and waited for the following years event. Recently in 2014 the Mont 24 Hour race was cancelled, also due to rain and the event centre being unusable, the mtb riders who were signed up for this began threatening to sue and getting so angry and worked up that the race had to be rescheduled and still run much later in the year. So there is some great proof that mtb'ers who seem to love racing their bikes at big social vents are often a bunch of pricks compared with all the awesome trail runners out there.

Anyway back to the north face, it was fun, I was happy to finish better than I expected I would. I have some other things I want to do this year though nothing much set in stone, I can happilly say yes to pretty much any fun outing in the bush and know it will be fun without fear of finding it too hard though which is a good feeling. I am not sure if I feel the need to come and run again here, I guess I will see how I feel later in the year.

I have to admit to being happy I made it in under 14 hours and got the silver belt buckle so many people aim for. 112th male and 128th overall is pretty solid for someone who can not run well.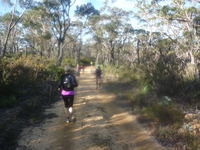 fullsize
This is the photo I took when Sean accused me of taking photos of the girls in cool shorts when he video interviewed me.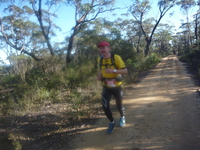 fullsize
Sean running along Narrow neck with me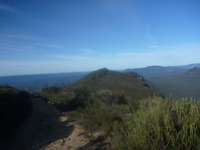 fullsize
Yet another awesome view out along narrow neck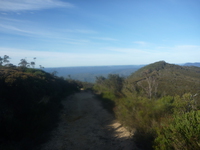 fullsize
More views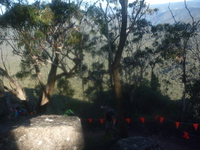 fullsize
Heading down toward the ladders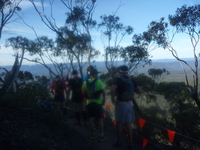 fullsize
By the time we came through (wave 3) there was a bit of a queue of people around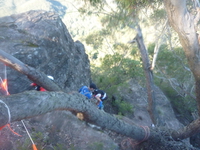 fullsize
This is the easy bit getting down to the ladders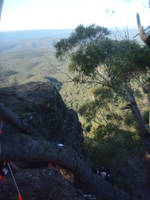 fullsize
David commented he was not carrying his camera this year, he had carried one 5 times previously and seemed to tkae photos of the ladders and not much else.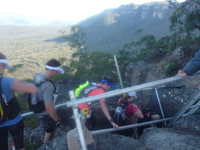 fullsize
So here are my photos at the ladders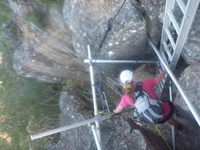 fullsize
Of course I am entertained, during TNF100 the ladders are really extension ladders, not simply steel spikes in the rock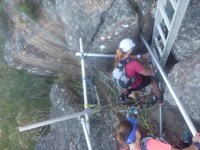 fullsize
As I approached the marshall they sent a number of people the alternate route down, however I was allowed down the ladder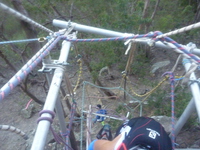 fullsize
It turned outto be faster using the ladder, though I really think it is not a big issue for people at this point in the field.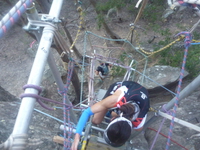 fullsize
The ladders had been up there for a fortnight as they were in use for the wild endurance event also.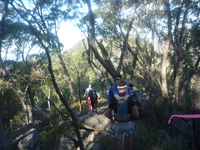 fullsize
We had much better weather, 2c to 4c and windchill of -5 would have made it a hard day out.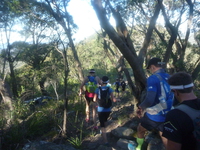 fullsize
Due to my ladder use I caught up to Mr Pink again.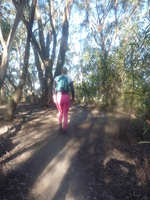 fullsize
Even I have to go on record and sugest these tights are far too pink. I guess at least she was not wearing an entire outfit that colour. Brave though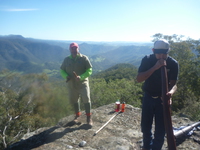 fullsize
David King and a colleague helping us appreciate their country they have looked after so well for us to run through.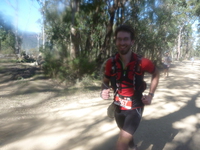 fullsize
A french guy who now lives in Australia, he has done the race before, he came in with an ITB injury and was planning to grab trekking poles at CP5 for the last leg. Good to see he finished the race and only just missed out on breaking 14 hours.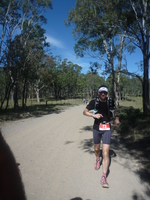 fullsize
Poor Chris has had a nasty planar faschia injury for a few months, he started but did not survive well, he had to pull out at CP4.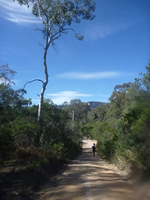 fullsize
Running up the six foot track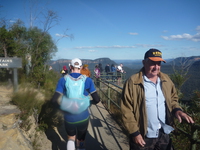 fullsize
After the Acquatic centre approaching echo point past many tourists, this leg should become known as the half marathon of stairs.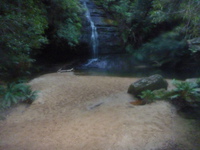 fullsize
A beach and a waterfall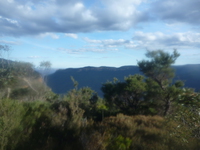 fullsize
Good view toward Mt Solitary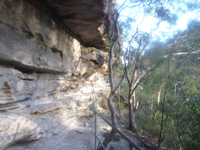 fullsize
I have never been through here in daylight, pretty cool, I like the direction of the new course.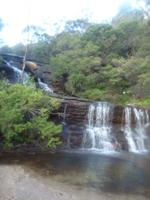 fullsize
Wentworth falls.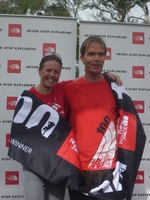 fullsize
Tom forgot to have the Finish banner up for Jane to run through as she won the 50km race.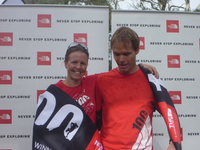 fullsize
He kindly gave her a finish banner to keep and posed for a few photos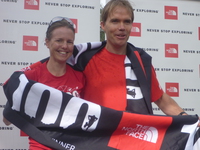 fullsize
What an absolutely awesome run from Jane.

fullsize
When Hanny decided to pull the pin I emailed Jane predicting she would win, also Brendan Davies warned Jo that Jane was likely the biggest threat in the 50km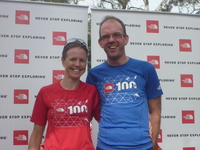 fullsize
Both Jane and I were incredibly happy with our runs, I was hoping to break 14 but expected it would blow out closer to 15 hours.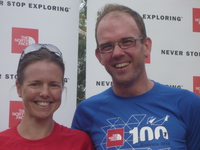 fullsize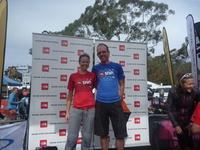 fullsize
Thanks for a fun weekend, Tom, Al, Jane, David, Julie, Hunsie, Dave Meyer and everyone else.