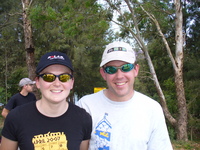 fullsize
Danielle and Steve still smiling before gear check.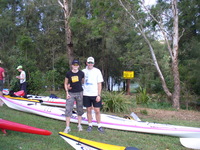 fullsize
In front of Matilda the Pink Mirage 730 in the line for gear check.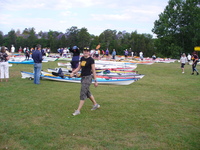 fullsize
Danielle walking across the field the boats sat in before each start. Matilda can be seen sitting waiting on the right at the back if you look closely.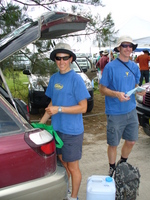 fullsize
Julie and Dave, Julie about to embark on the paddle with Dave playing the role of support crew Barbie for the event.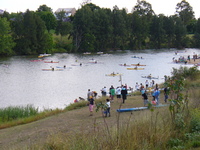 fullsize
Some photos of the Brooklyn or Bust starts.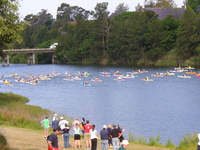 fullsize
This race almost seems to be sponsored by Mirage, over 70% of the boats racing seem to be Mirages.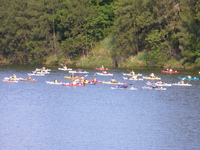 fullsize
If you look hard you may spot some boats that are made by someone else.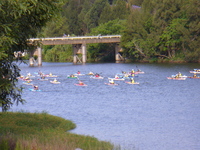 fullsize
Fun to see so many people keen to do what is a rather hard race.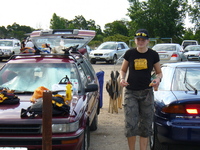 fullsize
Danielle at the car getting our gear ready.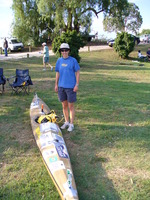 fullsize
Julie posing with the boat she is using, a borrowed Eclipse, far more stable than her own Wizard and still very light.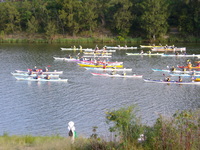 fullsize
The start of some of the double classes just before us, lots and lots of Mirages.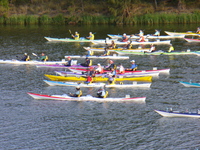 fullsize
In the double category the Mirages seem even more prevalent than in other categories.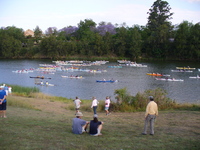 fullsize
It was rather lovely to be able to relax on a grassy hill for an hour or two before starting a race.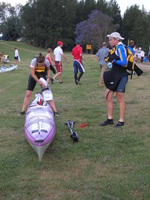 fullsize
Last minute preparations.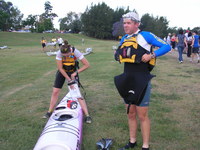 fullsize
I have no idea what that look on m face means, it kind of scares me.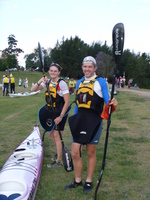 fullsize
Ready to go.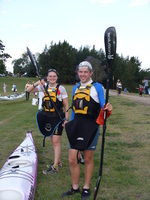 fullsize
There were a lot of flies (such as on my face) however once on the water we never saw them again.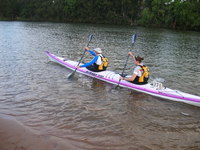 fullsize
And we are off, running late for the start but ready for some fun.
The Event and Team
Dave has put some of his photos from the event (of Julie and us) up on the Bilbys Photo Gallery site too if you want to see them.

The Hawkesbury Canoe Classic is a 111 KM race down the Hawkesbury river near Sydney, starting in the afternoon in Windsor and going through the night to finish at Brooklyn. This year is the 31st edition of the race (this race is older than I am, pretty impressive). There are people who have competed in the event every year since it started, such as John Harmer from the club I paddle with, BGCC, then there are others such as Danielle and I (and Julie) who did the race for their first time this year.

The boat we competed in is my pink Mirage 730 Double Sea Kayak, Matilda, as this is a 2 person boat I needed someone to paddle with. Fortunately for me Danielle was also keen so we agreed to do the race together. Danielle and I have both been paddling a bit for a few years, simply because we need to for adventure racing purposes, however last November we both got more serious about paddling when we attended the beginner paddling course BGCC runs every year.

With the help of Patricia, Margi, Barry, Karen, Brendan and the other coaches and people at the club we have both improved a lot in the last year, which in hindsight was absolutely necessary to embark on something as long and difficult as the Hawkesbury Classic. Julie Quinn also decided to do the race, however in typical fashion for her she was doing it solo, with Dave signed on as support crew. For Danielle and I we managed to convince my friend Prue to come along and support us at the race.
Leadup
Andrew was suggesting we should have done some long paddles (50 KM at least) in preparation, we did not get the time to do this. Though Danielle had a 45 KM paddle leg in XPD this year which would have been tough in the inflatable boats they used there. However the longest we got out for was a few 24 KM paddles and otherwise generally 7 to 13 KM when we could find the time maybe once a week. I was also generally doing 3 or 4 other paddle sessions a week, however they were all similarly small, less than 12 KM and really not a fantastic preparation for the race.

However we did not let this dissuade us at all and were looking forward to rocking up to find out what this event was all about. So Saturday morning October 27 dawned and we drove up to Windsor from Canberra, the car loaded up with paddling gear and the knowledge we would not be getting much sleep for the next day or so firmly planted in our heads. Fortunately this last detail was not much of a draw back in our view, after all compared to some ARs this was a short race, heck we only had to stay awake for one night.

Upon arrival we got through registration and gear check fairly quickly, grabbed some lunch and then found ourselves with nothing to do for a few hours. This was quite a novelty, before most events there is heaps to do, such as sussing out the map and ensuring gear is correct for a Rogaine, to organising the team and equipment or similar for an AR (or in the case of Geo waking up and getting to the 7am start with as much sleep as possible in you). It was actually kind of nice to lie on the grassy bank and watch the water for an hour or two before the race briefing, enjoying the shade, reading a book. Danielle and I both remarked it was the most relaxed we had been for weeks. After the race briefing we were able to continue relaxing for a while and watch the starts of the earlier categories.

Oh and a note about the gear check, and the rest of the race, I found it a source of continued amusement that everyone commenting to us on the colour of my Mirage always assumed it had been Danielle's choice in colour. Danielle is a woman who has a self avowed dislike of the colour pink and is happy to own nothing in that colour, she had to continually point out it was my boat and my colour choice *giggle*, what fun stereotypes can be.
Race
As we got to watch a number of other classes start first a few things became obvious. First this is almost a Mirage race, I think over 70% of the boats racing were Mirage kayaks of some description. Sure I love my Mirage and understand that they are excellent boats, fast yet stable and well built. It really is incredible to see the absolute dominance of this brand in the Australian market. I have to admit I can not say anything bad about them and understand very well why so many people own them.

There were a large number of School, Junior and University based teams, I found this impressive as this is not an easy race so seeing this many young people or uni students committed to this race was inspiring. It is interesting when you consider in many other sports juniors are restricted from doing long endurance events (and uni students do not generally compete in sports unless there are copious alcohol imbibing opportunities associated with said sport <g>)

Like any endurance event there were some teams there for fun and dressed or done up to express that goal. The standout was a kayak with three people paddling it, coloured light globes strung up between two poles above them and a poodle on board wearing a life jacket also (I wonder how they dealt with the poodle needing toilet stops...) and some other decorations around the boat. When we saw this team late at night they had the lights lit, some fun summer sort of music playing and seemed to be cruising along in the spirit of their goal of a fun time. (though they had dropped the dog off at an earlier checkpoint)

At race start we go through gates where the marshals ensure we have compulsory equipment and that we have successfully been through the boat check, they then direct us down to somewhere along the shore with space for launching. We were sent over to the beach. The beach ensured Danielle had a lot of sand in her shoes which we stopped so she could get it out, also we had somehow forgotten to ensure the foot rest was in the right position for her. Thus we were running late approaching the start line and had to paddle hard to get on a wake when the gun went for our start. However as Dave has said, what is 30 seconds in 13 hours.
Windsor to Sackville
We got started and hopped on the wake of some of the other doubles in our start group (there was one elliot kayaks boat and the other 20 or so boats were all Mirage doubles). We eventually paddled on to the tail of a rather nice looking dark gray to light grey fade double that appeared to be the other Open Mixed team in the race. I complimented them on their boat colour scheme, the guy told us he was happy with the Mirage, he used to compete in a TK2 and found the less tippy Mirage far more pleasant.

A little while later Danielle commented to me we were pulling along 4 boats on our wake so we stopped for a few seconds to get a drink and grab some food, I took some photos and by then they were all gone so we settled in and paddled at an easier rate by ourselves for a while.

We eventually caught up once more with Helen (one of the BGCC paddlers) and her team mate just before checkpoint D, however they were continuing on with out stopping and we were heading in to see our support crew, we said good bye to them and landed on the beach. A marshal yelled around for Prue to show up, we visited the toilets, grabbed some food, stood around a bit and then decided to head out again. We got back on the water at 8:35pm.
Sackville to Wisemans
This was probably the toughest leg of the race, the tide was coming in against us for most of this leg, so our speed was reduced to between 7 and 8 KMh for most of the leg. At Sackville Danielle had adjusted the foot rest as she felt it was too far away, however she discovered, with a lot of pain, that it needed to be that far away to allow for proper leg movement. Her legs started to get far to sore to remain paddling for very long. When we worked this out we stopped to adjust it back to where she needed it.

The lesson from that of course is not to adjust things to a setting different from what you normally use half way through a race, I know we should be aware of this, however it was drummed into us once more. The place we stopped to make the adjustment back was one of the checkpoints, probably G or something. This was manned by a few volunteers, one of whom had his young son helping out.

This brings us to one of the entertaining parts of the race and the discovery of a cool kid. The entertaining thing is that for the time leading up to our stop here and for a bit after Danielle had been describing the bends in the river as old womans breasts (sagging) and was talking about when we were about to bend around the cleavage or other things like this. I found this amusing and for the rest of the race tended to ask if we were anywhere else on the female anatomy according to the maps, or if we were just traversing more breasts.

When we stopped and this kid was helping us Danielle (I think the kid was around 12 to 14, however Danielle thought younger and did not want to influence him negatively, hey we were tired and sore who knows what our brains were doing). During our conversation Danielle mentioned what was next in the river, and referred to the next section as going around the next "you know what" so as to keep the young ears free of her map imagery.

The other reason this stop was interesting is the kid mentioned he would have no problem staying up all night as he is unable to sleep unless he takes medicine. To this Danielle and I both had the thought that he may well be an excellent Adventure Racer in 10 years or so, just withhold his medicine, he even said he was keen to attempt to paddle in the race next year (his father had competed a number of times before stepping up to volunteer at a checkpoint this year).

Another thing we saw that would be useful to remember is a glow stick pole. One of the paddlers we chatted with had a small pole/mast on the back of his boat around 4 or 5 glow sticks in height, on which he mounted blue glow sticks. This ensured his boat stood out from a long way off to his support crew. We saw a few people with glow stick patterns taped to the side of their boats, however this tower of glow sticks seems far more effective and visible, maybe worth doing if you compete, also choose a different colour glow stick to the default colour the event hands everyone or you will not stand out well.

We finished this leg sitting on the wake of a surf ski for 2 KM or so, it is surprising that a huge double sea kayak such as a Mirage can sit on the wake of a single surf ski, however surf skis kick up a fairly large wake, we were definitely not complaining and were happy to have a rest for a while. We arrived at Wisemans with Prue waiting on the shore for us, headed into the carpark to the toilets and some food, I got a bit lost looking for the car even though Prue had lit it up a bit and described the location well. Prue bought us hot chips, I downed a coke, we stretched a bit, chatted with Dave who was waiting for Julie and then headed back to the boat to get going.
Wisemans to Spencer
After a rather long break we both felt pretty good in the boat again, also the tide had turned so we were now easily holding 11 to 12 KMh without much effort (if you look at the GPS data graphs linked below you really can see the huge difference between speeds with and against the tide). Maybe because it was fairly early morning or something but I do not remember much about this leg.

One guy we passed who had done the race a few times was raving about how good the low tide rest point was, with a fire there, hot tea and soup and food. We had heard rumours about a bon fire at a rest stop later on while we were at Wisemans. So we agreed to stop there for a quick rest and toilet break. Danielle and I both agree it is a good break point, they pulled us in over the mud so we did not get too boggy, we had hot chunky soup, tea, some scones and then hopped back in and got going again.

Just as it got light we were passing checkpoint N and one of the volunteers in the boat there was having fun. As you call out your number he looked up your names and started talking to you on the loud speaker, we had a jovial fun yelled conversation with him as we passed. Whoever you are you made the event much more fun as we passed by.

Many people did not bother going in to the beach at checkpoint O, although it was compulsory for support crew to stop there, paddlers were able to paddle past and head on to the finish and avoid some extra distance. We had decided to have a brief stop there before paddling the final 12 KM or so. We pulled in and were grabbing some food and a cup of tea, chatting with some other support crews and Dave and Prue when I looked over to see a brown single boat paddling in, that looks like Julie, oh no she has caught us it is indeed Julie. So with the fear of Julie in us (anyone who has raced in an endurance event against her will understand this) we hopped back in the boat quickly and got underway to the finish.
Spencer to Brooklyn
This was possibly the hardest leg for me, by this stage my right wrist and upper left lats hurt a lot, I had to continually stop to rest both and massage or stretch them a bit. I was fortunate in that Danielle was there encouraging me to keep going and get through the leg the whole way, ensuring we kept the goal of finishing in sight and pushed through this last section as fast as we could manage. You go girl, you got us through the end of the race.

The fog made navigation a little tougher in this leg than it had been previously and we were trying to keep banks in sight, at one point we hugged a shoreline a bit too much and ran into some shallow water, however we got out quickly rather than pushing through it for too long as some boats we overtook here tried. After this it was fairly straight forward all the way over to the finish. The lack of the final check point before the finish was a bit confusing, but we could see the freeway bridge now and knew pretty much where we had to go, it was lucky we did not have to cross this section in thick fog as it would have been far more confusing.

If it had been foggy more one thing we noticed at times would have been worse. Often the boat based check points were moored in a slightly different location to what the map suggested, this difference could have proven confusing or problematic if fog or other conditions had made sight along sections to navigate harder at times. It would be nice if the check points were in the exact correct location, though this may only be an issue for people such as us who paid a lot of attention to navigation and the map at all times.

With the navigation, we were surprised often throughout the event when people seemed to not look at their maps or not know where they were. Often we would have people asking if we knew how far it was to check points, or people wondering where they were or what bends were coming. When we told people details they tended to assume we had done the event before, we had not of course, Danielle simply kept an eye on our location all the time on the maps.

At 6:31am (or 7:31am adjusted for DST) we pulled into the finish in Brooklyn, yay all finished. Then Julie pulled in within 2 minutes, we had at least held her off.
Wrapup
I wore my HRM strap and had my Garmin Forerunner GPS on for the duration of the event, pressing stop when ever we were stopped. The map data is online as is the detailed HR, Speed, Spot point data (the detailed data will not display correctly in Explorer, you must use a standards compliant browser such as Firefox). It is interesting to see how the speed changed noticeably when we were flowing down the river, then against the tide, then with the tide and once more at the finish fighting the tide.

As for the race, we both enjoyed it, even though it was tough we were having fun the whole time. It was an interesting contrast, the number of people we paddled past, when asked if they were having fun struggled to get much enthusiasm going. We were generally happy and talkative for most of the race. We know we spent too much time stopped. The GPS data said we spent 11h16m actually moving, our finish time for the race was 13h16m. We spent 2 hours at checkpoints, stopping for toilet/stretching breaks etc.

We know now we really were not well prepared to do this race at a high pace, we now understand better than ever the sort of training we should put in before this event if we wish to be fairly fast. At least one paddle of around 60 KM, probably better to do 2. Every week we should have been doing one or two 20 or 30 KM paddles. During these paddles we needed to concentrate on keeping moving, only one person stopping for drinks/food etc. We also were pandering to comfort getting hot food or tea form our support crew, if we wanted to go faster we should concentrate on refilling water supplies, a toilet break and re stocking muesli bars/portable food then getting back on the water.

I ran out of water in my 2 litre camel back bladder a few times, fortunately I had carried two more bottles of water in the day hatch so was able to either drink from them or refill the bladder. Also it would probably help to have a working mechanism to drink from the camel back hose without stopping our paddling at all as that would definitely diminish any wish to stop paddling as often as we did.

Prue was a fantastic support crew, she had everything we wanted ready when ever we saw here, laid out and easy to access. Also she anticipated needs and had extra things there ready just in case we wanted them. I highly recommend someone as capable as Prue as a support crew it really made our job of paddling much easier.

On the whole I really enjoyed the experience of paddling the Hawkesbury Classic, it is a different event with a different atmosphere to what I am used to doing. I am impressed that an even though it is rather tough the hawkebsury has a following this large and has managed to run continually for 31 years. This is a testament to the huge effort put in by the organisers, also the fund raising for a worthy charity every year is fantastic to see. I believe they said around 300,000 dollars were raised for the Arrow Bone Marrow Transplant foundation this year.

Anyway thanks to the organisers, thanks to BGCC and the coaches there, thanks to Prue for the awesome support job and many thanks to Danielle for a great race, fun was indeed had.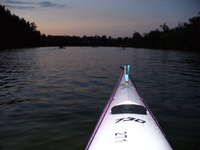 fullsize
I carried the camera for the first 60 KM, so used it once just before it got really dark.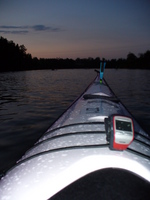 fullsize
I had my gps on the deck line for the race, I could see what speed we were doing or what distance we had paddled if I turned my head light on. The battery fortunately lasted the entire race.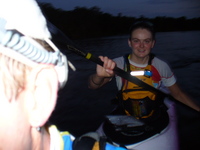 fullsize
Looking over my shoulder to Danielle while taking these on water photos.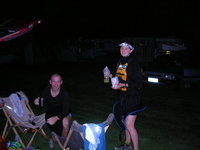 fullsize
Taken next to the car during our break at wisemans.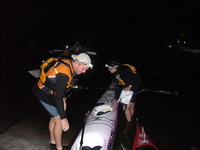 fullsize
About to get back into the boat after a food/stretching/rest stop at Wisemans 60 KM in.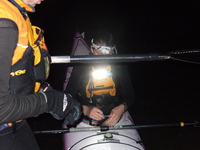 fullsize
I had Prue and Dave take a few photos as we were getting in again.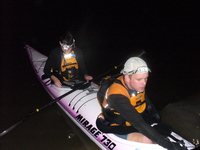 fullsize
Tucking our skirts in.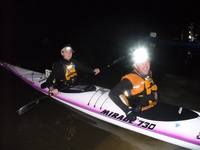 fullsize
Time to go.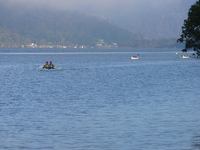 fullsize
Some random paddlers on the way in around when we were due.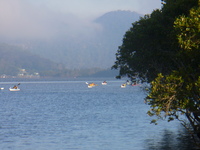 fullsize
And again.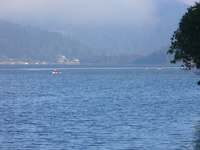 fullsize
Finally the two of us in sight paddling into the finish.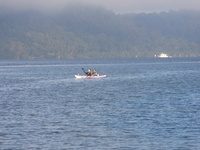 fullsize
Getting closer.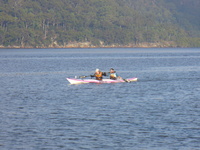 fullsize
How sore we were and how tired probably explains our paddle stroke being a tad out of sync.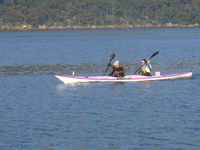 fullsize
Ahh will it ever end.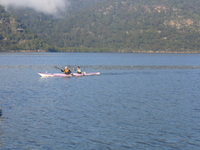 fullsize
We really hope it will end, the fog in the hills mostly burnt off an hour earlier.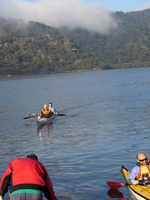 fullsize
Yay all done.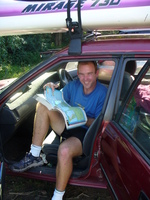 fullsize
In the car unable to move much about to head to Canberra.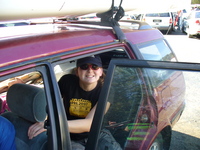 fullsize
Danielle, my kick arse team mate, thanks for the race.