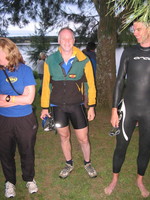 fullsize
Sarah Pollock and BTG2 (Big Tall Gaz 2, Garry Stevens) surrounding Ron Brent before the first swim leg at Lake Ginnenderra.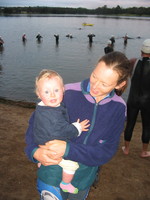 fullsize
Sam and Nikita.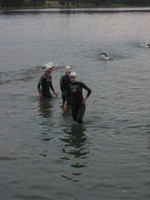 fullsize
Shanyn preparing for the start of the first swim.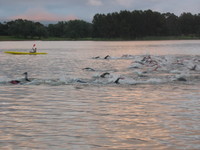 fullsize
And the teams of three get under way for the day.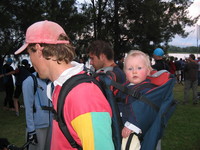 fullsize
Ben and Nikita.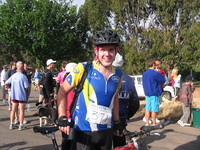 fullsize
A photo of me at the end of Bike leg 1.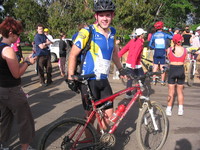 fullsize
And with bike included.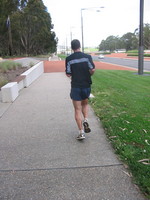 fullsize
While riding to the transition of Run 1 to Swim 2 I came across Bruce heading down Anzac Parade.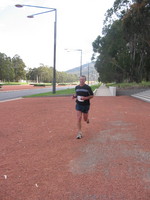 fullsize
Incidentally there was a photo taken last year around about here of him that is on the race website. (they had another one lakeside last year also)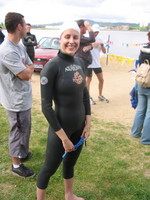 fullsize
Shanyn ready for Swim 2.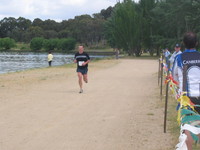 fullsize
Bruce approaching transition.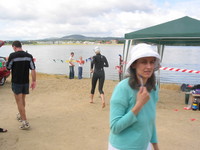 fullsize
Shanyn heading for the water.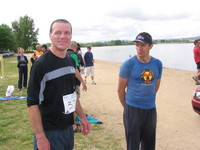 fullsize
Bruce after the long run with Steve Fitchett looking on.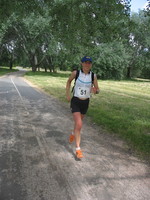 fullsize
Julie looking comfortable about to finish Run 1 and start Swim 2.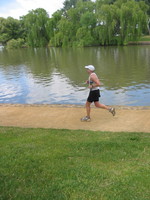 fullsize
Pete Bartholomew (from the team of three (team name "Where is Pete?" with) Ben Crabb and Daniel Eichner.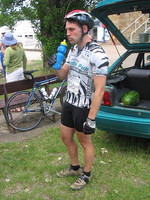 fullsize
Rob Burrell getting ready to go and set Bike leg 2 alight (they (4 person mens team "Entropic") won the 9 person open category).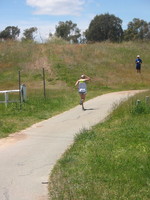 fullsize
Ben Crabb running up onto Mt Taylor for Run 2.
I have the results online at svana.org. (also race reports from 2002, 2003, and 2004)

After a rather good race last year I was happy as heck that Shanyn and Bruce were both keen to team up with me again this year for the Triple Tri. Though there is not much technical or challenging mountain biking in this event, and it is called a triathlon, every time I compete I seem to have even more fun. There really is something special about this event. The feeling on the day with everyone out there, the team work, the camaraderie, the tour of Canberra, the pain, who knows but it is a hoot.

I have had a cold for about two weeks now, and I had been hoping it would disappear by the time the triple tri rolled around. I was feeling pretty average when I woke up on Saturday morning but still hopped it was the tail end. I suppose now, writing this a few days after the race, with the cold still here I was not that lucky. I should think myself lucky I was able to perform as well as I did in the race this year, slower than last year, but not terribly slow.

Fortunately as I mention above I had Shanyn and Bruce around, both of whom are remarkably fast, solid and consistent in their performances. We met up on Saturday afternoon at the registration and sat around drinking coffee and talking about the race and other races and catching up. Team strategy as always was to have fun so we did not have to sit around talking team tactics or anything, though we hoped to at least get a similar result to last year.

At the end of the race last year Bruce said never again would he want to be on a fast team and it was all too hard, Shanyn and I are lucky he forgot that and was keen to compete once more this year. Bruce has been doing a fairly large number of distance running events and long run training in the last few months so he felt rather keen for the triple tri this time around. Shanyn competed in a 9km lake swim the weekend before the triple tri finishing very well, and not even using the advantage of wearing a wetsuit. I competed in the Highland Fling 100 KM mountain bike race the weekend before also, however I took it easy all day then in the hopes I would not further aggravate the cold I had.

I decided to ride my duallie this year rather than the hardtail, partly because the gearing and bike in general are set up better for steep climbing, and partly because I have it specced with better race equipment and lighter than the hardtail currently.

The team name this year would once more be "32 Flavours", because a) continuity in team members can suggest continuity in name, b) I have no imagination and c) all the reasons I had for choosing this name last year still apply. The line up this year as would be expected was again Shanyn in all three swims, Bruce in all three Runs and me doing the three Bike legs. We had discussed for a while the suggestion that Shanyn do the third Run leg, this would allow Bruce to go harder on the first two as he did not have to make it through the third. I tend to agree with the opinion that the hardest leg set in this race is the three runs, longer than a Marathon and over mountain tops, other steep hills and lots of rough terrain. Shanyn is a rather capable runner and had put a fairly good time in for a half Marathon earlier this year. Also the final run leg is possibly the easiest of the three (not as steep as leg 2 and not as long as leg 1), however the discussion became moot as Shanyn had acquired a knee injury recently and was unable to run on it. Ahh well no matter we were still going to have fun and Bruce was still keen.

On the bike at around 5:30am to ride over to the start, I got there early enough this year to actually talk to Shanyn and a bunch of other people before they got the teams of three swimmers under way. The most important piece of information passed on to Shanyn, a reminder that we were here to have fun and the race got underway. Shanyn, consistent as always was out of the water in 21:27, 12 seconds faster than her time in this leg last year, this time the 4th fastest swimmer for this leg today and she had me on the bike just in front of Dave Osmond, reality realigned shortly afterwards as Dave got in front of me on the climb up to the bridge, caught up to Adrian and the other two and stayed in front of me from then on. I eventually passed 2 of the other riders tagged out of the water before me, but of course never saw Adrian again on the bike that day, or Davo for that matter. The course had changed a little this year and we would not have the rather fun (read mildly challenging) gutters to hop as we instead rode up through Uni of Canberra and into Gossans hill on the other side.

I was feeling alright as I got over Aranda bushland and crossed under Caswell Dr into Black mountain reserve, it was at this point I had my shock of the day, as I crossed under Caswell Dr I saw another person in front of me who appeared to be going slower than I would expect anyone at this point in the field to move. I would not expect to catch up to any solos until the climb up Push Bike hill. It turned out to be Dave Baldwin, I passed him a few hundred metres later and had to ask if he was alright. I would expect under normal conditions, our team would not have passed him until the second triathlon, in one of Swim 2, Bike 2 or Run 2. Dave said he was cramping up and unable to move properly on bike or foot but said to keep going and he would battle on through. This was kind of mind boggling to see Dave back so far and suffering as much as this.

On the way up Push Bike hill I had what has to be my most embarrassing crash for the year. I had walked the steepest 30 metres or so of the climb and decided to get back on and ride. I did not clip one foot in properly and was a little unbalanced as Is tarted to pedal, as it is very steep my balance got worse, and at uber slow speed I toppled sideways and fell with my bike on top of me all in slow motion. Getting unclipped and upright again I walked another 10 metres before getting on the bike and riding the rest of the way up the hill.

As I passed the carpark area where you turn in off the road on the descent on my way up, I saw Davo and Adrian in close formation about to leave the bitumen, they had around 4 or 5 minutes on me here, a difference that was sure to increase before the end of the leg. Looking at my time as I got to the summit of Black mountain I was on about the same time as last year, though not feeling too good. I descended the fun track down to the top of the Botanical Gardens and continued on, Steve Fitchett passed me on the next up hill bit saying I had dropped him briefly on the descent, ahh well I was not going to hold him on a climb, and though he was in the Mixed category I was not too worried as he and his partner Cristy had entered the event as a pair so were likely to fade due to exhaustion through the day. I admit as the day wore on they had me a little more worried though as Steve passed me about half way through every bike leg all day.

Later as I rode through Lyneham Ridge, I was passed by Ben Henderson, one of the fastest XC mountain Bike racers in ACT, often second only to Dylan Cooper, this of course reminded me we (my team) were quite lucky Emma Murray and her team had wanted to stay in the Womens category when their mountain bike rider, Kate Roper (CORC President) had to pull out of the event due to injury. Dylan offered to ride with Emma's team, as Emma was likely to set Run leg records all day, and if Dylan had entered I would not put it past him to set Bike leg records all day they may have done fairly well in the mixed category. They did however get Tracey Angove to ride for them, so though they stayed in the Womens category, with a rider as fast as Tracey they were likely to be almost unbeatable in their category. As it was Ben Henderson did the fastest proper bike leg one time of the day anyway, riding in a team of 9.

By the time I got onto the bike path after Lyneham ridge I knew I was slower than last year and just had to try to keep the pace up and finish as well as I could. I handed over to Bruce at 08:13am, with the race starting 6 minutes late and my leg starting around 06:27am this had me doing a 1h46m ride. I was lucky the weather was overcast for this leg however it appeared to be changing and I was unlikely to be able to avoid the sun and heat later in the day. I went home quickly had breakfast, adjusted the cleat position on my new shoes again in the hopes it would help stop the knee pain I was experiencing in my right leg, had lots of Gatorade to drink, packed a bag of stuff for Bruce's partner Robin to carry around in the car for me and headed over to the next transition. On the way there I encountered Bruce near finishing the leg so I took some photos and cheered him along for a while then rushed off to tell Shanyn he was almost here.

Bruce, also being Mr Consistency it seems finished this run a bit over a minute faster than he had last year, this time in 1:35:18 and Shanyn was in the water for the long swim. Shanyn, also on her aforementioned consistency streak finished Swim 2 within 17 seconds of her time from last year, this time 44:49 and I got on the bike. I had felt my legs going a bit crampy while pedalling around between legs this time and was worried I was going to have cramps in the following leg. I was attempting to down as much Gatorade as I could and just hoped it would help. As it turned out it was not quite enough, on my way up the first real climb of the leg to the top of Dairy farmers I felt my left leg start to cramp, maybe in part compensating for the knee pain, and largely due to my inability to perform well and properly process liquids with a cold I suppose. I realised I had to back off and just hope I would not lose too much time with the much slower speed I would have to maintain in order to ride the rest of this leg and the following leg.

I rode through all the cramps I was getting rather than stopping to stretch, this seemed to work after a fashion, though I could not go fast I was able to keep moving. Also I was lucky to be on the Dullie once I started hitting the steeper climbs such as Bluetts and the back of Stromlo, the lower gearing really helped and I am happy to report my big achievement for this leg was I rode every single part of it, I never had to walk up any section of hill, not even the steep pinch up onto Cooleman ridge near the end. I did have to stop for about 2 or 3 minutes on the way up Stromlo though, my chain got jammed in the cluster between the spokes when I went to change to the easiest gear at one point and it took a while to brute force yank it out. I adjusted the hanger angle by hand and then adjusted the cable tension a bit and the shifting seemed to work reasonably from then on all day.

I have been using a 2 L bladder for water for a few weeks as my 3 L bladder finally after around 5 years has become too skanky tasting to drink out of and I have yet to get around to cleaning it out (vinegar seems to be one suggestion I should try), having only 2 L of water and one 750ml bidon full of Gatorade on this leg in the heat turned out to be unsustainable, I was almost out of water as I summited Stromlo, fortunately Christine Thurl was there and was able to point me towards a tap I could refill at. As I descended off Stromlo I knew I was definitely behind last year's time and just had to find out how much by. After grovelling over Narabundah hill and up onto Cooleman ridge I was happy once more on Cooleman ridge as it allows you to open it up a bit and cruise at around 30 KMh most of the way even if feeling bad. I got into transition with a time of 2:07:25, 12 minutes down on last year, but I could not do much about it, and was at least happy with the steep climbs and the final fast cruisy section.

Bruce was at least likely to be rather pleased with one aspect of me being slower this year. Last year Bruce said the one goal for the team, irrelevant of any thing else, was to beat Trevor Fairhurst (who came second in solo last year, and won solo this year), last year I had passed Trevor in the 2nd Bike leg, though Bruce was happy to be in front, he did not have the fun of passing Trevor (possibly a once in a lifetime occurrence) himself. This year Bruce somewhat jokingly suggested that, if I happened to catch up to Trevor on the bike, to back off and stay behind him so that Bruce would be able to pass him in the Run. With about 4 minutes to catch up Bruce was ready and raring to go.

I rode slowly down to the next transition eating a promite sandwich and drinking lots as I went, I got there to find Shanyn ready to Swim and we had a few minutes to wait for Bruce. With more of that incredible consistency, Bruce was about 1m30s minutes faster than last year, in a time of 52:58 and as Shanyn set off in the water he mentioned he had indeed passed Trevor, though it seems Trevor was taking it fairly easy and almost seemed to be cruising at the time, ahh well time for me to get over to the next transition and be ready to go on the final Bike leg as this was a quick swim.

The start of the next leg is often difficult, there is about 6 KM of flat bike path before going up and off road, the reason for the difficulty is due to the temptation to open up and really hammer through it. However when this exhausted in the past years when I have done this I get to the climb up onto the ridgeline and suddenly everything cramps and I find climbing almost impossible. Thus keeping myself in cruise mode through there should ensure I can make it through the rest of the leg. Shanyn completed the swim in 15:49 (probably 5 seconds of that is because I did not reach down to tag her as soon as she was on the ladder as many teams do, instead I waited until Shanyn was mostly out of the water and up on the ladder. This will give her the record for this leg by around 2 seconds which would be pretty neat. The current results list someone else as swimming almost 2 minutes faster, that is not really possible and is likely to have been an accidental course cut. John Flemming and Anthony Millgate both have times under 12 minutes currently, this is because they came through this swim well before the marshals and thus did not know the course was out around a red buoy, instead they followed the yellow buoys and that was a shorter course. The marshals were telling everyone as they entered the water which buoys to swim around later in the day.

Once I got on the bike I was pretty much forced to stay slow to avoid cramps and was passed by a few people even on the bike path. Fortunately once I got off road I was able to climb pretty much all the hills through until I got to Isaacs ridge, I was however going pretty slow. Up Isaacs I had to walk about 10 metres of the steep firetrail, Rich Palmer was coming up behind me at that point, interestingly he passed me on the goat track last year and it seemed he was about to pass me this year at the exact same point. I stumbled up the goat track and hopped back on the bike, with only two more really small undulations left to get up I was happy to be almost done.

As I rode toward Sheaffe trig I was somewhat amazed to see a discarded tyre sitting on the ground, this is not something many people would discard up here in the middle of no where and then ride out. I wondered who the poor victim was. I later learned Rob Burrell, after having two flats and blowing out the sidewall of his tyre, with no more tubes and no way to repair the tyre had, after being unable to ride on a flat tyre (it wrapped around the hub and jammed the wheel), ripped his back tyre off and rode the last 6 KM (on some pretty steep sketchy descents, a few climbs, through the ST, boggy sort of route toward the tunnel and all) on his rim. Damn crazy but it kept his team in 4th place over all I guess. Even though he now needs a new rim, if not new wheel, ahh well he said the positive was he had been thinking of upgrading his wheels anyway.

Coming down past the East Omalley area I was happy to see the route through the ditches and trees was a lot better marked this year than in previous year, thanks to Prachar for putting in such a huge effort, the track through was even quite a lot of fun, snaking single track and some obstacles to get through and over, a good way to end the leg. Then through the tunnel and I handed over to Bruce for the final leg of the day. This year the third leg took me 1h40m which is pretty bad, but hey I got through it, and there were bits to enjoy out there. I had been riding between all transitions all day, and this was no different, I now had to hop back on my bike and ride over to the lake side where the finish is at Yaralumla Yacht club. At the start of the day I had visions of finishing the leg, having a quick rest and then chasing Bruce down and riding in to the finish giving him encouragement and such. At this point I was so worn out, cramping and sore I had to overcome a mental battle just to get on the bike and ride to the finish. Fortunately I was sure Bruce could get by without the fan club and I rode along the firetrail at the base of Red Hill, then the road from the golf course and on down past Deakin shops to get down to the Yacht club.

I got to the finish and we got to see Bruce finish which was good, the next team in was the team to win womens 3 person, Emma Murray had started her final run leg quite a while after Bruce, I think it was about the time I left to ride to the finish. Looking at the time I can see why, Bruce improved on his time from last year and put in a rather good time of 1:12:18, however Emma had almost run him down with a time of 57:47, this was the sixth fastest split for that leg all day, eek. Now interestingly Emma had been setting records all day with Run legs 1 and 2, however in leg 3 she became lost for a while and a few people were saying on the evening that she had missed out on the record by around 30 seconds. Looking at the race records page however it seems she was lost and yet still broke the record by around 30 seconds.

We finished the day in 10h37m, which though 26 minutes slower than last year was a pretty solid performance, we came second in the mixed 3 person category, though this year were only beaten by about 90 seconds. I had a lot of fun, and Shanyn and Bruce both seemed to have a ball as they are both already keen for next year, and even talking about doing the Sri Chinmoy Jindabyne Multisport race if we can find a kayaker. All this is good news as these are fun events to compete in. Alas for the first time in three years Ben Crabb's team finished in front of mine, Daniel put in a pretty solid final run and finished 4 minutes in front of us. Maybe getting rid of Aaron from the team did them some good (I wonder if Aaron will bother reading this far and rise to the bait? <g>). For the sake of it the details from my bike computer for the day are, all up, 7h33m on the bike, 142 KM, average speed of 18.8 KMh

A bit of analysis on the results is interesting, we finished in 24th place over all this year, rather than 11th over all last year. However when compared to the winning team overall this year we were 2h1m behind, last year we were 1h57m behind the over all winning time. Not much change there, thus I would suggest there were a fair few more competitive teams in the even this year tan last. Good to see a lot of competition out there and everyone enjoying the race.

In my opinion the standout performance of the day was put in by Julie Quinn, sure as the only solo female entrant it could be argued, of course she is going to win, however she broke the female course record by over half an hour and was the second solo competitor to finish the event. Of the 14 male solos to finish Julie beat 13 of them, and appeared to be closing the gap on Trevor as the race progressed. Another startling performance was that of Dave Baldwin, recovering from his early problems to get 3rd place solo male, within 2 seconds of second place and he also broke the Run Leg 3 solo male record by 18 seconds that Paul Smith had set last in 1999.

Thanks again this year to my fantastic team mates Shanyn and Bruce for competing in the event with me. Also to Prachar and the Sri Chimnoy Marathon team for putting on another great triple tri. Also thanks to all the competitors out there for rocking up and having a fun day out with us.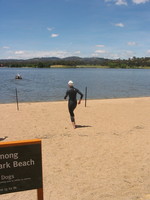 fullsize
Shanyn heading into the water for the final swim, in Lake Tuggeranong.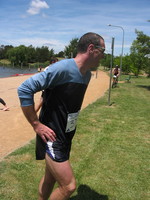 fullsize
Bruce in a fairly worn out state.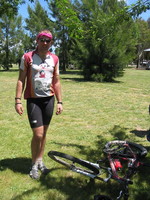 fullsize
Me sans helmet about to head over to the transition area for the start of Bike leg 3.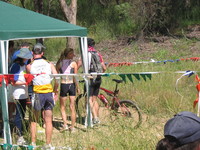 fullsize
Me having just finished Bike leg 3, Emma Murray is standing next to me about to head out for her third run, the only one of which she did not set a course record for, mostly because she went the wrong way for a while. This is the first time she has competed in the Triple Tri.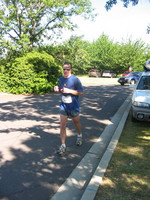 fullsize
Bruce about to finish.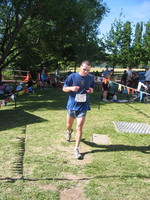 fullsize
Crossing the finish line.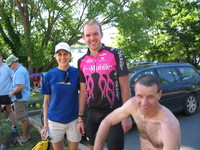 fullsize
Our happy (though somewhat exhausted team) Shanyn, myself and Bruce.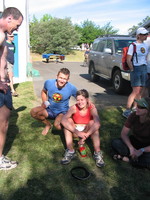 fullsize
Steve Fitchett and his Partner Cristy, they competed as a team of 2 in the Mixed three person category and came third.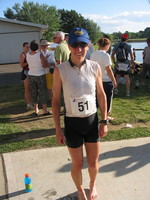 fullsize
Julie looking damn fresh having just finished second solo overall and smashing the female course record by over half an hour.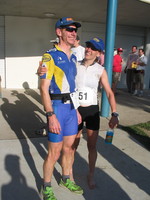 fullsize
Dave and Julie immediately after Dave finished his rather incredible recovery from dead last to high up in the field and third male solo (missing second place by around 2 seconds).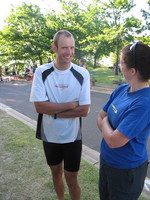 fullsize
Trevor (and his fiance Natalie) also looking a little too fresh after winning the solo category.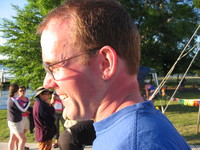 fullsize
All afternoon most people I spoke to said to me, you are really sunburnt.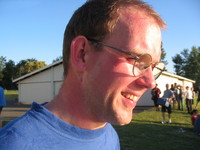 fullsize
So Ron decided he needed some photographic evdence, I think it does not show as red/burnt as I am, if I had not had direct sunlight shining on me it may have shown.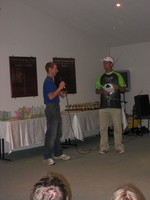 fullsize
Dave accepting his trophy and telling how his race went.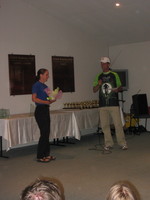 fullsize
Julie accepting her trophy for a damn incredible performance.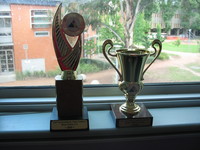 fullsize
My collection of 2nd place Mixed team of 3 trophies last year on the left, this year on the right.