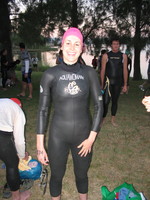 fullsize
Shanyn ready for the start of the first swim.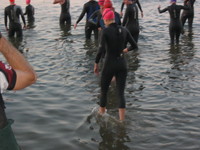 fullsize
Getting into the water.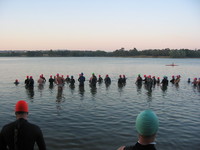 fullsize
Waiting for the start.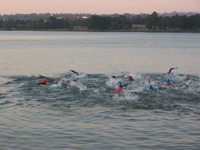 fullsize
And here we go again.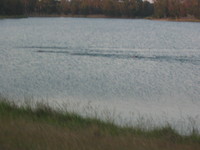 fullsize
I am fairly sure one of these swimmers is Shanyn, considering I was the 4th person onto a bike at the end of this swim leg.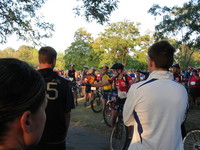 fullsize
Shanyn tagging me for the first bike.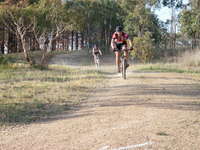 fullsize
Dave Baldwin was unable to race solo this year so headed out to see Julie racing when he was not doing a swim or run leg. Dave took this photo of me just as I came off O'Connor ridge.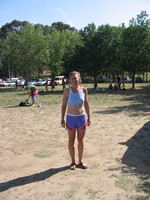 fullsize
Cristy from the team we thought would be our toughest competition, waiting for their runner to finish so Cristy can swim.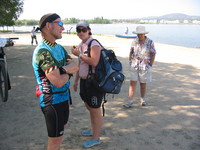 fullsize
Most of the Sutton family, Dave, Gail and Cec, out to see Dave doing all three bike legs.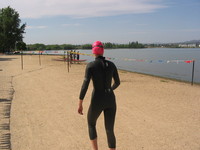 fullsize
Shanyn heading over to the water ready for the second swim.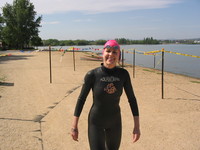 fullsize
Enjoying the day.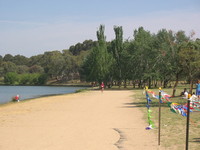 fullsize
Bruce running toward us.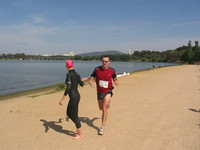 fullsize
Bruce tagging Shanyn for the second swim having just beat his time from last year again, way to go Bruce.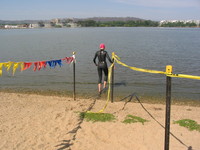 fullsize
Shanyn heading into the water.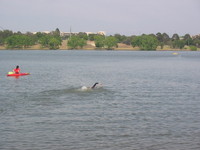 fullsize
Underway.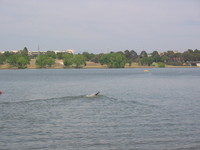 fullsize
and disappearing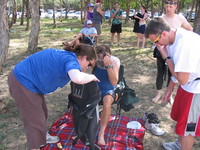 fullsize
Trevor going hard to win the event again with his very pregnant support crew, wife Natalie.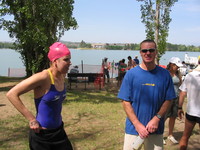 fullsize
Shanyn and Bruce at Acton Ferry terminal after I had headed off for bike leg 2.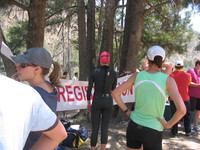 fullsize
Shanyn ready for the final swim in Kambah Pool.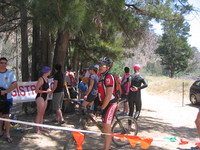 fullsize
A very over heated me, I was shivering while standing in the sun after finishing this second leg, probably a bit dehydrated.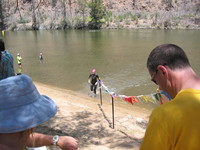 fullsize
Bruce waiting as Shanyn gets out of the water.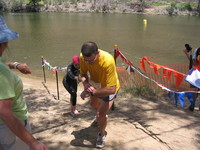 fullsize
Bruce off on the second run.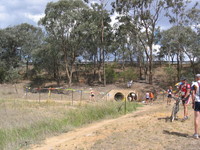 fullsize
At the tunnels under Hindmarsh, Shanyn starting the final run on the left while I walk toward Jane on the right.
My race reports from previous years 2002 Triple Triathlon, 2003 Triple Triathlon, 2004 Triple Triathlon, and 2005 Triple Triathlon.

Another Triple Triathlon had rolled around, once more I was blessed to be able to race with Bruce and Shanyn, two incredibly good athletes. After riding around 142KM last year (42 KM extra getting between legs) Shanyn said it was imperative I had support to drive me around this year, I tended to agree as I remember feeling rather bad with cramps last year. I talked my sister Jane into coming down from Sydney for the weekend to support us in the event.

As it is my habit to use the same name for the same team, our team name was once more "32 Flavours", this year I had decided to go and acquire the t-shirt from Righteous Babe for each of the team members. The "32 Flavours" t-shirt is available in a powder blue or powder red gym t-shirt, unisex sizing (though the red one is more suggested as a women's shirt). On the front are the words "32 Flavors, And Then Some" on the back is the righteous babe logo. I ordered 3 t-shirts at the beginning of November, one Small, one Medium and one Large. Unfortunately they were out of stock of the medium (for Bruce) and sent the Small and Large, both of which arrived 2 days before the Triple Tri, however the Medium has never arrived. They claim it was sent around November 15th, however it still has not arrived by February 6th 2007. RBR suggest I contact the Australian Customs to see if they know where it is, I am now waiting to see if Customs can shed any light on the missing T-shirt, thus I have no team photo all in the shirts yet.

Thus on Saturday afternoon, Jane, Bruce, Shanyn and I met in town at the registration to get our bib numbers and sit down for a coffee so we could have a chance to trash talk all the other teams.... umm I mean discuss race strategy, or something.

As is generally the case we are not really there to be serious, mostly to have fun because the triple tri is a really fun day out and about in Canberra. Sure it would be kind of nice to finish our run of 2nd place trophies with a 1st, but hey what does it matter we were more interested in how much we could enjoy all the legs we would embark upon the following day.

This year we decided to go for a slight change, as doing all three runs is a huge ask, Shanyn had volunteered to do the final run rather than Bruce. With no current injuries and a fair bit of running training under her belt (diversifying from Swimming is fun anyway) Shanyn was keen to give it a go, especially if it meant the day was less intimidating and more fun for Bruce.

Of course a small problem had cropped up, Shanyn competed in a Triathlon the weekend before Triple Tri, doing the run with wet feet and no socks she developed a really nasty blister on the arch of one foot that had since opened up and had her limping around today. However she still bravely wanted to do the run even though it was likely to be a painful exercise on the injured foot.

Sunday morning rolled around and Jane and I got ourselves over to the first swim start in time to say hi to Shanyn and a bunch of other people before they got in the water. Jane would be picking Bruce up near his place once I had left for the bike leg and they would both be at the end of the first bike. Once the three person teams had started I rode around to the bike start area and waited. As is generally the case, Shanyn did a blisteringly fast swim and I was on the bike in 4th place, around 30 seconds behind Adrian and a second or two behind Davo.

Davo and I worked together a bit as we rode up through Uni of Canberra, we caught up to and passed the rider of another team who had a blisteringly fast swimmer, however we never quite caught Adrian (got within about 10 metres), as we crossed the road from the Uni to Radford heading up to Gossans hill Davo's surges when ever he got out of the saddle had gotten to me and I had to let him go.

I had more people start to pass me after I got to the bitumen on the climb to the summit of Black Mountain, Brad passed me there, then Kevin, and Steve passed me on the climb to the shoulder near little black. I had been expecting Steve to catch and pass me, they were likely to beat us this year as they had a dedicated runner on their team instead of doing the event as a mixed pair. I was from this point able to stay fairly close to Kevin for the rest of the bike leg, however Steve was moving much faster than either of us and that was the last I saw of him for this leg.

I caught Randall just coming out of Bruce Ridge and he seemed to be comfortable and happily cruising along, then I passed Julie near the end of O'Connor ridge and soon after had a photo of me taken by Dave who was out cheering people on (along with a large crew of spectators that gather at the Dryandra St gate to see us all come through).

I got to the end of the leg and Bruce was ready and waiting, I did less than 1h45m so we were on a good schedule so far for the day. Bruce set off for the long run and there is an interesting story to come out of this. Most years we have caught and passed Trevor (solo winner 2006 and 2005, 2nd place solo in 2004) somewhere on the second bike leg or the second run leg. This year Bruce caught and passed him on the first run (they even caught the passing manoeuvre on a camera). According to Bruce as he went past and said Hi, the only thing Trevor said was "Shit I am going slower than last year" or words to that effect.

Jane and I arrived at the east basin swim start and found a few other fast teams there, though the lead two teams had already gone through at this point. Cristy got into the water a little before Bruce returned, however Shanyn was likely to get out of the water well in front so I could have the fun of being passed by Steve again. With Shanyn in the water we made our way over to Acton Ferry terminal and found Bruce's family had turned up to see the action there. By the time we got to the Ferry terminal Adrian's team and Davo's team had already transitioned, we got to see a few other teams go through, such as Kevin's team before Shanyn arrived in another blindingly fast time and I got out onto the second leg.

Due to water quality problems in Lake Tuggeranong this year the organisers had to at the last moment on Friday, make a course change. Fortunately they had backup plans up their sleeve and in this case the second bike headed down to Kambah pool rather than the base of Mt Taylor. At this point the third swim and second run were swapped around with the swimmers in Kambah Pool and the runners running from there along the path next to the river via Pine Island to the edge of Lake Tuggeranong for the last bike leg to start at it's usual location. This was an impressive and rather effective change to allow the event to continue with few changes to the course.

However for the riders it did mean the leg was a a fair bit longer to get all the way down to Kambah Pool, I am glad as heck I did not have to ride my bike out of there to get to Lake Tuggeranong as it was long enough just going down there. On the second bike leg I was mostly by myself as I would expect at the pointy end of the field. I was unlikely to catch Kevin during a bike leg and I was expecting Steve would pass me at some point. This happened on the way up Stromlo, just a few hundred metres shy of the summit I was in my granny ring spinning up the climb and Steve came up behind me saying "It's a hot one isn't it boys", which at the time indicated there was in fact another person about to pass me. I think this was Troy Reddick, the rider for the mixed team that eventually beat both of our teams over all that day. Anyway Steve rode up the rest of the climb around twice as fast as either of us, I was unable to keep with Troy but not to the same extent as Steve.

I got to near the end of where this leg normally finishes and headed on down the bitumen to Kambah Pool, this was as I mentioned a long way down and took a lot of time to do the final 4KM down there. I suspect I did not drink enough on this leg and overheated a bit, when I got to the pool and tagged Shanyn I stood in the Sun and was shivering as if cold, Jane looked at me as if I was mad shivering in direct sunlight on a warmer than 30 degree day. My hydration plan had changed a bit this year from previous years. I carried only copious amounts of water during the legs, however in between I had an esky full of bottles of flavoured mineral water. There is sugar and some salts in this, however the main advantage was I the different taste and feel (lightly fizzy) made it easy for me to drink and get through a whole 1.25l bottle quickly. I told Jane all day to ensure I got through at least one bottle very soon after the finish of each leg in order to keep my fluids up.

I think this helped, for the first time ever in Triple Triathlon I did not suffer from any cramps all day, I noticed the possibility of some coming on as I climbed Stromlo and thus was spinning very gentle gears as Steve passed me. I also had some twinges during the final leg which was why I soft pedalled up all the hills and walked the steep fire road up Isaacs, sure it meant I was a lot slower than I am capable of however it was much better than stopping for minutes at a time to stretch and walk cramps out as has happened in previous years.

Shanyn, as she tends to, put in a fast swim in the rather warm water in Kambah Pool and then Bruce who had spent the time leading up to this run hydrating as much as possible set out for what we were told was a 9 KM undulating run to Lake Tuggeranong. There were no water stations on the run as it had only been introduced at the last minute and access to most of the track was difficult for carrying water or something in I imagine. When we got to Lake Tuggeranong and lined up to wait for our runners, more teams than expected were there waiting, it seems the run was taking longer than 9 KM normally would, Trevor Jacobs had finished in a time of 54 minutes and had said the run was more like 12 KM than 9. When Bruce finished his words as he tagged me were something to the effect of "that was a heck of a lot longer than 9 KM".

At this point I feel I should mention the sad news to have come out of this run leg, a runner, Evan Hourigan, doing the run leg in a team of 9 died out on the run course. We still do not know for sure the cause of death that I have heard, however it was very hot, Bruce told me he felt himself overheating and had to slow his pace a few times while running. Evan trained with the Bilbys a bit, notably at swim training and he was just getting back into the sport more after a break from triathlon for a while. It was a sad and unfortunate thing to hear at the presentation ceremony that evening and my best wishes go to all of Evan's family and friends.

I set off for the final ride, and found I felt alright, though when ever I tried opening up and going fast I felt my legs were likely to cramp so I backed off my pace and tried to keep spinning easyish gears for the entire leg. Steve's team was now ahead of us and with Steve on the bike again would definitely stay there. Tom Walter passed me on the top of Farrer Ridge, though I had finished an XC race in front of him recently that was an unusual event and he was doing this leg fresh also so it was not surprising. I passed Allison out on the bike leg as we rode up Isaacs Ridge, Rod and Simon had put in very fast times (7 and 9 minutes faster than me respectively) in the previous two bike legs, however Allison was finding the walk up Isaacs tough (as one generally would). I was happy to hold Rich Palmer off this year as the previous few years he passed me on the goat track at the top of Isaacs, however in the end the runners for both their teams were very fast over the final run leg so we finished behind them both at the end.

I got through the tunnels at the end of the ride and tagged Shanyn so she could finish off the race for us, Shanyn bravely got on with the job despite her blistered foot and ended up putting in a very strong time of 1h14m to have us finishing the race in 10h24m and 10th place overall. This year we finished only 1 hour and 30 minutes behind the overall winners (Adrian's team "Let them eat cake"). After we had finished and all showered and recovered for a few minutes, Shanyn and I drove out to see Randall finish the last bike leg and cheer him on as he did the final run leg. Randall has set his pace all day in cruise mode and still looked very comfortable as he got off the bike and started running. Randall came home very strong and got the 3rd fastest Solo Run leg 3 time. It was great to see him finish in 6th place over all and seemingly with spare energy left at the end.

The race was once more a heck of a lot of fun, Julie stormed through again this year to finish as the third Solo finisher (and first female obviously) with a time only 46 minutes behind Trevor's winning over all time. Also Julie's Adventure racing Tangerine team mates Gary and Randall also did a good solo performance (though finishing behind Julie) and Dave would of course have been racing if his hand was not broken leaving him unable to ride a bike. Damn those Tangerines are fit buggers, 3 of them are about to do an Ironman Triathlon before they get into their training for the Geoquest race in June this year. Thanks once more to Bruce and Shanyn for racing with me and putting in such stellar performances, I am happy to say everyone appears keen to line up for the Jindabyne Multi Sport race again this year and Randall will even paddle with us again rather than go solo, yay.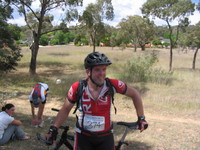 fullsize
Ahh all done I can now cool off a bit in the shade and enjoy being finished.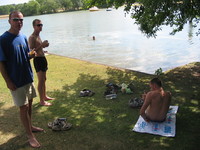 fullsize
Bruce with Nathan and Steve (Cristy was doing the final run, just as Shanyn was doing ours) from the team we were worried about most of the day, in the end they were second, both of us beaten by another team of locals. Jo, Nathan and Troy.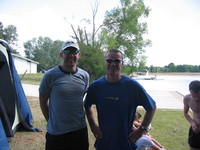 fullsize
Bruce and I waiting for Shanyn's finish.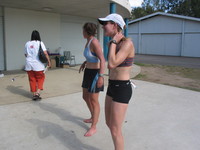 fullsize
Shanyn just having finished, next to Cristy who managed to finish a few minutes ahead.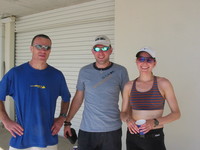 fullsize
The team after another fun day at the triple tri, Bruce in club colours, me in team 32 Flavours shirt and Shanyn in running gear.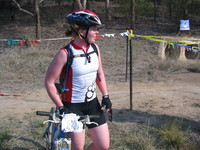 fullsize
Sarah having just finished the final bike leg.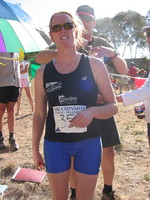 fullsize
Libby about to head out on the final run for her team.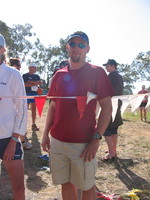 fullsize
John spectating after having done a swim earlier in the day.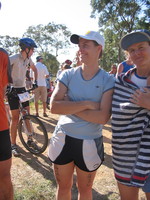 fullsize
Celia spectating at the race next to Natasha who was about to do the final run.

fullsize
Liz happy (or freaked out?) to have finished.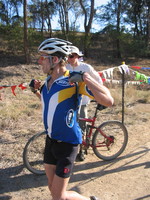 fullsize
Randall having finished a blindingly fast final bike leg about to transition to his last run.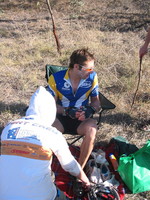 fullsize
Randall getting ready for the run.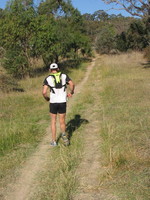 fullsize
And off at a steady pace.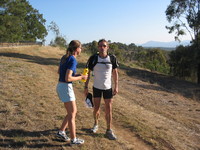 fullsize
Shanyn greeting Randall at the top of Red Hill, how he got up here so fast is beyond us.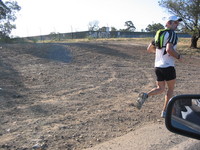 fullsize
Randall as we pass him, all of us about to descend off the top of Red Hill.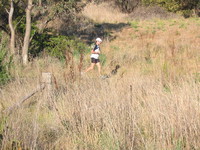 fullsize
Randall approaching the telephone exchange.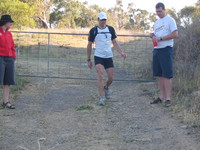 fullsize
Through the gate and onto cement for the rest of the run.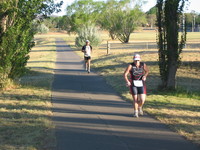 fullsize
Coming along the bike path at the end of Curtin, still setting a strong steady pace.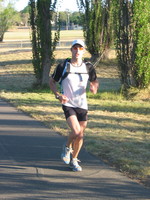 fullsize
looking comfortable doing it too.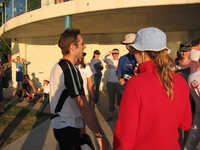 fullsize
Randall with Shanyn having completed his first solo triple tri, coming home strong, damn fine effort there.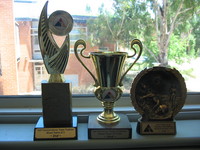 fullsize
The trophies from the last three events, the new trophy this year is a really good one I think.