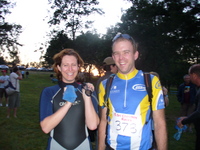 fullsize
Larissa and I before the first swim.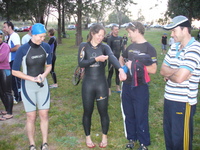 fullsize
Larissa next to Amanda and Matt (who were also in a mixed threes team)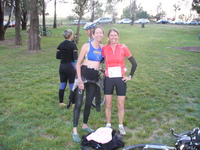 fullsize
Michele about to do her first swim in a month or two for her team with Sue and Libby (Sue doing the first ride next to her)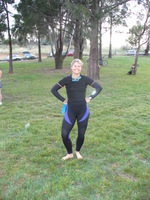 fullsize
Celia posing pre swim.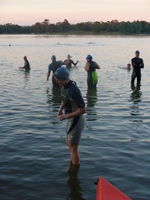 fullsize
Larissa getting used to the water temperature.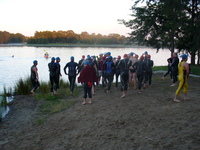 fullsize
The teams of three swimmers on the beach ready to go.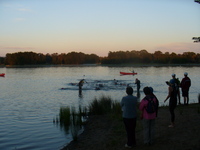 fullsize
And they are off.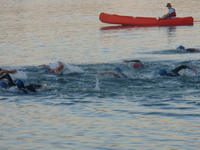 fullsize
First few.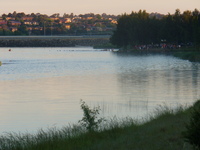 fullsize
Looking back to the start area from the bike path.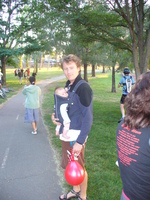 fullsize
Ben with Thea, on child duty today.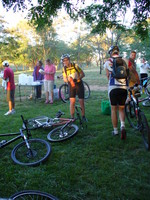 fullsize
Sam getting ready for the first bike leg.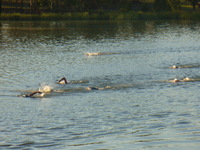 fullsize
I think Larissa is the swimmer in the middle almost entirely underwater.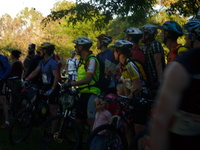 fullsize
Sam with Nikita and Maxine looking for her swimmer.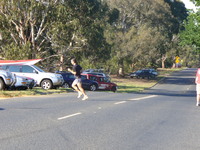 fullsize
Bruce starting his run up Mt Majura and Mt Ainslie.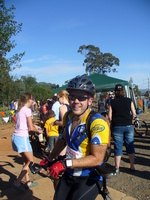 fullsize
Steve at the finish of the first bike leg.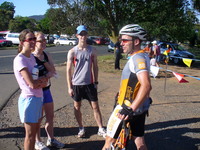 fullsize
Michele, Libby and Nathan (who decided not to go solo so is spectating) with Simon who had done the leg on his cyclocross bike.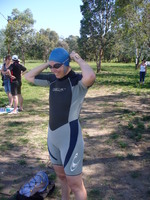 fullsize
Larissa getting ready for the long swim.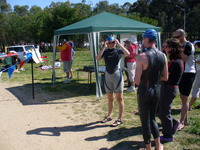 fullsize
Larissa chatting with friends waiting for Bruce to tag.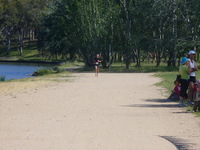 fullsize
Bruce running along the beach toward us.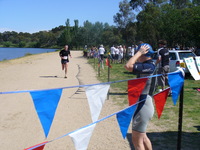 fullsize
About to tag.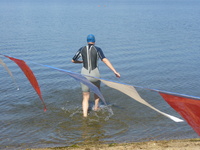 fullsize
Larissa heading into the water.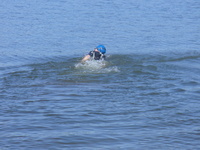 fullsize
And swimming off.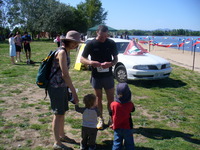 fullsize
Bruce with his family, Robin, Josh and Giles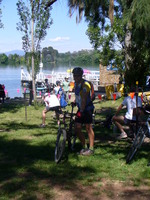 fullsize
Steve getting ready for the long bike leg.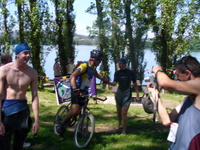 fullsize
Getting tagged to start riding.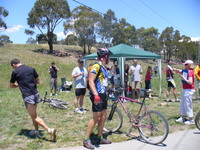 fullsize
Woohoo finished all the riding for the day, though there is a run looming.
My race reports from previous years 2002 Triple Triathlon, 2003 Triple Triathlon, 2004 Triple Triathlon, 2005 Triple Triathlon and 2006 Triple Triathlon.

November, among other things, means the triple tri is on again. Last year I was doing a paddling course on Sunday mornings, however decided to take the triple tri day off to compete. This year Shanyn was doing the same course and decided it was better to keep up with the lessons. Thus we were without our super swimmer, possibly a good thing as the pressure would be off Bruce and I to try to keep up with such a good athlete. Of course this bought in a new problem for this year, we needed to find a swimmer.

Sarah had originally been planning to compete in a team of three girls, doing all the rides and seeing if they would be good competition for Libby, Michele and Sue's team. However as Larissa and I both noted on the day she came up with another random excuse not to do the event. However this meant Sarah's housemate Larissa was available to swim in the triple tri. It was interesting when Sarah made the suggestion that Larissa could be our swimmer. Though the conversation was more along the lines of "Sarah: Larissa is still keen to swim in the triple tri, Steve: Larissa, Sarah mentioned you were keen to do the swims in the triple tri, how about it? Larissa: Sarah has an interesting interpretation of reality there".

Fortunately for us Larissa was convinced enough that it would be a fun day out and agreed to come and swim for our team. Without Shanyn a team name change was in order so the Ani song "To The Teeth" was used, though the song is not really aligned with a sports event like the triple tri I thought the attitude in he title would suit the event well. "32 Flavours" would have to wait for another outing some other time. Over Larissa's claims of being slow and unfit Sarah continued to assure us Larissa was a gun swimmer. We were here for a fun day out, and due to not feeling the need to go quite so fast Bruce and I had been discussing mixing the legs up a bit this year.

I have been doing 30 or 40 KM of running a week for a while, and Bruce has not been doing his typical huge amount of hilly running in preparation for the race, though he had recently purchased a very nice new Cervelo R3 road bike and thus been riding a lot. Due to this we thought it would be a good idea to swap legs, so we (well I) decided to swap the last two legs. The red hill run leg has always been the most appealing run leg in the race for me, this meant we would swap the last two legs of the race and send Bruce out for the final bike leg. As much as I like the Majura and Ainslie run, I am not a good enough runner to give that 20 KM run a good stab and really do not like the idea of running over Mt Taylor and along the bike path in the middle of a hot day.

As it turned out, Sarah was correct, Larissa is indeed a gun swimmer and we were still up near the front of the race all day, however this was still unknown and we lined up to compete with a new team and hopefully the same fun attitude towards the race we bring with us every year. Jane, my sister, was once more coming down from Sydney to support us at the race and drive us around. She was not at the team meeting in civic the day before, however that mattered little as we were all fairly settled about how we were going about the race.

On race day I drove out to Gunghalin to pick up Jane then met with Larissa at the first swim start at around 05:40am. The Solos were already in the water and we had a few minutes before our race started. Davo got away first on the bike as John had a fast swim (as always). Shanyn is normally out of the water near John, I had another minute or two this year so did not feel any need to try and keep up with Davo on the bike. Larissa was through around tenth or so out of the water (as I have mentioned, definitely not slow). I hopped on the bike and headed off. I passed a few people, got passed by a few people and settled into the leg. I realised on the way through Gossans hill I had forgotten to have insulin before the ride, this meant my blood sugar level would go high as my liver releases sugar while exercising and my muscles would not take on new sugar quickly with only overnight insulin left in my system.

Oops, so I found I was unable to get full power out of my legs, however as I have not been riding much in the past year (too much paddling) so it could also be a function of not enough riding in my legs. Interestingly when I got to push bike hill I found one of the benefits of having a bit more running in my legs was I was able to charge up the hill much faster than anyone else near me, then riding the top half I got onto the bitumen with a gap on people I had passed (though some of them soon passed me at the top of the bitumen climb). On the descent I passed a few people, one of whom I felt I barged past a bit, when I saw him after the leg I apologised, he said it was cool and he was surprised to see someone pass that fast.

As I rode through the single track in Bruce Ridge I caught up with Kerrie Muir, this was fantastic to see, another female solo competitor out there having fun on the course. Around 4 years ago Kerrie and I had discussed the idea of doing the triple tri solo, we sort of suggested to each other we should both train up one year and compete solo. Kerrie has been doing some fantastic events this year, competing in and finishing both Geoquest and XPD so she had some endurance under her belt. Three days before the triple tri Kerrie sent me an email saying I had let my side of the agreement down. Gee Kerrie can I have a little more warning maybe? However it was fantastic to see her out there doing the race. You go girl.

I passed Kerrie on single track and headed on toward O'Connor ridge and Lyneham Ridge. At the end of Lyneham ridge I came across Steve Barry, who much to my surprise was also solo. Yay another new competitor out there doing the race solo, go Steve. I cheered him on and he even sat on my tail for a little while on the bike path before backing off again. I already knew I was behind a 1h40 minute target time for this leg so settled into the remaining flat few KM of the leg. I finished and tagged Bruce, had some insulin, chatted with friends for a few minutes and headed home to grab some breakfast and head on out to the run/swim transition.

Jane and I rocked up to the transition and sat down in the shade and read for a while waiting for Bruce, Larissa rocked up and was ready for him as he came in. Bruce had not done much running in the last few months as I mentioned, he expected to be a bit slower than last year. He said he felt he was taking it easier out there and yet when he got in was only one minute slower than last year. Well done there, time to head across to Acton for a bike leg. Bruce's family had rocked up so he was heading home with them and would see me out at the end of the long ride next.

The day was heating up a lot and the flies were out in force, this promised to be a hot leg. Larissa gave me a few minutes more rest then I usually get however I was expecting it to be tough on this leg as always in the heat of the day. Due to all the work CORC has been doing over the past few yeas on getting Stromlo Forest Park up to scratch as a world class mountain biking facility there are now a lot of very cool tracks to ride out on Mt Stromlo again. The park had not been open last year when the triple tri came through, however this year we had some good options for making the ride more fun as we went through. Anthony (CORC Pres) and I (CORC VP) has suggested to Prachar where the course should go as it went through Mt Stromlo. The show piece of this would be the descent used in the red loop of the Scott 24 hour down from the summit of Stromlo.

The negative of this is in order to abide by the rather silly rules about the majority of fire trails on Mt Stromlo being horse trails on which mountain bikes are not allowed we had to go downhill and way out the back once we crossed Uriarra road and then had to regain the height before starting the climb we do every year anyway. The changes to stromlo were likely to add 2 or 3 KM to the leg and around 15 minutes for me.

I really enjoyed the single track additions, they broke up what is generally a long hard slog nicely. As I came past the Stromlo event centre I saw Dave B out cheering riders on. Well I saw someone who looked like Dave in a Bilbys T-shirt on crutches so assumed it was Dave (forgetting that there was a small chance it was Andrew also). After the flat single tracks on the other side of Holdens creek we passed the bush fire monument and crossed Cotter rd. Shanyn and Randall (Shanyn had finished her paddle course for the day and headed out to help Randall with Julie's support effort) were parked at the crossing waiting for Julie to come through. They both gave me a cheer on which was good and I headed on up onto Narrabundah trig.

I had some cramps on the way up Bluits earlier in the ride so had backed off my pace a lot after that. At the gate before the last pinch up Bluits I still had Troy (from the mixed team who won last year) in sight (at the top of the climb), however due to cramps I took the climb slowly and never saw him again. Up Narrabundah trig and then on coolemans ridge I did all the climbing slowly and just held on to the end of the leg. As expected I finished around 15 minutes slower than I would have otherwise conditions and fitness considered. I got stuck into hydrating as much as possible, downing two bottles of flavoured mineral water fairly quickly.

This was my last ride for the event, time to get out of my comfort zone and prepare for a run. I was feeling sorry for Bruce though, having finished the hot Mt Taylor run he only had a few minutes rest while Larissa did the shortest swim leg of the day before he had to get on his bike and do the slog up to Waniassa Trig, Farrer Ridge and Mt Stanley/Isaacs Ridge. Bruce completed the run on Mt Taylor well and we rushed over to the end of the Tuggeranong swim to give him as much time to recover as possible before Larissa came in. While standing around waiting we hung out with Craig and family who were waiting for Ingrid to finish that swim leg so Craig could head out on the bike.

Bruce got going and we stayed a few minutes more to see Craig head off then Jane and I went to the back of Red Hill to wait for Bruce, Larissa headed to her sister's place to shower (get rid of the icky lake water) and recover a bit before meeting us at the race finish. At the start of the next run I sat in the shade, Jane finished her book and I wondered how trashed my legs were for doing this 13KM run. I had done the run two weeks before the race, riding to the start and leaving a bike locked up there, so no exhaustion or dehydration evident. The run took me 1h10m that day, however I expected to be slower today (the fact it was a lot warmer this time was also going to make it harder for me). Anyway I did not push much on the way up the first climbs to the first trig. Then I tried to stay stead until the climb to the Red Hill restaurant. Walked a bit on that hill, then on the downhill after the aid station I cramped petty badly and had to stop and stretch, then take it easy down the rest of the descent toward the telephone exchange.

I had realised by this point I was definitely not going to be able to hold sub 5 minute KM pace as I had in the training run. So on the paths through Deakin I just tried to keep it under cramp pace and settle in for the rest of the run. I was doing 5:45 to 6 minute pace and that was the best I could manage. Scotty Main passed me just after the telephone exchange, I knew I would not catch him, but hey they were in a different category so it did not really matter (and they would have been far ahead of us if it had not been for Rich's bad luck on the middle bike leg with mechanicals). Anyway I made my way past the curtin ovals, past the Governor General's residence and down to the lake, with only one hill left I was happy to be near finishing. I finished in 1h21m, which was a slower run than Julie did for her final leg (Julie of course was solo) but hey we got there, and had a remarkably fast race.

Thanks to Brice and Larissa for another great day out and about Canberra. I had fun, it was a shame to see the umber of competitors down low this year, I hope it was an aberration and more will be back next year. As always the triple triathlon is a really good event. I hung around at the end until Kerrie Muir finished sometime after 9pm to run with her a bit and cheer her on. Well done there Kerrie.

If anyone wants to see, my GPS map and detailed (HR and such) data for each leg can be viewed on line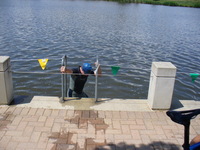 fullsize
Larissa getting out of the water at Lake Tuggeranong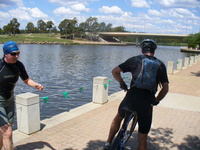 fullsize
Bruce heading off for the final bike leg.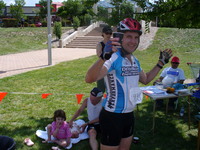 fullsize
Craig preparing to head off for the final bike leg.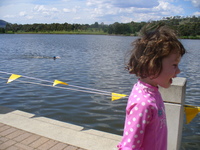 fullsize
Eva with her mum, Ingrid, in the background swimming in.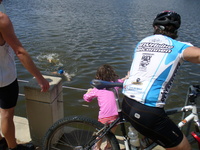 fullsize
The family waiting for mum to finish the swim, Zoe their 14 week old is being held just out of shot.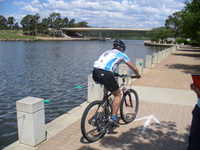 fullsize
Craig heading off for a fast leg (1h12m)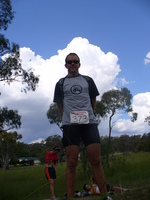 fullsize
Steve about to head off for some silly sport.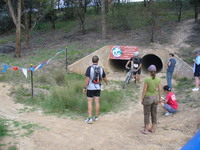 fullsize
Waiting for Bruce.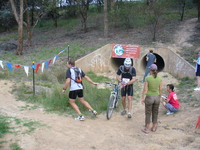 fullsize
Tagged and off for a run.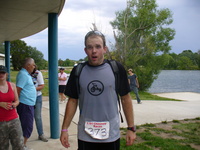 fullsize
That was hard work, Steve getting a breath.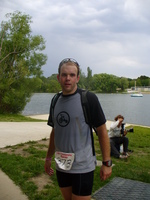 fullsize
Of course Julie (solo female) did a faster third run than I did.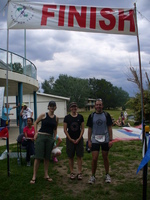 fullsize
Jane (support crew), Larissa and Steve. (Bruce had headed home)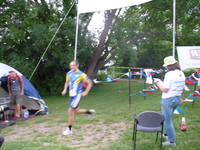 fullsize
Trevor crossing the line to win the solo triple tri for the third year in a row.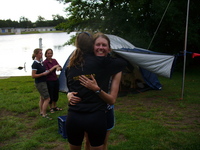 fullsize
Michele and Sue finishing the race.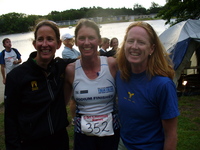 fullsize
Michele, Sue and Libby with another triple tri under their belts.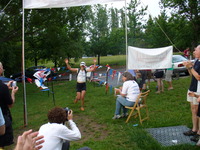 fullsize
Julie crossing the line with another amazing solo performance, finishing within half an hour of Trevor this year.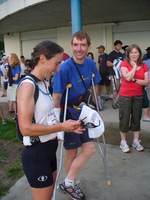 fullsize
Julie being congratulated by Dave who for obvious reasons had been unable to compete.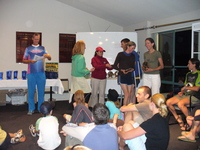 fullsize
Libby, Sue and Michele receiving their trophies.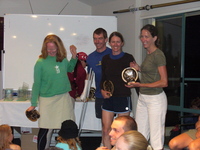 fullsize
And proudly displaying them for first place womens team of three.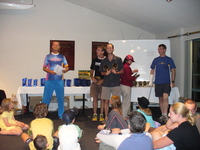 fullsize
Trevor and Davo winning the mens team of three (and only 8 minutes vehind the overall winning team of 9)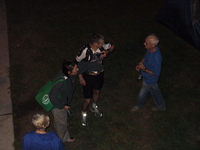 fullsize
Steve finishing his solo effort during presentations.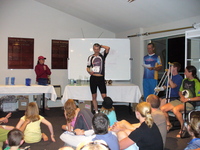 fullsize
Steve telling us about his day out there.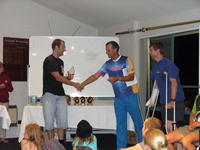 fullsize
Trevor receiving his third winning trophy.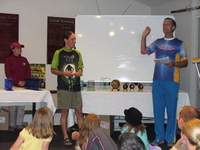 fullsize
Prachar, possibly about to bow in awe of another stunning performance by Julie.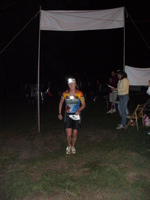 fullsize
Kerrie finishing her solo triple tri on first attempt, you go girl, awesome effort.